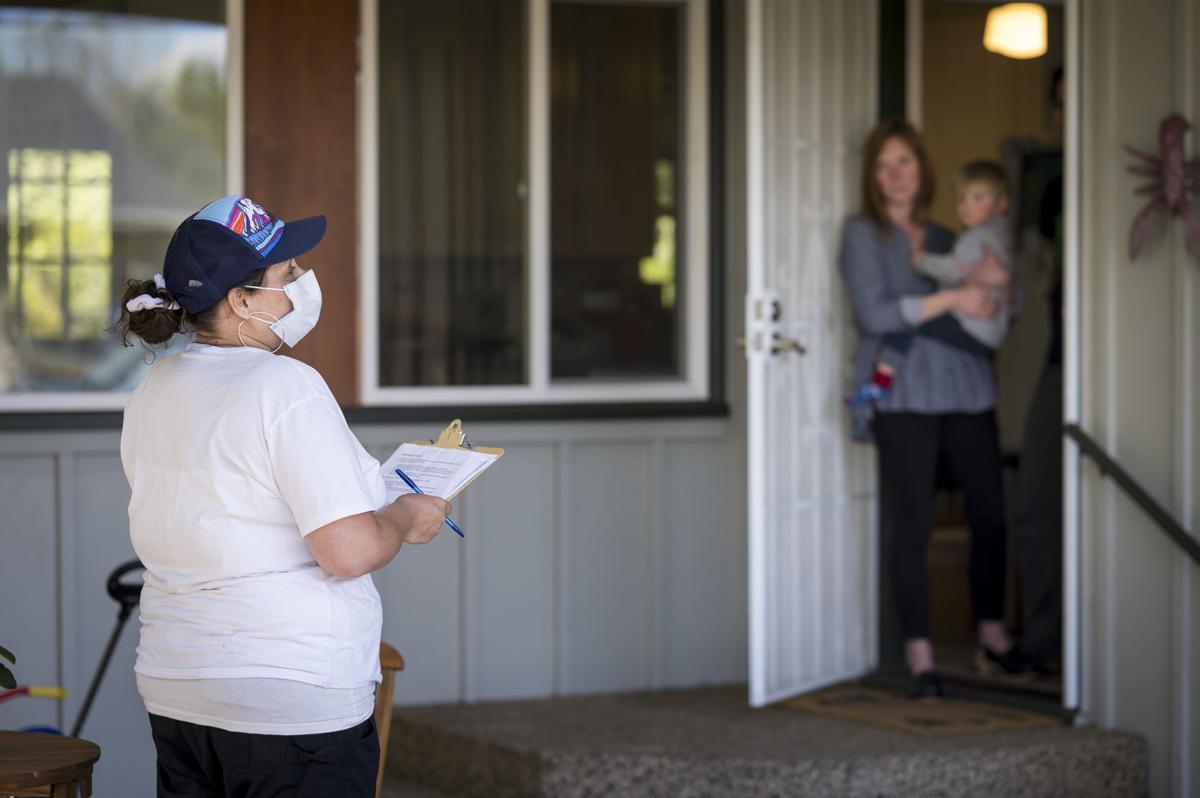 Oregon State University's TRACE coronavirus testing program returns to the Corvallis community this Friday and Saturday.
Field workers will go door to door taking samples from residents in 30 neighborhoods for the Team-based Rapid Assessment of Community-Level Coronavirus Epidemics program.
The sampling, the seventh conducted in Corvallis, will follow the same format as the previous six, with one change: In addition to a nasal swab sample used to determine if someone is currently infected, for the first time, TRACE participants will be invited to provide a saliva sample to be tested for COVID-19 antibodies.
"The saliva testing will show the presence of antibodies and also whether they resulted from a vaccine or from a previous (COVID) infection," said TRACE project leader Ben Dalziel, an assistant professor in the OSU College of Science.
"By testing for the presence of the two different types of antibodies, we'll be able to estimate the fraction of Corvallis that has been previously infected," said Roy Haggerty, dean of the OSU College of Science and part of the TRACE leadership team.
"That fraction has not been reliably estimated to date, in large part because many infections — possibly the majority — have occurred in people with no or few signs of illness, which greatly decreased the likelihood of them getting tested, especially early in the pandemic."
The last time TRACE workers collected nasal swab samples in Corvallis, March 13-14, the results yielded a community prevalence estimate of 13 COVID-19 cases per 1,000 people, the project's highest estimate for Corvallis by a margin of about 10 cases per 1,000.
"Even with more and more people being vaccinated, each of us should continue being careful when it comes to preventing transmission of the virus," said project co-leader Jeff Bethel, an associate professor in OSU's College of Public Health and Human Sciences. "And it's important to continue monitoring community prevalence of the virus."
All nasal swab samples containing the virus, as well as city wastewater samples collected for testing, will be genetically sequenced to determine if any variants of elevated concern are present in Corvallis, Bethel added.
Support local news coverage and the people who report it by subscribing to the Corvallis Gazette-Times.
OSU researchers have conducted weekly testing of Corvallis community wastewater since May 2020. Genetic evidence of the virus is shed by people who are infected, and the wastewater findings have been consistent with TRACE prevalence estimates.
The prevalence estimates are based on a variety of indicators, including test sensitivity, the number of people tested and where those testing positive live.
"Better understanding the level of community protection is important, as it can inform evidence-based policy decisions around risk," said April Holland, Benton County's public health administrator.
"Adding antibody detection to TRACE's testing efforts is an exciting development, particularly with a simple saliva-based collection process that can be broadly deployed. Most COVID-19 antibody tests require a blood sample, which understandably poses a challenge to community participation."
This weekend, teams of TRACE field workers will fan out to neighborhoods and invite members of each household they visit to participate in the study. Those who choose to take part will be asked to provide information such as their name and date of birth; fill out a simple consent form; and answer a few confidential, health-related questions.
In Corvallis, where the participation rate has consistently been around 70%, a weekend of door-to-door visits can produce nearly 700 samples.
Participants will receive their nasal swab results and those of their minor children by secure email with receipt by mail as a backup. Personal information will be safeguarded.
The TRACE project is a collaboration of five OSU colleges — Science, Agricultural Sciences, Veterinary Medicine, Engineering, and Public Health and Human Sciences — plus the OSU Center for Genome Research and Biocomputing.
TRACE also has conducted sampling in Bend, Newport, Hermiston, Eugene and Redmond.