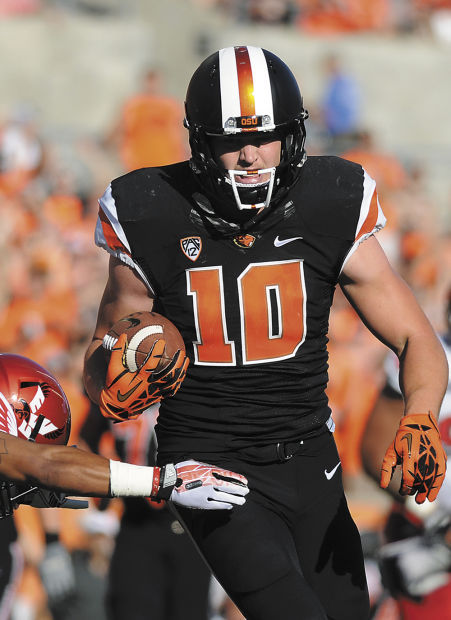 Oregon State University fields intercollegiate athletic teams in 17 sports, seven men's and 10 women's.
On a national level, the most successful teams have been the men's baseball team, with back-to-back national championships in 2006 and 2007, and the women's gymnastics team, which always is a national power — although it has yet to break through to the so-called "Super Six," the final six teams in the hunt for the national title.
In terms of attendance, though, the leader, with an average of more than 40,000 at each game in Reser Stadium — is football.
The 2013 Beavers football team lost its opener, in a stunner, to Eastern Washington University, a team that plays in the division below the Beavers. But the team, coached by Mike Rile (the longest-tenured coach in the Pac-12 Conference), has bounced back with three straight wins heading into a Sept. 28 game against Colorado.
With that in mind, here are some key sports dates to keep an eye out for in the 2013-14 academic year:
You have free articles remaining.
Friday, Oct. 11: Women's volleyball vs. USC, 6 p.m., Gill Coliseum. At press time, the OSU women's volleyball team was off to a great start. A key early test in conference play will come on this date against perennial power Southern California.
Saturday, Oct. 26: Football vs. Stanford, time to be announced, Reser Stadium. It's homecoming weekend for the Beavers, but the opponent this year couldn't get much tougher: It's possible the Cardinal will be nursing some national championship dreams. On the other hand, this could be a game the Beavers will need to win to get the six victories needed to become eligible for a postseason bowl.
Sunday, Oct. 27: Women's soccer vs. Stanford, 11 a.m., Paul Lorenz Field. The Oregon State women's soccer team missed the postseason last year after three straight years of qualifying for the NCAA tournament. Will this year's team get back to the dance? This bout against conference heavyweight Stanford should be a good measuring stick.
Friday, Nov. 1: Football vs. Southern California, 6 p.m., Reser Stadium. Granted, some of the luster has faded from this matchup as Southern California has lost its elite status in college football. But it's still a great rivalry, and one that always seems to bring out the best in Riley, who's beaten USC the last two times the Trojans have visited Corvallis.
Sunday, Dec. 29: Women's basketball vs. Notre Dame, time to be announced, Gill Coliseum. The official schedule hasn't been released yet for the women's basketball team, which seeks to rebound from a disappointing campaign last season. But the date for this big nonconference test against powerful Notre Dame already has been confirmed.
Sunday, Feb. 2: Men's basketball vs. UCLA, time to be announced, Gill Coliseum. For the second straight year, the Beavers will play on Super Bowl Sunday.
Other dates to watch for — but which had not been announced at press time — are the home openers for the men's baseball team and the opening meet for the women's gymnastics team.