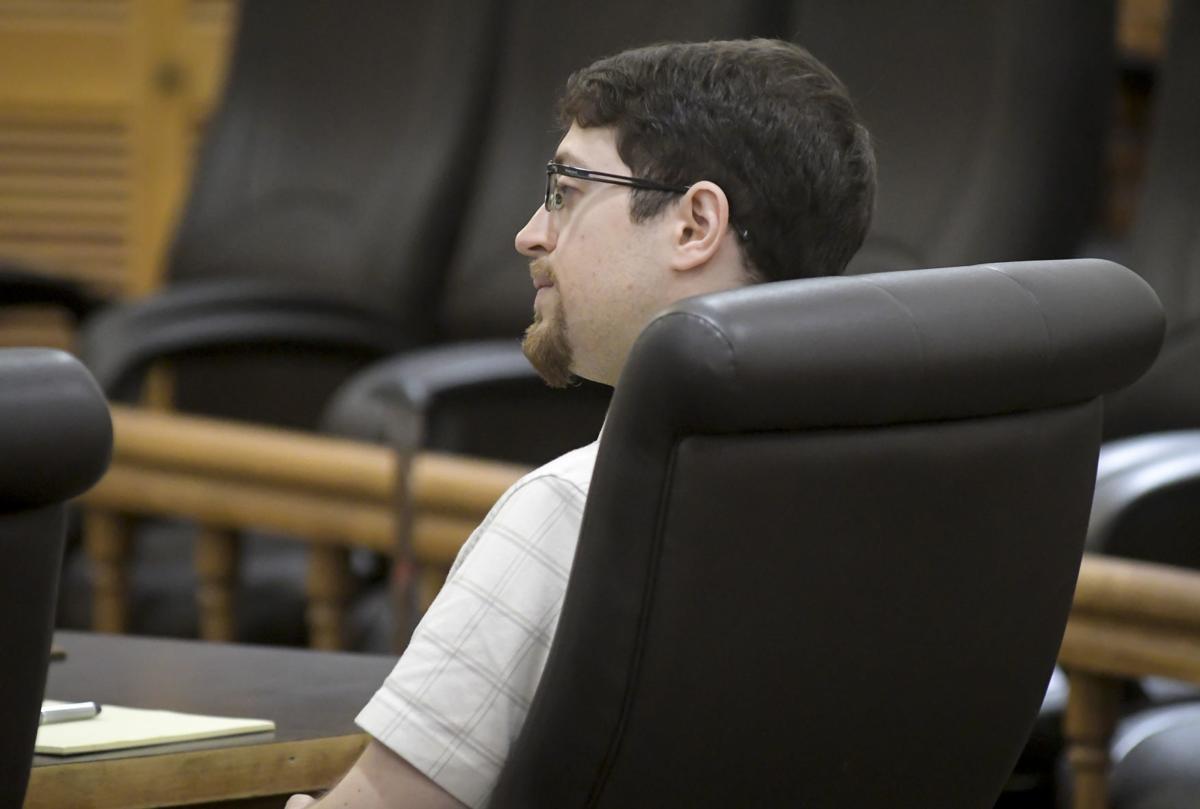 A Corvallis man accused of placing racist stickers on cars outside a meeting of anti-racist activists was convicted of all five charges against him on Thursday.
Andrew Oswalt, 28, faced three felony first-degree intimidation charges and two third-degree criminal mischief charges for the June 2017 incident, which occurred as members of the Corvallis chapter of Showing Up for Racial Justice (SURJ) met at the south location of First Alternative Co-op.
Oswalt, an Oregon State University graduate student, and his attorney had opted for a trial before Circuit Court Judge David B. Connell instead of a jury, and Connell rendered his verdict after testimony in the case ended.
In announcing his decision, Connell said he thought about the instructions juries are given, explaining two kinds of evidence: direct evidence and circumstantial evidence. He said circumstantial evidence can be used to as part of a chain of circumstances that establish certainty of guilt.
"There is both direct and circumstantial evidence in this case," he said.
Before Connell announced his decision shortly before noon, Oswalt's attorney, Nicolas Ortiz, argued for acquittal in his closing statement. Ortiz called no witnesses, but argued the prosecution had failed to conclusively prove whether it was Oswalt or his uncharged companion, or even some third party, who had placed the stickers.
"It is possible someone else did it entirely," he said. "The bottom line is we don't know."
Ortiz also argued the state had not proved Oswalt knew anything about the individual attendees of the meeting, so he could not have been targeting them over their race or religion, as required by the intimidation statute.
"There isn't anything the state was able to provide that showed he knew who was at the meeting," he said.
Ortiz also argued that placing the stickers did not cause the owners of the vehicles substantial inconvenience, another requirement of the intimidation charge.
Chief Deputy District Attorney Ryan Joslin argued that the inconvenience was more about invoking fear than causing a physical inconvenience, and said that Oswalt wanted to show people at the meeting that they were being watched.
You have free articles remaining.
"The defendant had the intent to create more inconvenience than ripping off a sticker," he said.
Joslin also argued that the inconvenience was targeted not just to the people who owned the vehicles, but the broader community.
"I would suggest there is nothing more inconvenient than being a person of color or a member of a minority religion ... than going out in the community and getting a reminder that this hate still exists," said Joslin.
Oswalt declined to comment on the results after the verdict was announced. Ortiz suggested in comments he made to the judge that he was considering appealing the verdict.
Oswalt is scheduled to appear in court at 11 a.m. on Dec. 12 for a sentencing. Prosecutors did not ask that Oswalt's conditional release be revoked.
Under Oregon law, first degree intimidation is a class C felony, which carries a maximum sentence of five years imprisonment.
Steve Clark, OSU vice president of university relations and marketing, said by email that the university has policies that allow individuals convicted of felony crimes to apply for and be enrolled in classes.
"But they must self-disclose that conviction prior to enrolling in classes. We then have a process for supporting that student's academic success and also serving the safety of the OSU community while the student remains enrolled," he said.
Clark said that process can include supervision of students.
"While I cannot comment on a specific student's case, it is the practice of the Office of Student Conduct and Community Standards to evaluate convictions involving students and determine whether possible sanctions, including suspension and expulsion, from the university are warranted. In all such cases, a student's due process is considered."
He said the university respects the court's decision.
"And while the actions for which Mr. Oswalt was convicted did not occur on campus, we encourage all members of the OSU community to be responsible and observe all local, state and federal laws. We will continue to monitor Mr. Oswalt's court proceedings closely, including his upcoming sentencing," he said.