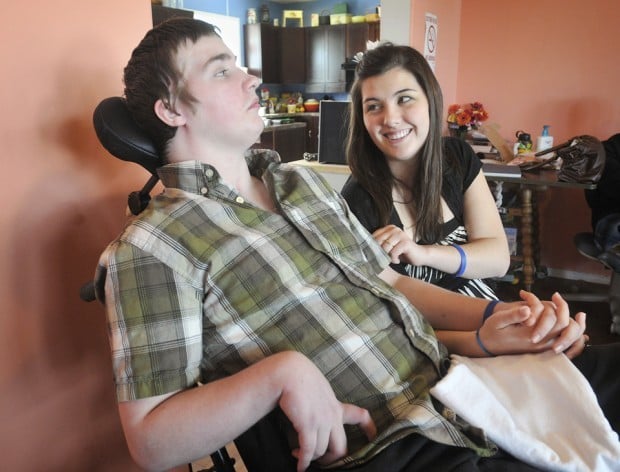 The parents of a southern Oregon man who was left permanently disabled after a 2010 drunk driving crash have filed a $5 million lawsuit against the driver and the two Corvallis bars that he visited the night of the crash.
Shane Chambers, who was 31 at the time of the crash, was drinking March 10, 2010, at both Murphy's Restaurant & Lounge and Corvallis Sport's Park Upper Deck Pub, according to police reports. About 11:30 p.m. that night, police say Chambers got into his Jeep, drove south on Highway 99W and crossed the center line, crashing head-on into a Chevrolet Cavalier.
Inside the Cavalier was 20-year-old Larry Ragsdale. He suffered significant head trauma, bleeding in the brain and "permanent and profound brain damage," according to the lawsuit. He remains in the John Grimm Adult Foster Care facility in Philomath, where his fiancee Kelcie Yeoman now works to be near him.
The accident devastated Ragsdale's life. He was a stand-out athlete from the Illinois Valley who won a state hurdling title in 2008. He was competing in track and field at Lane Community College with aspirations of joining the elite University of Oregon track team. The crash left him with limited ability to speak and to walk.
Chambers was sentenced to 40 months in prison, with three years post-prison supervision. His driver's license was permanently revoked.
The lawsuit, which was filed on March 7, states that Chambers is not the only one at fault for the incident. The document alleges that employees at both Murphy's and the Corvallis Sports Park violated public safety laws when they served Chambers, who was described in police reports as visibly intoxicated. Chambers and the two bars are listed as defendants in the lawsuit.
Oregon statute states that no person shall give or sell alcohol to any person who is visibly intoxicated.
The lawsuit states that "over-service" at Murphy's Tavern and the Corvallis Sports Par, "was a substantial contributing factor, and proximate cause, of the crash resulting in the injuries to Larry Ragsdale."
It further states that the employees of both establishments "were negligent in continuing to serve Defendant Chambers alcohol when he began to become visibly intoxicated; when they knew or should have known he would operate an automobile on a public roadway after leaving their establishment."
Reports filed by the Benton County Sheriff's Department include interviews with bar staff. Corvallis Sports Park General Manager Megan Castellano said she cut Chambers off at one point in the night because he was being loud and offensive. Later in the evening, Chambers reportedly was at Murphy's Tavern, where employees told investigators that he had three pints and then left.
Neither Jeb Dunlap, the owner of Murphy's Tavern, nor Dan Whitaker, who owns the Corvallis Sports Park, returned calls Monday seeking comment about the lawsuit.
"Really what this lawsuit is about is increasing safety in the community through accountability," said Dan Rayfield, the lawyer who is representing Larry's parents, John and Catherine Ragsdale of O'Brien. "The real question is: Was he visibly intoxicated when they served him? And did they violate that safety law prior to cutting him off? I believe they did."
Although Rayfield said that as the driver of the vehicle, Chambers bears most of the responsibility, the lawsuit contends that the businesses also have an obligation to the community to follow the safety laws.
Three hours after the crash, Chambers' blood alcohol content was registered at .22 percent — almost three times the legal limit.
"You can deduce at the time of the accident, his BAC would have been that much higher," Rayfield said.
The Ragsdales are seeking about $5 million for past and future medical expenses, impairment to Larry Ragsdale's earning capacity and non-economic pain and suffering to his personal life.
Although Chambers was ordered to pay $65,568 in restitution and fines, Rayfield said that amount doesn't come close to covering the cost of Larry Ragsdale's care.