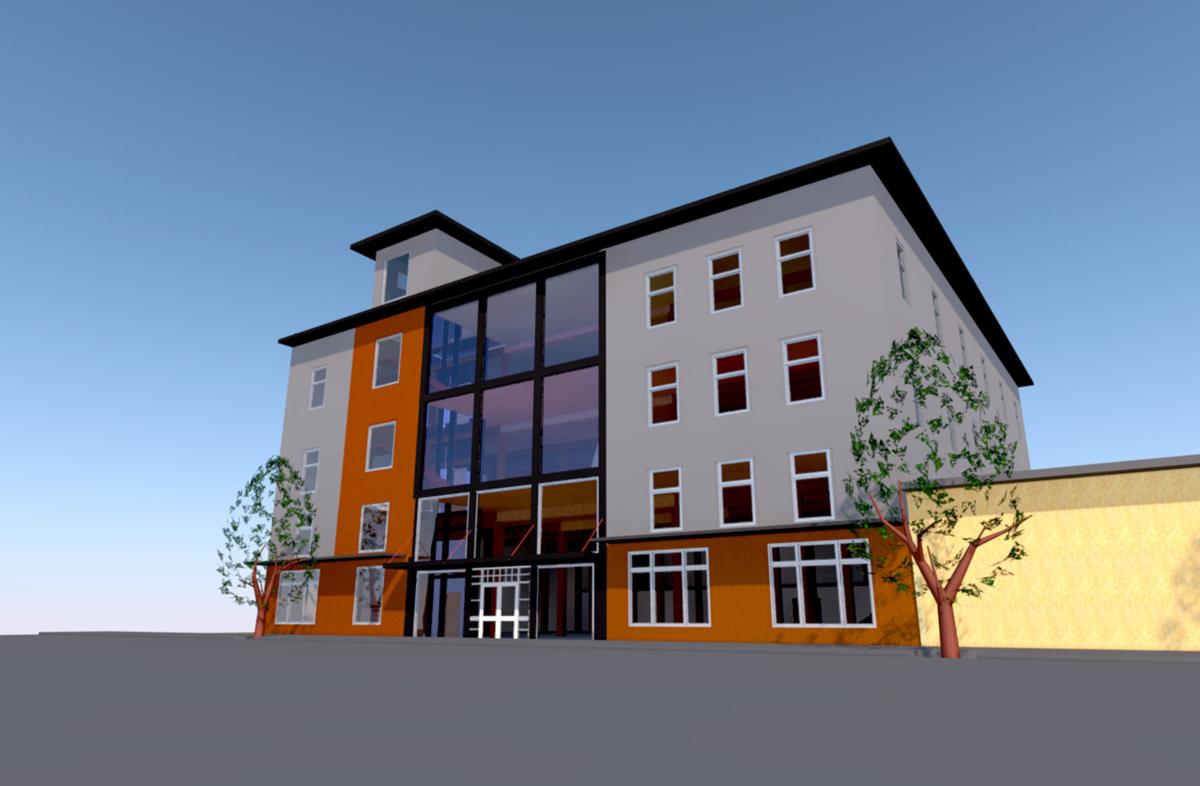 Five area conservation organizations are teaming up with a local builder on a project to create a shared office space in downtown Corvallis that will also help them advance their mission.
Dubbed the Confluence, the 26,000-square-foot office building is under construction at 412 SW Second St., in what was formerly the parking lot for Robnett's Hardware.
Alan Ayres, who owns the lot, is the general contractor for the $1.5 million project. Designed by Ayres in partnership with local engineer Pete Bambe, the building will stand four stories tall, with two full floors and two mezzanine levels. The project is expected to take about three years to complete, with a target opening of fall 2021.
While Ayres will retain ownership of the building, it will be managed under a master lease held by a coalition of five not-for-profit groups, which will also take up about half of the floor space at the Confluence.
The members of the group are the Greenbelt Land Trust, Institute for Applied Ecology, Corvallis Environmental Center, Benton County Soil & Water Conservation District and Cascade Pacific Resource Conservation & Development. They hope to lease the remaining space in the building to other nonprofit and for-profit groups working in the environmental field.
About 100 people came together at the construction site Friday afternoon for a ceremonial project launch.
Jessica McDonald, Greenbelt's associate director, said the idea of bringing together local conservation groups in a joint office location began to gel about two years ago. The partner organizations recognized that they could not only save money by sharing office equipment, reception services and other resources, but they could also be more effective in carrying out their environmental work.
"We are definitely stronger together," she told the people gathered at the launch ceremony.
Noting that the new shared office space will be only a few blocks from the confluence of the Marys and Willamette rivers, McDonald said the building's name reflects both its geographic location and its intended purpose.
"The Confluence is a center for education and stewardship, the Confluence is a gathering place for our community and the confluence is a home for nature," she said. "And in three years, the Confluence will be our home."
Planning for the project was supported by about $116,000 in capacity-building grants from the Oregon Watershed Enhancement Board and another $9,000 from the Land Trust Alliance. Those organizations and others that provide funding for conservation work are keeping an eye on the Confluence project as a potential model for increasing the efficiency and enhancing the impact of environmental nonprofits.
"We see that there's a need to fund bold and innovative ideas on the ground, ways that organizations can be more effective by working together rather than competitively," said Courtney Shaff, capacity programs coordinator for OWEB.
"It's really exciting to work with a group of organizations that are willing to lead and not follow."
Ayres, the builder behind such distinctive projects as Sky High Brewing and Big River Restaurant in Corvallis and Soft Star Shoes in Philomath, said he wanted to make the Confluence as environmentally friendly as possible.
Three-quarters of the materials used in the project will be sourced from within 30 miles of the site, 80 percent of construction labor will come from bike-commuting workers and locally grown and milled timber will be used in support members to store carbon, he said.
Other features include solar panels, a reclaimed roof water system, low-flow plumbing fixtures, LED lighting, and extremely high-efficiency heating and air conditioning units.
Even the on-site restroom provided for workers during construction is earth-friendly: Ayres built a portable composting toilet for the crew out of reclaimed and scrap materials.
Reporter Bennett Hall can be reached at 541-758-9529 or bennett.hall@lee.net. Follow him on Twitter at @bennetthallgt.