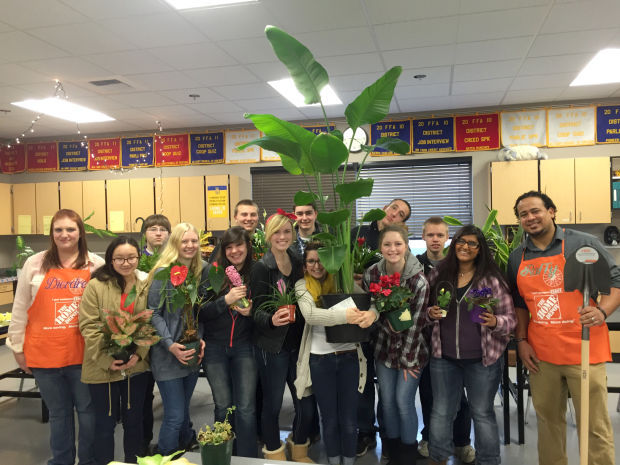 To send Good Words
Items for the Good Words column are published to recognize good deeds and charitable events. No promotions or advertising, please. Please include the sender's name, address and a daytime telephone number for verification or in case of questions.
Good Words items may be up to 150 words long. Longer ones will be edited to that length. We prefer that they be sent electronically to opinion@gtconnect.com but they also can be mailed to the Gazette-Times, Attn: GOOD WORDS, P.O. Box 368 Corvallis, OR 97339-0368. They also can be dropped off between 9 a.m. and 5 p.m., Monday through Friday, at our office at 1837 N.W. Circle Blvd.
The deadline for Good Words is Friday morning, and they are published Saturday on a space-available basis, generally in the order in which they are received.
Teacher thanks Home Depot's generosity for plants donation
Santiam Christian High School in Adair Village recently held its first semester final exams. In my horticulture class, I have been teaching plant identification. I had been hoping to accumulate live specimens for the students to have for their final.
I didn't have the budget to purchase all of them, but after a conversation with Home Depot's garden department, they volunteered to bring the plants out to the school, stay with the students to answer questions, and then take the plants back to the store. Definitely a "Good Word" is in order!
Santiam Christian Schools
Generous donations helped to brighten the holidays
This past holiday season, the need for families was greater than ever. The call went out for help and our community rose to the challenge, with gifts of clothing and toys for more than 200 children in need. Old Mill Center for Children and Families offers its heartfelt thanks and appreciation to the 16 businesses and organizations — as well as the 25 individual/family donors —who made this miracle happen for our children and families.
Old Mill Center for Children and Families
Furniture Share grateful for generous holiday support
Furniture Share send our most sincere appreciation to the individuals and local businesses that helped provide our Giving Tree children a Christmas by choosing "A Bed for Kids" or toy tags.
Furniture Share was able to provide 566 kids with beds and 853 children with Christmas gifts. We would not have been able to make a dent in this year's holiday giving needs if it weren't for the Heritage Mall supporting our main Giving Tree location as a pick-up and drop-off site, generous monetary Beds for Kids donations from Buzz Wheeler, Coastal Farm & Ranch, and Clayton Homes and 40 triple bunk beds donated by OSU, which Trish and Trent Irwin and TNT Builders cut down to single twin beds for children. There are too many to list individually, however, you all know who you are and we truly appreciate each and every one of you.
Health advocates thankful to co-op for venue 
On Saturday Jan. 10, Mid-Valley Health Care Advocates joined other vendors at the Wellness Fair at the First Alternative Co-Op's two stores.
Among the insightful conversations we had with shoppers are these health-care stories: A teacher reported that over the last 20 years, she has seen the health of her students decline sharply; a man who grew up in Italy was pleased that finally some of us in this country are working for European-style healthcare plans that cover everyone.
Thanks to First Alternative for providing the fair and promoting conversations about ways to stay healthy and have healthy communities.
Warm thanks for support of MLK service day knitting
Corvallis Parks and Recreation's Youth Volunteer Corps (YVC) would like to thank all the generous community members who donated supplies or time towards our Martin Luther King Jr. Day service project, Keep Corvallis Warm. Because of generous donations and time volunteered, we were able to knit a variety of scarves, blankets and hats to be distributed to community organizations supporting those in need this winter.
A special thank you goes out to the Youth Volunteer Corps of Corvallis' Youth Advisory Board for assisting in planning the event and volunteering their time on Martin Luther King Jr. Day. Corvallis Youth Volunteer Corps provides year round volunteer opportunities for youth ages 11 to 18. For more information about YVC call 541-766-6467 or send email to keeley.naughton@corvallisoregon.gov.
Corvallis Parks and Recreation
Benton Habitat grateful to Assistance League
Benton Habitat for Humanity would like to recognize and send appreciation to the Assistance League of Women for their thoughtful donation of trees this past Christmas.
Eight Habitat homeowners were the recipients of the donation, and thoroughly enjoyed the beautiful trees. One family stated that this was their first Christmas in their new home and having their Christmas tree added to the beauty of their home and the joyous season. 
Benton Habitat for Humanity