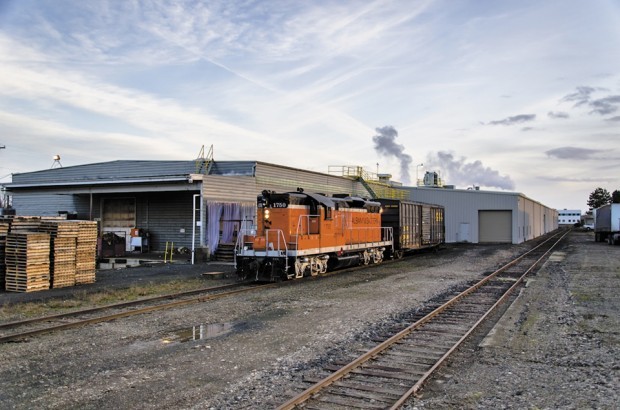 Abandoned spur line reopens after $79,000 renovation project
The Corvallis Airport Industrial Park has rail service again.
After years of disuse, a short spur line into the industrial park south of town was renovated over the winter.
"It gives us another marketing point for the Airport Industrial Park," said Dan Mason, the airport coordinator. "We're trying to fill it up."
California-based contractor H&H Engineering replaced rotten ties, realigned some rails and added ballast to the roadbed, Mason said.
Most of the money for the project came from the Oregon Department of Transportation, which provided a $59,000 grant. Around $20,000 in matching funds came from airport revenues, Mason said.
The spur runs west from the old Portland & Western tracks — now part of the Venell Farms Railroad — and then splits into two lines. One line runs about 1,000 feet south to Western Pulp Products, with the other running 1,900 feet to a loading dock at the former Brand S Lumber plywood mill site.
No traffic had been seen on the spur since at least June 2007, when the Portland & Western halted service on 23 miles of dilapidated track between Corvallis and Monroe, saying there wasn't enough business to justify repairs.
Farmer Larry Venell bought 5.3 miles of rail in 2010 and began hauling wheat, livestock feed and other freight between his own covered loading facility south of the airport and the Corvallis switching yard, where the cars are turned over to the Portland & Western.
On Feb. 1, Venell Farms Railroad delivered the first boxcar full of paper to Western Pulp Products since before the embargo. The other line into the Airport Industrial Park officially reopened last week, after ODOT safety inspectors signed off on the repair work.
"There hadn't been service down there for quite a spell," said ODOT rail planner Bob Melbo. "Western Pulp was a big historic user of that spur."
The company, which manufactures a variety of products from recycled paper, hopes to bring in between eight and 12 railcars of raw materials a year, said Rick Hurley, Western Pulp's vice president for technology.
Other Airport Industrial Park tenants have shown interest in the line as well, Mason said, including Oregon Rubber Mills, and he's approached Venell Farms Railroad about renting the old Brand S dock as a loading facility.
That's a possibility, Venell said, but only if there's enough business to justify the arrangement.