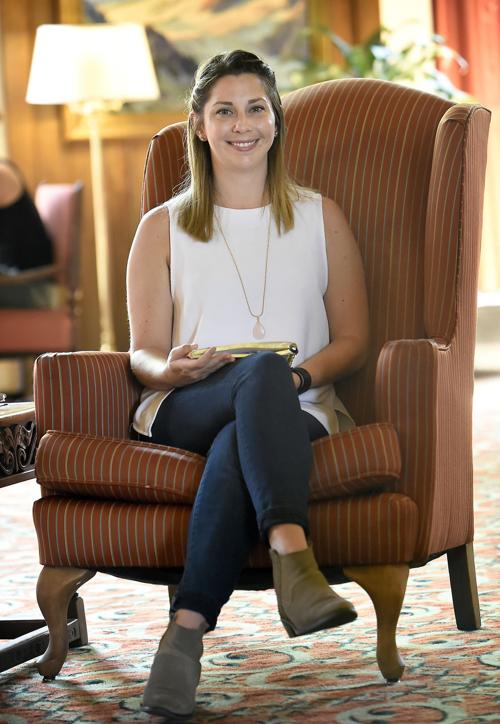 Kathryn Cowsert was taking classes at the University of California-Santa Cruz when the recession hit and dealt her finances — and her education — a setback.
Unable to qualify for the loans she needed, she had to drop out of school — even though she was only two quarters shy of graduation.
Cowsert moved from California to Eugene, where her boyfriend was from, and began doing marketing and branding work in the high-end real estate industry.
"But I wasn't fulfilled," she recalled. "I decided I really wanted to work in human services, so I put in my two weeks' notice."
In the meantime, she had started taking classes online through Oregon State University's Ecampus program. She went to an OSU career fair and found a job in the human services field with a company that helped people with barriers to employment find work and succeed in their jobs.
When the agency she worked for relocated from Salem to Portland, however, the commute from Eugene became unmanageable.
But rather than look for another new job, Cowsert decided to create one for herself. In May 2015, she started her own company, Meraki Consulting, doing the same sort of work she had done for the agency.
"It made much more sense for me to go off on my own as an independent contractor and not try to commute to Portland twice a week and still balance my school workload," she said.
Cowsert provides services to people on behalf of the Oregon Vocational Rehabilitation Program and Linn, Benton and Lane counties. Her clients come to her with a range of barriers to employment, from developmental or intellectual disabilities to visual or hearing impairments, the use of a wheelchair or the need for a service animal.
It's all about finding the right fit, Cowsert said.
Many of her Voc Rehab clients, for instance, need placement assistance after recovering from a serious injury.
"A common (example) is people who may have gotten injured on the job, gone through workers' compensation and now need to go into a different job," she said.
You have free articles remaining.
At the other end of the spectrum are people with special needs who really want to work but may never have held a job before. Oftentimes Cowsert will set them up with a volunteer position that allows them to spend a few months learning work skills before transitioning into a paid role with the same company.
"Hopefully, at the end of those three or four months you have somebody who's fully trained," she said.
Surge of workers
There's been a surge of people with disabilities moving into the workplace since a 2014 state law that abolished Oregon's system of sheltered workshops, which steered people with disabilities into segregated work environments where they often toiled for less than minimum wage.
"They bring so much to the table," Cowsert said, "and I think everybody deserves to the right to be in an integrated workplace."
One of her most rewarding experiences since launching her business has involved helping a client with Asperger's syndrome, Cowsert said.
He had a college degree in family sciences but no work experience. On paper, he seemed like an ideal candidate for an office job, but there turned out to be some problems with that. Because of his condition, he has difficulty talking on the phone and is uncomfortable around fluorescent lighting. More to the point, he just didn't like office work.
On the other hand, Cowsert discovered, he had some unusual skills to offer.
"He has a mind for statistics and rules, and he loves sports," she said. "I found out he would do really well as some sort of referee."
She found him a job as a Little League umpire in Eugene, and he's thriving in the position. Now Cowsert is investigating officiating opportunities in other sports, such as volleyball, to help her client stay employed year-round.
"He didn't have a lot of confidence in the beginning, (but) now he makes rules and he talks to coaches and kids," she said. "It's really exciting to see him blossom as a person."
Working full-time while taking college classes wasn't easy, but Cowsert got the job done. She earned her bachelor's degree in human development and family sciences at the end of winter term, and today she'll walk in the OSU commencement ceremony at Reser Stadium and collect her diploma.
She sees parallels between her own educational journey and the work she does with clients like the young man with Asperger's.
"I like to think of it as very similar to what OSU did for me," she said. "I can't do the work for him. I can just provide him with the skills and tools to do it himself."
Reporter Bennett Hall can be reached at 541-758-9529 or bennett.hall@lee.net. Follow him on Twitter at @bennetthallgt.