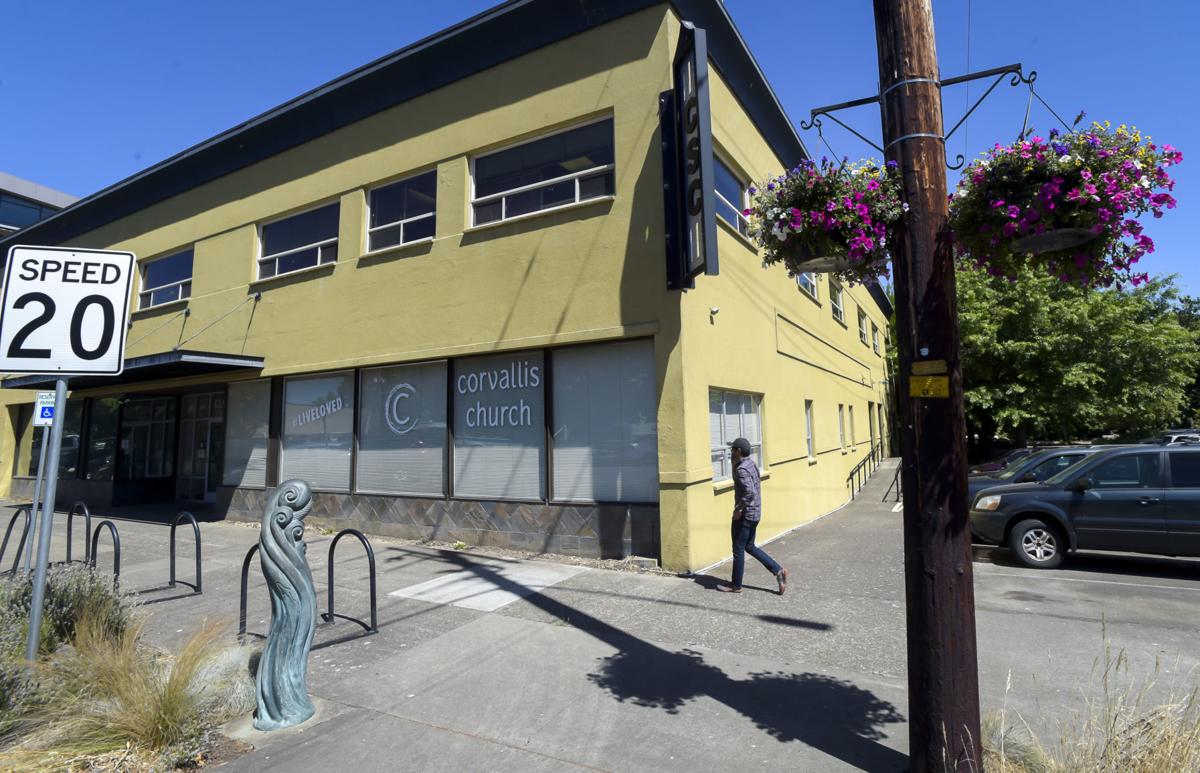 A group of downtown Corvallis business and property owners has hired an attorney to fight plans for a men's cold weather homeless shelter in the neighborhood and says it is considering legal action against the city if its demands are not met.
George Heilig of Heilig, Misfeldt & Armstrong has been retained by a group calling itself Concerned Citizens for Corvallis Downtown Safety and Livability, which opposes plans to locate the seasonal men's shelter in leased space at 545 SW Second St. along with the Corvallis Daytime Drop-In Center and the Stone Soup free meal service.
Heilig sent a letter on Tuesday to Corvallis Mayor Biff Traber and Benton County Commissioner Anne Schuster, the co-chairs of the Housing Opportunities Action Council, which oversees the joint city-county plan to address homelessness. The initial 10-year plan was adopted in 2009.
The letter demands that the HOAC governing board urge the Corvallis City Council to reconsider its July 16 decision to award $60,000 for this winter's shelter operations at the Second Street location, saying that vote was based on the belief that the HOAC board had approved the location when in fact it had never formally done so.
The Benton County Board of Commissioners voted the next day to provide an equal amount of funding but did not tie the money to a specific location.
The council considered a motion to revisit the funding decision at its meeting on Monday night, but decided not to do so on a 5-4 vote.
Traber, who only votes on matters before the City Council in the event of a tie, cast the deciding vote to award funding for the Second Street location in both instances.
"This issue has been hashed and rehashed," he said at Monday's council meeting. "To go there again would not be productive."
Traber said Tuesday that HOAC leadership was still in the process of preparing a response to a previous letter from the Concerned Citizens group and was still reviewing the letter from Heilig. 
You have free articles remaining.
Schuster, who has publicly opposed the Second Street location, said in an email to the newspaper that she had been advised not to comment because "I don't speak for HOAC."
However, she added this statement:
"When I got involved in all this, I wanted to create a community conversation, not a fight. At least we now have everyone's attention: nonprofits, business, public, government, faith communities. With a concerted, strategic effort, can we bring all these folks together to develop a comprehensive plan? It should go way beyond the shelter. We need a continuum of housing resulting in permanent, supportive housing; services for those who need them (e.g. sobering center, rehab, mental health); education and employment opportunities."
Corvallis city attorney Jim Brewer said the city would likely wait to see how HOAC responds before deciding what action, if any, to take.
But Terri Homer, a spokeswoman for the Concerned Citizens group, said the city needs to take another look at the former Hanson Tire Factory building on Southeast Chapman Place, where the shelter operated last year. That location initially was not thought to be available for this winter, but downtown property owner Rich Carone announced in early July that he had an option to buy the building for use as a men's shelter.
"They have just refused over and over again to consider other shelter options seriously and have systematically disregarded our concern about community safety," Homer said.
If the City Council does not meet her group's demands, Homer added, they'll consider more forceful legal tactics.
"I can't tell you exactly what it's going to be," she added, "but an injunction is certainly a possibility."
The concerns raised by Homer and other members of her group focus on the fact that the men's cold weather shelter does not screen for sobriety, admitting homeless men who are drunk or high on drugs as long as they abide by rules for behavior. Anyone who leaves the shelter during the night is not allowed back in.
The year-round shelter operated by Community Outreach Inc., by contrast, requires that residents be sober because COI operates addiction treatment programs on site. That shelter, which typically operates at or near capacity, caters primarily to veterans and families.
Community Outreach, a longtime HOAC member, withdrew from the organization on July 23, citing the possibility of a lawsuit over the men's cold weather shelter location.
Reporter Bennett Hall can be reached at 541-758-9529 or bennett.hall@lee.net. Follow him on Twitter at @bennetthallgt.