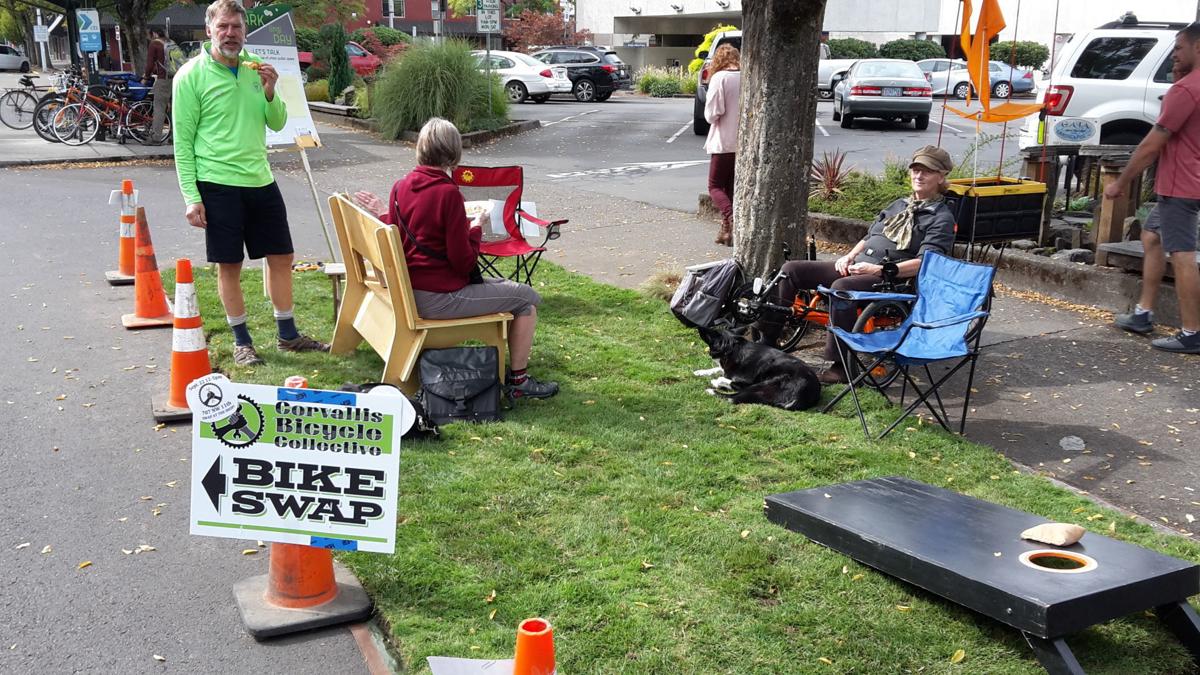 Corvallis is celebrating year two of its involvement in PARK(ing) Day in a big way.
Last year activists took over a parking spot on Second Street, set down turf, chairs and benches, a cornhole game, put up information boards and had a jolly time chatting with passersby.
The goal of the program is to turn parking spots into pop-up parks to help revisit how public spaces can be used. Similar events have been held nationally and internationally since the first observance in San Francisco in 2005.
Six groups have signed up with the Corvallis Sustainability Coalition's Transportation Action Team to participate this year, with enterprising individuals encouraged to bike, walk or take public transit to visit all six spots.
"We're doing this to demonstrate how interesting place-making can happen by converting just a few spaces for one day," said organizer Jay Thatcher. "When a place we used to drive mindlessly past starts grabbing our interest, relationships develop with the place and the people there.
"That changes a corner of our city into somewhere exciting — and enhances safety."
Here is a look at the sites, in the order in which they will open, with notes on the activities planned for them:
9 a.m.-4:30 p.m.: Benton Soil and Water Conservation District is hosting a banner-painting event on Southwest Fifth Street near the transit center.
10 a.m.-3 p.m.: The environmental organizations that will use the under-construction Confluence Building on Southwest Second Street next to Robnett's Hardware will have information on natural prescriptions.
10 a.m.-2 p.m.: The coalition's Transportation Action Team will set up on Southwest Benton Place near Goss Stadium at Oregon State University and offer lawn games.
12:30-7 p.m.: The Corvallis Bicycle Collective on Northwest 11th Street near Taylor will offer snacks and bike repair services.
1-5 p.m.: The coalition's Land-Use Action Team will be outside the Starbucks at Southwest Madison Avenue and Fourth Street and offer trivia games and beanbag tossing.
2-5 p.m.: The First Alternative Co-op will set up at two spaces near its store at Northwest 29th and Grant and feature games, food samples, picnicking and chalk art.