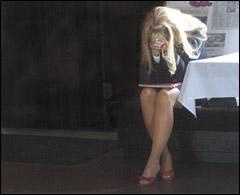 LEBANON - Joyce Olver remembers vividly the events of Sept. 11, 2001.
She was scheduled to be on one of the airplanes that crashed. But fate had something else in mind.
Olver spoke to about 75 people Tuesday at the Lebanon Christian Women's Club meeting at Pineway Restaurant.
Her message was one of faith in God and the need to prepare oneself for the unpredictable.
"We act like we have all the time in the world. The truth is that none of us know the hour when death will knock on our door. Age has nothing to do with it," she said.
Olver was working as an American Airlines flight attendant prior to the terrorist attacks. She grew up in Portland and later moved to Kentucky, where she lives with her husband and children.
In August 2001, she had received a new flight schedule, Chicago to Boston to Los Angeles, which she was very happy to have, she said. She kept an apartment in Chicago and commuted home to see her family.
In April 2001, shortly after she began her career with American, a 500-pound male passenger on a flight from Chicago to Seattle inadvertently stepped on her foot. She continued to work for several months before getting it checked out.
Then her doctor found it broken in four places and ordered her grounded until she could have surgery in October.
She received the news in early September, frustrated that her career had to be put on hold, "I began to feel sorry for myself. 'Why was I so unfortunate?' I asked myself."
On Sept. 10, 2001, she drove home to Kentucky, deciding that she needed to be near her family. Arriving at her home early on the morning of the 11th, she crawled into bed, only to be awakened by a telephone call from her daughter.
"She was frantic, telling me to turn on the television. I had to tell her to calm down. She said, 'Mom, aren't you supposed to be on that flight?' "
Olver had been scheduled to work on American Airlines Flight 11 from Boston to Los Angeles, one of the planes that struck the twin towers that morning.
"I remember thinking that I'm supposed to be there. That was supposed to be me," Olver said.
In the days that followed, Olver said she often wondered why her life had been spared.
"It could have been any one of us or any one of our family members on those planes that day," she said.
In the midst of the confusion and loss, she said God gave her much-needed strength, understanding and peace. She said she relied on her religion when dealing with the question of why the woman filling in for her that day had suffered the consequences instead of herself.
Olver said the experience convinced her to spend more time teaching her own children and grandchildren of God's importance.
Olver has been traveling around the country for the last year, speaking in Oregon, Washington, Idaho, Ohio, Tennessee, Kentucky and other states.
Anyone interested in hearing Olver speak can contact her at jolver@fuse.net.