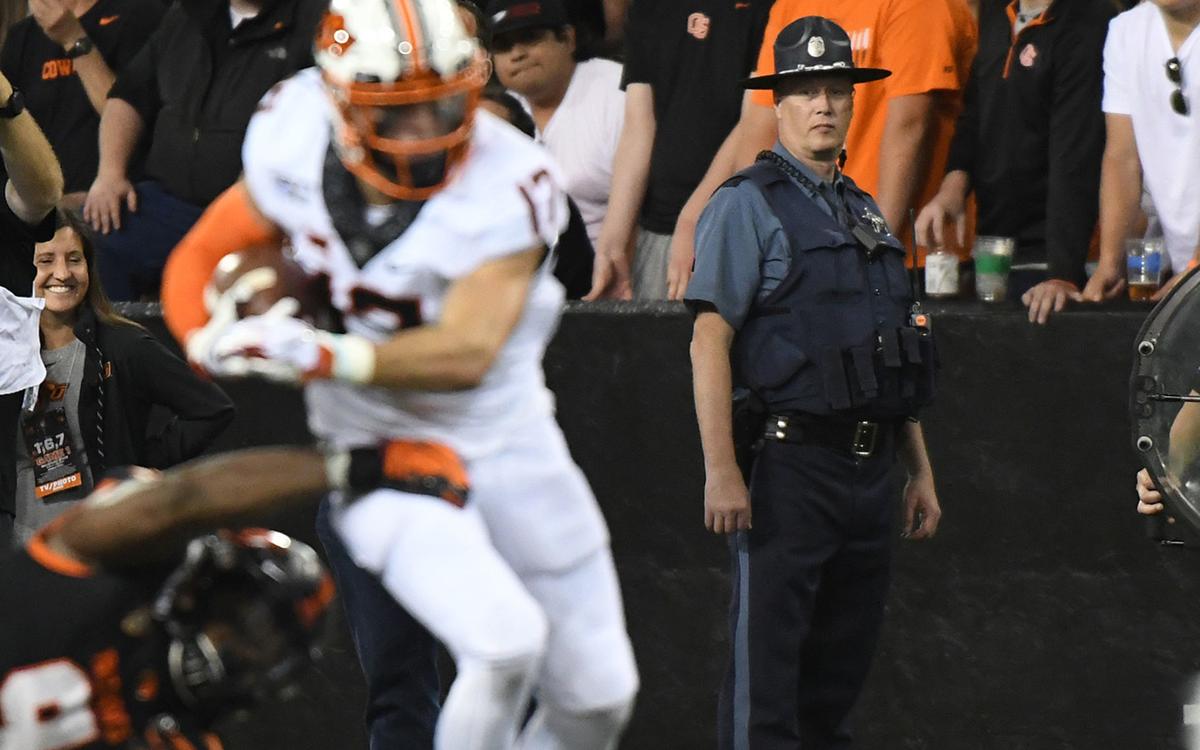 The Oregon State Police will stop providing law enforcement services to Oregon State University by the middle of next year.
According to a statement from State Police communications director Mindy McCartt, the agency has been thinking "for much of this year" about terminating its contract with OSU because of personnel shortages elsewhere in the state.
"Oregon law enforcement resources are in drastic decline and our statewide offices are starving for police personnel," McCartt said in an email on Wednesday.
But the decision also comes in the midst of public fallout from a state trooper's controversial arrest of an African-American OSU student earlier this month, which has raised concerns about racial bias and excessive force.
Genesis Hansen, stopped Oct. 13 for riding her bike on the wrong side of the street, was taken into custody on charges of interfering with a peace officer and resisting arrest after she refused to show her ID. The Benton County District Attorney's Office has declined to prosecute those charges.
In her email, McCartt said the Oregon State Police notified OSU of its decision to end the contract on Monday.
That was three days after OSU President Ed Ray sent a message to the campus community via email expressing his concerns about the situation and threatening to pull out of the contract.
"Let me be clear," Ray said in his message, "this matter is sufficiently troubling that unless its resolution is satisfactory to OSU, we will reassess the value of continuing a campus law enforcement contract with Oregon State Police."
The Oregon State Police has been the primary law enforcement agency for OSU since the 1980s.
In her email, McCartt said the agency informed OSU that it would terminate the relationship when the current contract expires at the end of this year. At the university's request, she added, the agency will continue to police the campus until June 30 to allow for a smooth transition.
Steve Clark, OSU's vice president for university relations and marketing, said the timing of the State Police decision was "coincidental."
"We respect their decision to deploy their staff as they see fit," he said.
Clark said that the State Police contract with OSU to provide three specific services: law enforcement on the campus, enforcement at sporting events and operating a dispatch center on campus. 
He said that 15 troopers currently are assigned to Oregon State University. The university also maintains a Department of Public Safety, but only the chief of that department and one other employee are licensed law enforcement officers; those officers are not armed. Clark said OSU has no plans at current to convert the department into a licensed law enforcement agency and arming those officers.
Clark said the university will consider other law enforcement options and noted that it has mutual aid agreements with other agencies, including the Corvallis Police Department, the Benton County Sheriff's Office and the Corvallis Fire Department. 
Get local news delivered to your inbox!
Subscribe to our Daily Headlines newsletter.