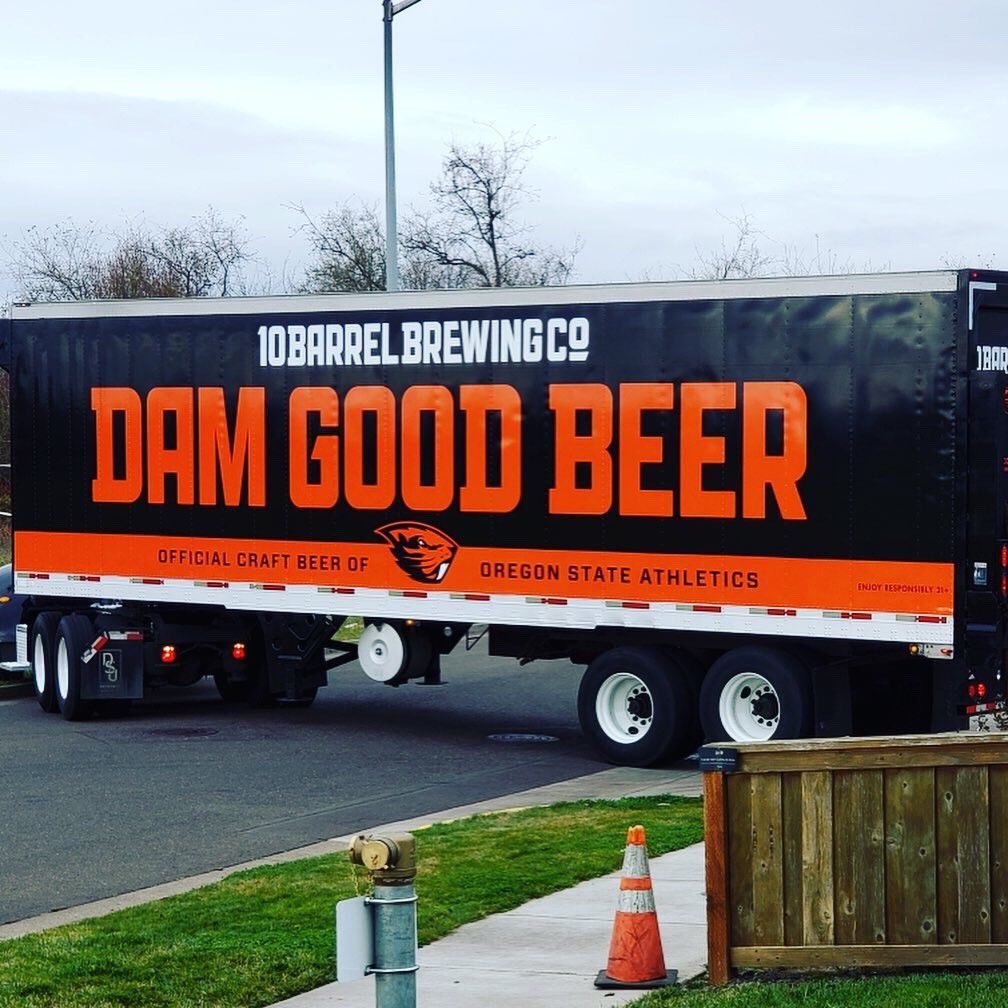 Talk about a bitter aftertaste.
Flat Tail Brewing in Corvallis has used the slogan "Dam Good Beer" for years, said Dave Marliave, head brewer and co-owner the brewery, which is probably best known for its Dam Wild series of sour beers.
So Marliave was dismayed when he learned that 10 Barrel Brewing Co. — a Bend brewer now owned by Anheuser-Busch InBev, the largest brewing company in the world and the maker of Budweiser and Bud Light — had taken the slogan for itself. A semi-trailer from 10 Barrel with the phrase even drove right past the downtown Corvallis brewery earlier this week, Marliave said.
"How didn't they notice that we've been using this slogan for almost a decade?" Marliave said.
"What's probably more likely is that they did know they were using it and they just didn't care," he added.
Flat Tail blasted 10 Barrel on social media.
According to a social media post in response, 10 Barrel said it had no idea Flat Tail was using such a tagline, and was simply trying to promote its new partnership with Oregon State University.
The post then challenged Flat Tail to a drinking contest to determine who would retain the slogan. "Or we can change out the graphics to something more fitting for us like #dambetterbeer," the post reads.
The post also included the hashtags #nexttimecallus, #wewouldhavechangedit and #notnow in succession.
"10 Barrel, and by 10 Barrel I mean Anheuser-Busch, really showed their true colors," Marliave said.
In a follow-up statement, provided to the newspaper by Anheuser-Busch InBev's Brewing Collective, Andy Goggins, director of marketing for 10 Barrel, said the drinking contest idea was a joke.
"Rest assured that we're currently working with OSU and our wholesaler to swap out the graphics on the trucks in Corvallis. We invite the Flat Tail team to join the 10 Barrel team for a beer at the next tailgate," Goggins said, in the statement.
Marliave said on Friday afternoon that he hadn't been contacted about such a solution. "The only response we've received so far is that they weren't going to change it," Marliave added.
Anheuser-Busch InBev agreed to purchase 10 Barrel in 2014. Terms of the deal weren't disclosed.
At the time, the acquisition was shocking to many in Oregon's beer community. But it was near the start of a trend. Large industrial brewers were losing market share to craft beer, so they started purchasing microbreweries. The product, to many consumers, doesn't taste different and hasn't been diluted.
"It's not the beer. Everyone tries to steer the conversation to the quality of the beer," Marliave said.
He said the craft breweries acquired by Anheuser-Busch InBev and MillerCoors signal the values and virtues traditionally held by craft brewers and consumers of their products. The parent companies of these former independents, though, support causes that the consumers don't.
"No one knows this. And the companies want to keep the conversation about the beer so we don't dig into anything else," Marliave said.
Anheuser-Busch InBev uses 10 Barrel to market to outdoors enthusiasts, then donates profits to politicians who won't protect the environment, he added.
"Coors has been lobbying against gay rights since the 1950s. And then they put rainbow cans on the shelf with Hop Valley and everyone thinks they're supporting progressive causes. It's insane," Marliave said.
Marliave said the mix-up over the "Dam Good Beer" tagline is ironic, since Anheuser-Busch InBev has aggressively pursued copyright violations connected to 10 Barrel's flagship beer, Apocalypse IPA. One brewery was forced to change its name because that included the word "apocalypse," he added.