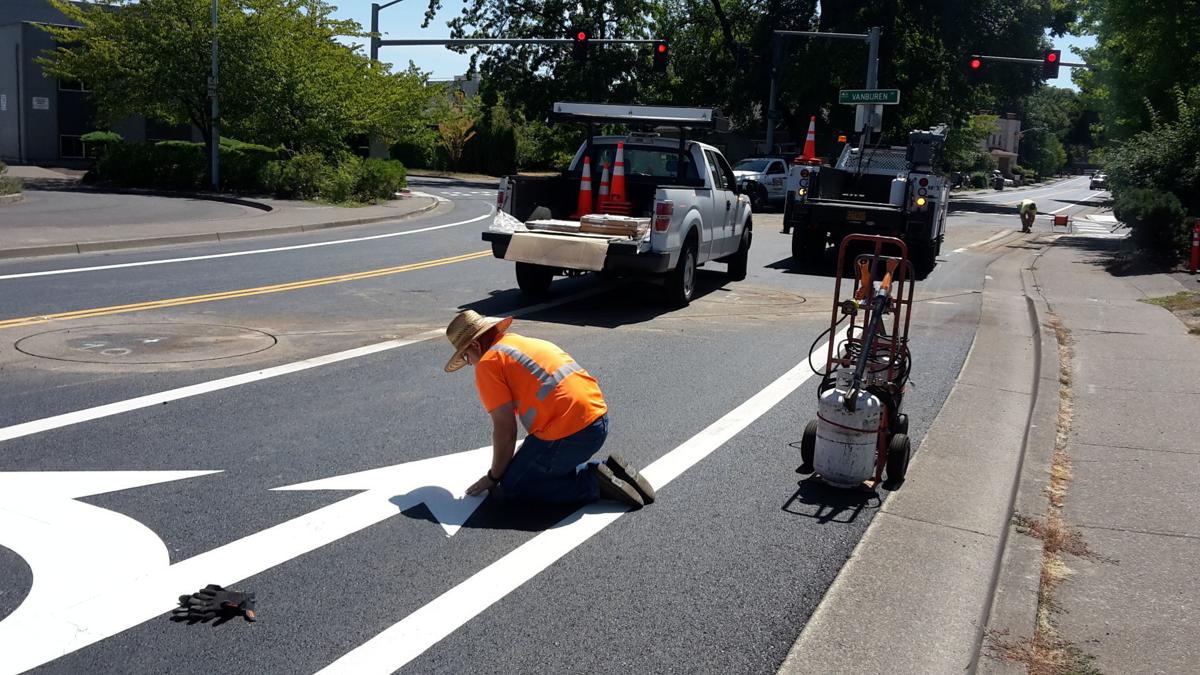 Crews are close to wrapping up the first of three major city public works projects for this summer in Corvallis.
Work to resurface Kings Boulevard between Grant Avenue and Monroe is set to conclude Monday, said Michael Tasman, an engineer with the city's Public Works Department, although there will be some clean-up work going on through Aug. 30.
Monday should see the end of daytime detours in the area, Tasman said. The city tackled the Kings work first because officials wanted to be sure to have the street ready for fall term at Oregon State University.
The city begins resurfacing work Monday on Ninth Street between Spruce Avenue and Circle Boulevard. The project starts with daytime work on sidewalks and Americans With Disabilities Act ramps that is set to run through the first week of September.
You have free articles remaining.
Night resurfacing work begins Sept. 8 and runs through early October. Also part of the project are concrete medians that will eliminate left turns out of the three businesses on the east side of Ninth (Bi-Mart, Wild Birds Unlimited and the Agrestic north store). In addition, left turns from Spruce onto Ninth will be prohibited.
The third major project of the summer will be water pipe work to move new more flexible pipes on a pair of Marys River bridges under the river itself for seismic safety reasons.
Work already has started on tree protection fencing, erosion protection and sediment control near the Fourth Street bridge. The river will be temporarily dammed starting Aug. 21, with the new pipe going 10 feet under the river in the middle of September. Water service with the upgraded setup will start in early October. The current pipe runs underneath the bridge.
A bit further north at 15th Street, crews will assemble a 1,200-foot pipe in Pioneer Park that will be pulled through a drilled hole 60 feet below the river bottom. The new pipe will replace one that currently runs along the east side of the bridge at 15th Street. The new line is scheduled to go live around Thanksgiving. No interruptions of water service are foreseen.
The pipe project costs approximately $3.5 million, with city water customers paying most of the cost. The increase in the pipe size at Fourth Street will be paid for by systems development charges, the money that developers pay for infrastructure costs.
The street projects are scheduled to cost approximately $2.4 million. The work is being paid for primarily by the city's transportation maintenance fee, supplemented by a state grant.