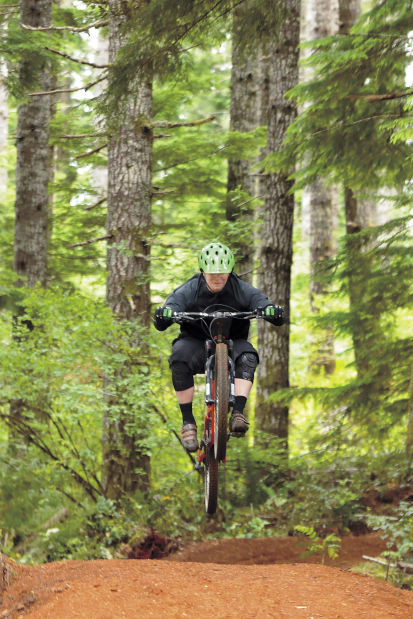 Team Dirt built more than 5 miles of new mountain biking trails in Benton County last year. Now it's enlisting the public's help so it can get even more done this year.
The Corvallis-based nonprofit, the local chapter of the International Mountain Biking Association, is launching a campaign today on the Indiegogo crowdfunding website to raise $60,000 for the purchase of a mini-excavator, a mechanized wheelbarrow, a trailer for transporting and storing equipment, and some additional trail-building tools.
"It makes us about six times more effective to have the excavator and trail tools," said Eric Emerson, the group's trails coordinator. "It takes away a lot of the heavy lifting."
Team Dirt's most notable achievement last year was the completion of almost 6 miles of new beginner and intermediate mountain biking trails (also open to other users) at the Bureau of Land Management's Alsea Falls Recreation Site in south Benton County. According to Emerson, the new trails drew more than 7,000 riders last year, a number that's expected to double to about 15,000 in 2015.
While Team Dirt has about 80 active members and a strong volunteer base, Emerson said, the mechanized construction equipment will be a big help for projects in the works for this year.
Those include a major expansion of the Alsea Falls trail network as well as maintenance and trail building work on Oregon State University's McDonald-Dunn Research Forest.
"We're moving forward on developing a mountain bike trail that also has runners and hikers in mind on McCulloch Peak," Emerson said. "It's basically a pilot project."
The roughly mile-long route would come off the 2,178-foot peak's summit and link into the existing network of logging roads that run through the research forest, a popular destination for recreational users.
The group also recently signed a volunteer agreement with the Siuslaw National Forest to do trail maintenance and improvement work on Marys Peak, Emerson said, and is working with the Corvallis Parks & Recreation Department to develop a pump track for cyclists at a city park.
The group will mark the final stage of the crowdfunding push with a movie screening and raffle on April 25 at the Whiteside Theatre (see box).
Also next month, the group will launch a parallel effort to win a $100,000 grant from the International Mountain Biking Association and Bell Helmets to fund construction of a new expert-level trail at Alsea Falls. The IMBA-Bell grant is awarded through a competitive process based on an online voting system. Team Dirt is asking its supporters to go to www.imba.com/grants/bell-built during a two-week window starting April 13 and vote for its proposal.
And if you don't have money for a cash donation, Emerson said, Team Dirt can always use more volunteers.
"We've got plenty of build day opportunities coming up," he said. "If they can't support us financially, they can come out and lend a hand in the dirt. That's what I really appreciate."