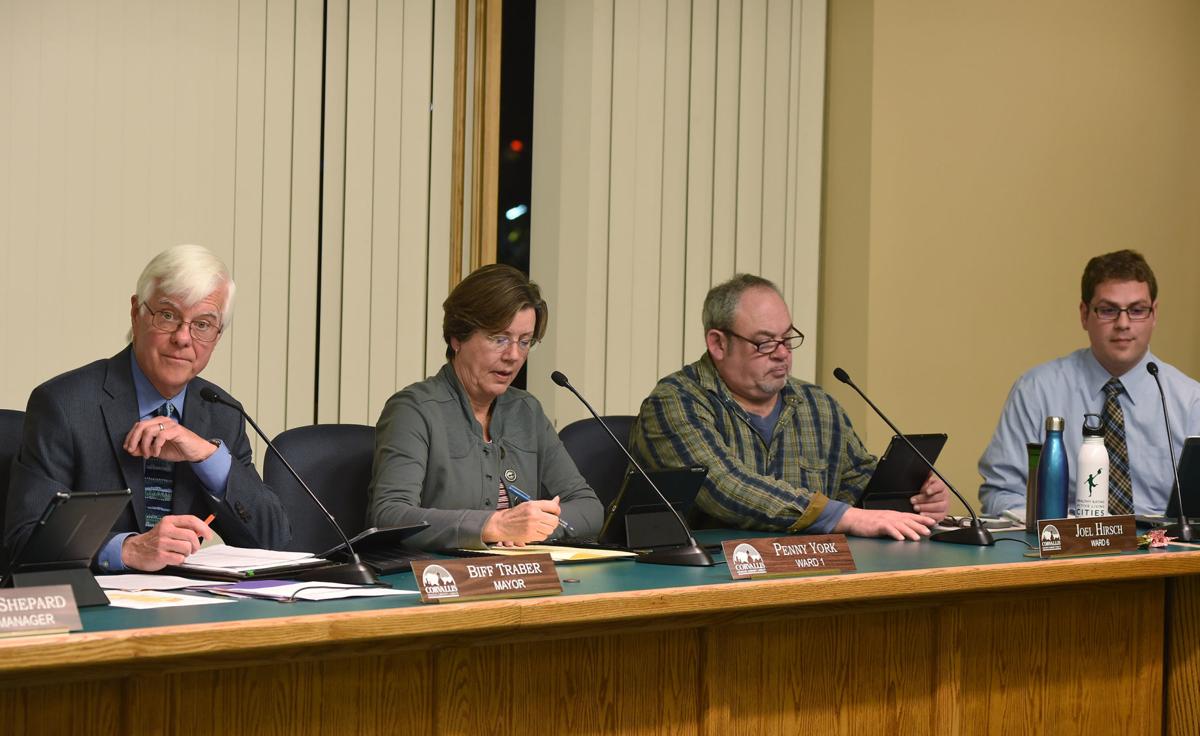 Joel Hirsch, who served four terms as an outspoken, colorful member of the Corvallis City Council. has died at the age of 61.
Hirsch was killed in a single-vehicle crash Tuesday night on a winding country road outside of Albany.
"I'm saddened," said Corvallis Mayor Biff Traber, who opened his "state of the city" address Wednesday by paying tribute to Hirsch. "He was extremely helpful to me when I started on the council. We'll all miss him."
Hirsch was driving north on Riverside Drive near Stellmacher Drive shortly after 10 p.m. when his 2007 Nissan Murano crossed the oncoming travel lane, went off the shoulder and struck a tree head-on, then spun back onto the roadway, according to the Linn County Sheriff's Office.
Hirsch was the only occupant of the vehicle. Although he was wearing a seatbelt and the car's airbag deployed, he was pronounced dead of his injuries at the scene, the Sheriff's Office reported Wednesday morning.
Hirsch was first elected in 2008, and served four terms as the Ward 6 representative on the Corvallis City Council before losing the seat to challenger Nancy Wyse in 2016.
Hirsch was passionate about his council work. He was a staunch defender of city services and city spending on issues such as arts and culture, parks and the library. He was a strong backer of city efforts to keep city services intact by imposing local option property tax levies. 
In a memorable public forum during his 2016 campaign, Hirsch fervently defended continued support for city services, noting it "doesn't mean we aren't living within our means. If you don't want these things, then vote no. People in this city want to pay for parks. These (services) are the things that make the place what it is and why we want to be here. There isn't any more fat to cut" in the budget.
"And he was right," said Curtis Wright, who has led numerous local campaign efforts on ballot measures such as the city levy. "He definitely had a passion about it."
Hirsch also played key roles in two lengthy, controversial initiatives, the staff and council committee work that led to a new "livability code" on property maintenance as well as a sustainable budget task force. The budget group met for nearly two years while looking at unmet city needs and reviewing ways to find the revenue for them.
The work of the task force led to a new public safety fee, imposed via a unanimous council vote in November 2018 that is paying for 25 new fire and police staffers. The task force work also fueled a successful campaign, led by Wright, to renew and expand the city's local option property tax levy, which will raise $30 million over the next five years and pay for parks and library services.
Hirsch also was a champion of local businesses, Traber recalled.
You have free articles remaining.
"He had a lot of interests in entertainment and arts and culture, but he also was a strong backer of economic development," Traber said.
Hirsch was also a strong defender of a controversial 2014 plan that called for a downtown hotel, whose parking garage would be paid for by public funding. That plan failed, but a second plan without the city component succeeded and Traber's remarks on Hirsch took place in the new Courtyard by Marriott on Southwest First Street. 
Hirsch had a decal on the laptop he used at council meetings that said "We all live downstream." He was not afraid to speak his mind at public meetings, once calling gun rights advocates "wing nuts" and jokingly referring to himself as the "token Jew on the council."
"He was one of the more quotable councilors," Traber said.
Hirsch also was quick to honor and note the persuasive efforts of fellow councilors during knotty deliberations. 
In a last political hurrah in 2018, he threw his hat in the ring for an open seat on the Benton County Board of Commissioners. He was one of six Democrats in a crowded primary race that ultimately was won by Pat Malone, who went on to an easy win the general election as well.
One of the other Democratic hopefuls in that crowded campaign was Wyse, who had defeated Hirsch in 2016 in his bid for fifth term. Wyse noted on Twitter on Wednesday that that she was "sad" to hear of Hirsch's passing. 
"While we sometimes had differing opinions, we could always agree that serving the community was a top priority," she said.
Lauana Beaty, a local Democratic campaign operative, noted on Twitter that Hirsch "was always upbeat, engaging, always ready to listen. He was a good friend to many, he will be sorely missed."
Hirsch moved from Corvallis to Albany in 2019.
His professional career ranged over a number of different fields, including some stints with startups in the medical industry and a number of years working as a professional musician, working mainly as a percussionist. He also appeared in a 2013 Majestic Theatre production of "The Sound of Music."
He attended the California Institute of the Arts, California State University-Northridge and Central Michigan University, as well as spending spent two years at the Esalen Institute in Big Sur.
Funeral arrangements are pending with AAsum-Dufour Funeral Home in Albany.