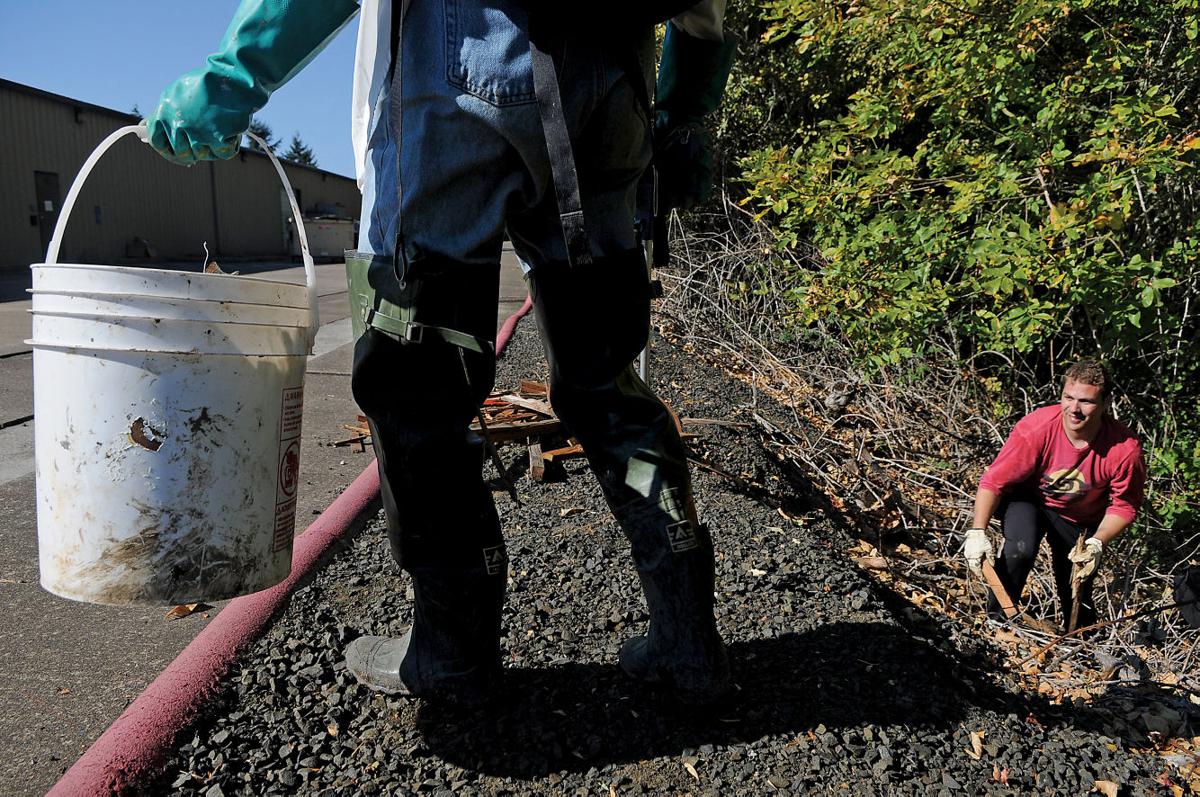 Jeremy Colson used to pass piles of trash and old machinery that clogged up the Corvallis Mill Race every day he went to work along Highway 99 in South Town. But one day, rather than just pass the blight one more time, Colson started asking questions.
Those questions turned into answers Saturday morning as dozens of volunteers and representatives with the Corvallis Department of Public Works, Corvallis Sustainability Coalition's Water Action Team and the Marys River Watershed Council dragged hundreds of pounds of equipment, machinery and litter that had built up in the mill race for more than a century. The volunteers spent hours in the mud getting their hands and every other part of themselves dirty to eventually make a historic piece of Corvallis clean once more.
"It all started with a question," Colson said. "I can go pick up some trash here, but do other people want to get involved too? I started asking people and started asking questions and what I found is there are some very enthusiastic people with better connections than me who can pull the strings and generate interest and get this off the ground."
Interest in the cleanup quickly snowballed and after a few short weeks of planning, organizers agreed to launch Saturday's cleanup effort and a planned year's worth of additional efforts to restore the area.
"My biggest takeaway from this is the enthusiasm of the volunteers and the relative ease that this came together because so many people did so much work to help it happen," Colson said. "The general enthusiasm there means there are a bunch of people in this community that if you throw something at them, they're going to want to help get something done. It's a nice feeling."
One of those enthusiastic people is David Eckert, Stream Action Team coordinator for the Sustainability Coalition, who is helping plan a tour of area streams as part of the effort.
"This cleanup built up this buzz and we're using a tour as motivation for us to do all of this work," Eckert said. "Streams were former dumpsites. That was the culture. When you had stuff, you threw it in the stream and so when a flood came, it would carry it all away and it's gone. That was just what people did."
Eckert fully expects the same way people of today look back on the practices of older generations with criticism, so too will future generations look back on the way people treat their world today.
"People will look back on us and say 'Oh my God, can you believe what they did in 2014?' Just today I saw someone in a truck open up a window and throw trash out onto the street," Eckert said. "When it rains, that litter goes into the storm drain and into this stream. That's why this is exciting. Because we have people who now know that this exists and seeing that it's a mess and they're going from thinking someone should do something and changing it into 'we should do something.'"
The practice of throwing trash and old equipment into a stream dates back several generations based on the evidence 70-year-old volunteer Bill Gellatly found Saturday morning.
"A real interesting find was this long, half-inch square rebar. It's typically round. It hasn't been square, to the best of my knowledge, for more than 100 years," Gellatly said. "Whatever was demolished and thrown in here is at least 100 years old. The things we've pulled up have been fascinating."
Phil Sollins, professor emeritus of forest ecosystems and society at Oregon StateUniversity, is undertaking an effort to learn of the deep history of the Mill Race.
"I think there are two reasons why (the volunteer effort) is important. One is that I think the water is going to flow better without the trash and there will be that much less trash going from the Marys into the Willamette, and that can't possibly hurt," Sollins said.
Whether through luck or fate, ideas for the cleanup effort came at the same time that the Marys River Watershed Council was wrapping up a series of articles examining the deep history of the Corvallis Mill Race.
"This is exactly the kind of thing we'd like to be able to help support and we'd like to see more of these partnerships," said Xan Augerot, of the Marys River Watershed Council. "We are really happy to support anything that focuses attention on the mill race as a waterway, but also to galvanize community action."
We're going to try to extend this cleanup effort upstream and downstream but this is a great start."