On Tuesday night, the top dozen Democratic candidates are set to appear at the party's fourth 2020 primary debate, set at Otterbein University in Westerville, Ohio, starting at 8 p.m. Eastern. The debate, co-hosted by CNN and The New York Times, will be broadcast on CNN and streamed online at www.cnn.com and www.nytimes.com, as well as on the outlets' apps.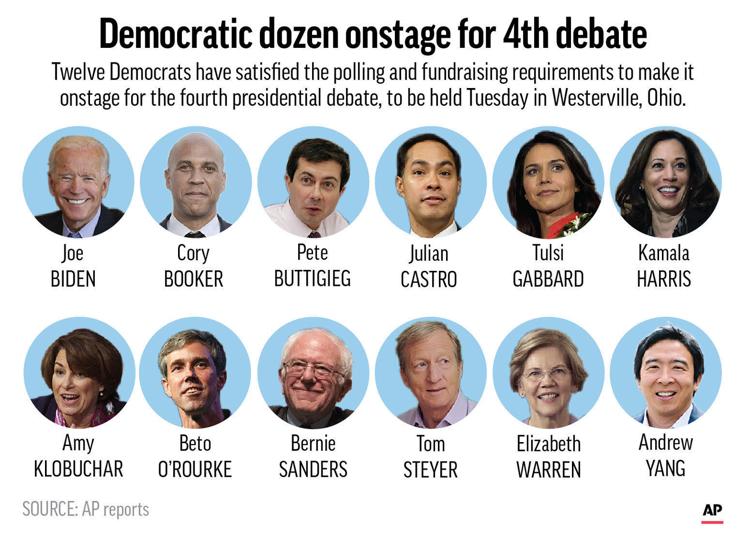 Former Vice President Joe Biden
Massachusetts Sen. Elizabeth Warren
Vermont Sen. Bernie Sanders
California Sen. Kamala Harris
Mayor Pete Buttigieg of South Bend, Ind. …
Still going, stay with us …
New Jersey Sen. Cory Booker
Former Rep. Beto O'Rourke of Texas
Former Housing Secretary Julian Castro
Rep. Tulsi Gabbard of Hawaii
Minnesota Sen. Amy Klobuchar
Businessman Andrew Yang
… and (deep breath) businessman Tom Steyer.
The number of candidates onstage appears to be the largest ever in a primary debate, which is likely to irritate and bewilder many undecided Democratic voters who have been hoping the massive field might narrow to a more manageable number. Especially because last month's debate featured only — "only" — 10 candidates.