Lottery players will have another shot at the third-largest jackpot in U.S. history after Tuesday night's drawing didn't turn up a winner.
The Mega Millions top prize climbed to an estimated $970 million, the biggest jackpot in more than two years. Powerball, the other lottery game offered in most of the U.S., isn't far behind at $730 million for a drawing Wednesday night.
The winning numbers in Tuesday night's Mega Millions drawing were: 10-19-26-28-50 and a Mega Ball of 16.
It's the first time both lottery jackpots have topped $700 million. The biggest prize was a $1.58 billion Powerball jackpot won by three people in 2016.
No one has won the Mega Millions jackpot since Sept. 15, allowing the prize to grow larger and larger over four months. The last Powerball jackpot winner was a day later, on Sept. 16.
Such big jackpots are rare, but both games rely on incredibly long odds to generate attention and increase sales. For Mega Millions, the odds of matching all six numbers is one in 302.5 million, and for Powerball it's one in 292.2 million.
The prizes listed are for winners who choose an annuity option, paid over 30 years. Winners almost always opt for cash prizes, which for Mega Millions would be $716.3 million and $546 million for Powerball.
Those prizes also would be subject to federal taxes, and most states would take a cut as well.
Mega Millions and Powerball are both played in 45 states as well as Washington, D.C., and the U.S. Virgin Islands. Powerball also is offered in Puerto Rico.
Five things to know about the Mega Millions drawing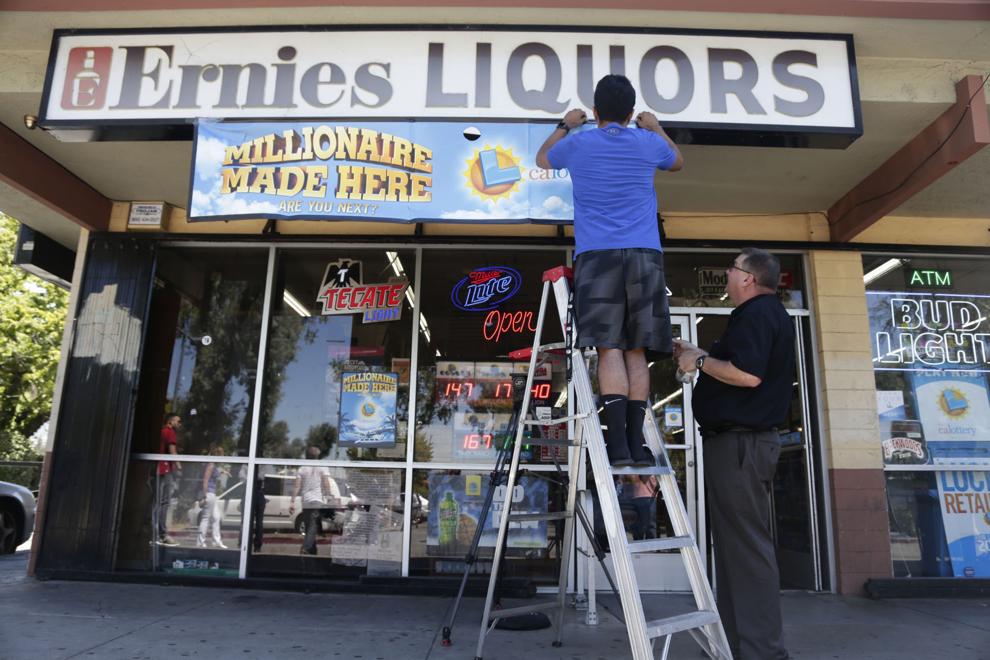 The chances of winning Mega Millions or Powerball are really slim --  it's less likely to bring home the big bucks than it is to get killed by a meteor strike, something scientists put at around 1 in 1.6 million.
But tickets for the next drawing are sold in 44 states, Washington, D.C., and the U.S. Virgin Islands. States not participating in the lottery are Alabama, Alaska, Hawaii, Mississippi, Nevada and Utah.
I WON! I WON! NOW WHAT!
Lottery officials recommend winners take a deep breath, put their winning ticket in a safe spot and consult with a reputable financial planner before popping over to the lottery headquarters. Their first decision is whether to take the cash option, or an annuity, with one initial payment and annual installments over 29 years. Nearly all winners opt for cash, but the annuity has advantages, as it reduces the tax bill a little and offers a stable flow of income that climbs by 5 percent annually.
HOW LONG DO I HAVE TO CLAIM THE JACKPOT?
States have different rules, so depending on where you purchased the ticket, you have from 180 days to a year.
DO I GET MY MONEY INSTANTLY?
No, you can't just cash one of those oversized checks shown in all the winner photos. Payment speed also varies by state, but a week or two is common. Carole Gentry, a spokeswoman for the Maryland lottery, said the requirement is seven to 10 days in that state.
Can I keep it a secret?
Winners can remain anonymous in six states — Delaware, Kansas, Maryland, North Dakota, Ohio and South Carolina. In Arizona, people who win more than $600 can keep their names secret for 90 days after claiming prizes, but after that names are public record. In Michigan, winners are anonymous unless they win Mega Millions or Powerball prizes.
For winners of $5,000 or more, all states automatically deduct 24 percent in federal taxes but state taxes vary widely. Some big states, including California, don't withhold taxes from lottery winnings, and some like Texas don't have individual income taxes at all. For the others, the state takes a bite, especially in New York, where a winner would need to pay a state tax of 8.8 percent. Residents of New York City would pay an additional tax of 3.9 percent. In general, taxes eat up nearly half of winnings.
Melissa Labant, a tax policy expert at the American Institute of Certified Public Accountants, said winners should realize that while taxes are initially withheld when prizes are awarded, more money will likely be due at tax time as people suddenly are in up to a 37 percent tax bracket.
"That catches people off guard," she said. "You have to be prepared to write another check to the IRS in April."
WHAT ARE MY TAXES IF I DON'T LIVE IN THE STATE WHERE I BOUGHT THE TICKET?
This can get complicated, but for the most part winners pay taxes where they bought the ticket and then can get a credit on their taxes in their home state. The final tax bill can depend on if the state where you live taxes at a higher or lower rate than where you purchased the ticket. Rules vary by state, so this is a good topic for that financial planner.