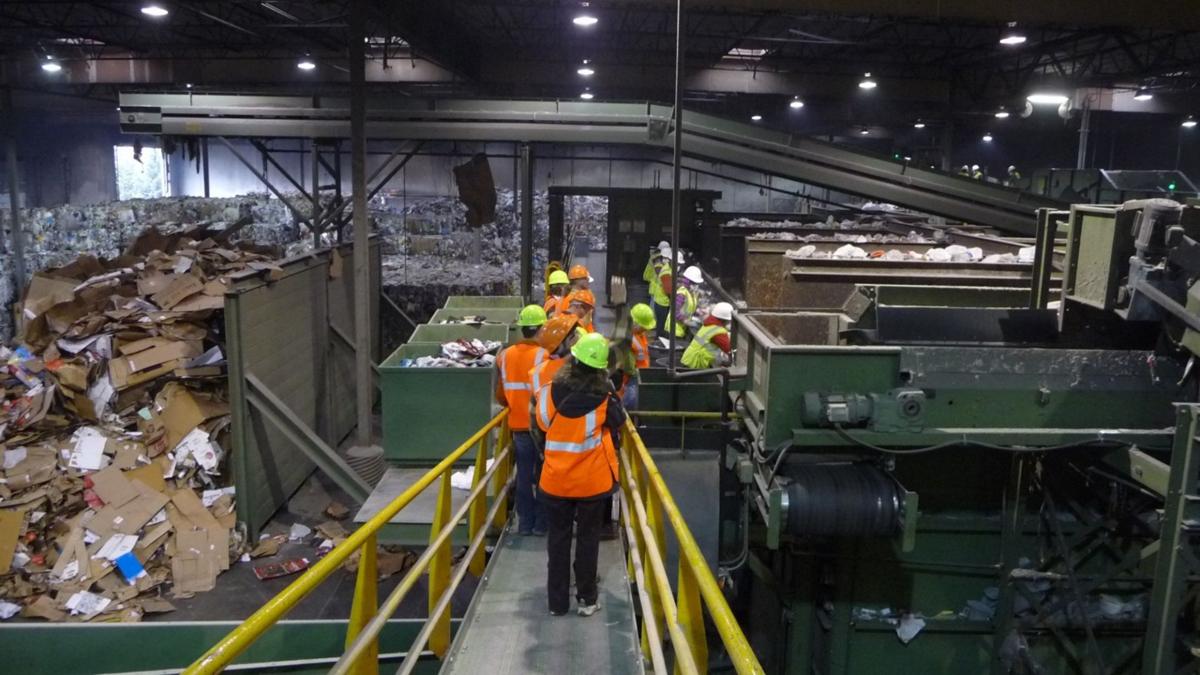 "Empty, Clean & Dry" is the mantra of our Recycling Block Captains, a volunteer group sponsored by the Corvallis Sustainability Coalition. Our job is to distribute recycling information to our neighbors three to four times a year and serve as a liaison between our neighbors and the Sustainability Coalition's Waste Prevention Action Team. All are welcome to join us.
At our most recent quarterly meeting, we learned that we need to do more in order to protect our recycling line workers as well as improve participation in our community recycling program. We need to communicate with you to reduce the amount of contaminated recyclables, which end up going to our local landfill and reduce contamination along the recycle line, thus making the work of the line workers safer. We know you want to help.
Recycle line workers initially remove large unrecyclable materials such as vacuum cleaners and bowling balls that have found their way into the co-mingle bins (no kidding). Next they sort out large plastic items; they are ALWAYS pulling out plastic bags, which clog the machinery. Please recycle plastic bags in their appropriate bins.
Workers at sorting facilities have to move very quickly. The shapes of plastic items are most important; they have no time to read labels. We can all ignore arrow symbols and numbers on plastics. The numbers only indicate the resin that the container is made out of, not the other materials in it. The recycle line workers must rely on the shape of the container to determine recyclability. Not all plastic containers are recyclable. (China, the buyer of our plastic, has changed its rules.)
But it's actually quite simple: remember these four shapes, and that's all you need to know to recycle plastic properly.
• Bottles that have a threaded neck or a neck smaller than the rest of the body. Examples: Bottles for water, juice, soap, shampoo, vitamins, aspirin, and condiments. NO lids, caps or pump/spray tops.
• Jugs are just a bottle with a handle. Examples: Jugs for laundry detergent, fabric softener, cat litter, milk, juice, and vinegar. Again, no lids or caps or pump tops.
• Jars have straight sides with a screw on lid and plastic thicker than a tub. Examples: Jars for mayonnaise, nut butters, mixed nuts, jam, and lotions. Once again, no lids or caps or pump tops.
• Tubs are cylindrical with a top slightly larger than the base. Examples: Tubs for yogurt, sour cream, margarine, salsa, and hummus; also includes nursery pots and buckets that are at least one quart, but smaller than five gallons. Flip-off lids from tubs are OK.
Small items such as beer bottle caps would be best locked in a can; locking could be accomplished by stepping on the can to crush. Shredded paper is best contained in a paper bag or food cardboard box in order to keep the strips from flying all over. Clam shell plastic containers for fruits, herbs, etc. are NOT recyclable. Glass should not be put in the co-mingle bins, but recycled separately.
Our vision is for Corvallis is to be a waste-free community. Together we can make this a cleaner and safer world for all.
Elizabeth Waldron lives in Corvallis.