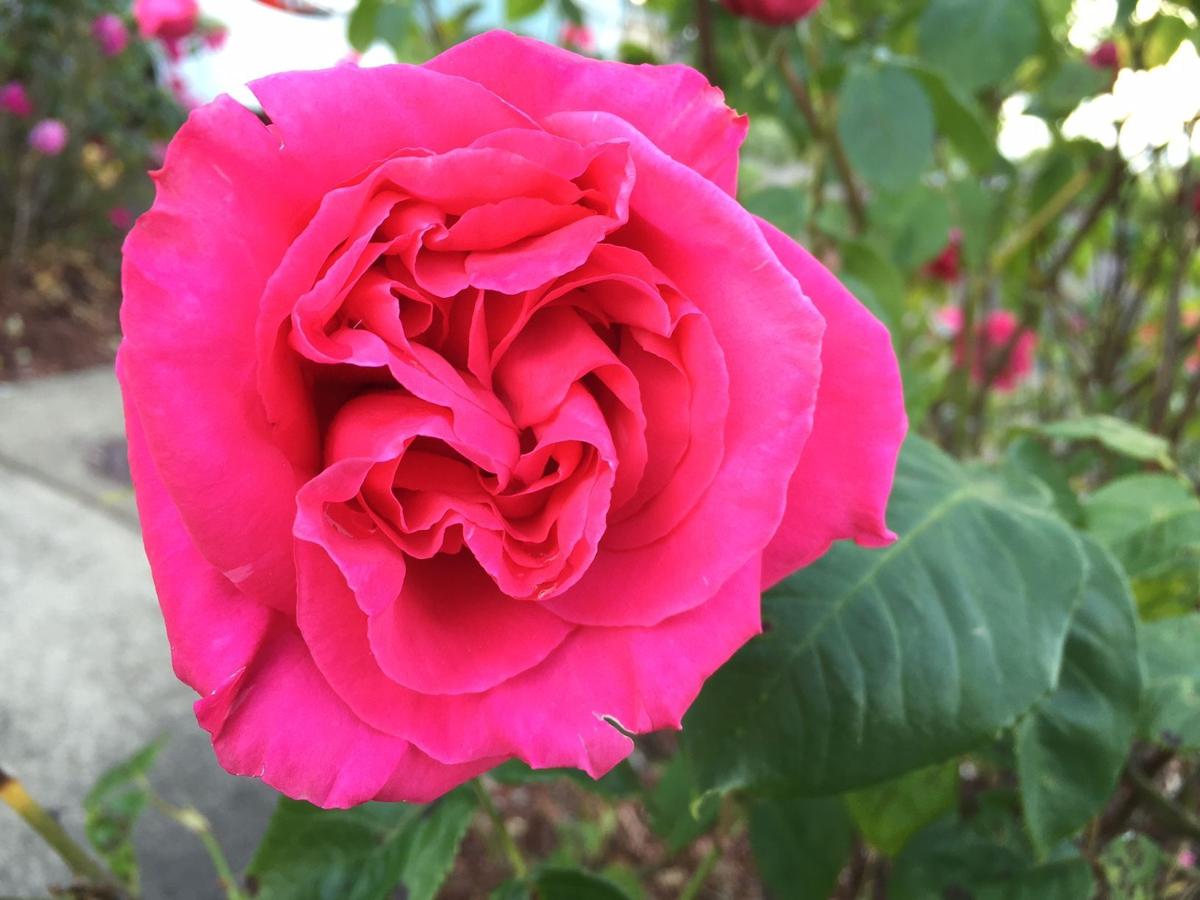 ROSE (roz) n. One of the most beautiful of all flowers, a symbol of fragrance and loveliness. Often given as a sign of appreciation.
RASPBERRY (raz'ber'e) n. A sharp, scornful comment, criticism or rebuke; a derisive, splatting noise, often called the Bronx cheer.
• ROSES to those of you who have taken the time to fill out the city's "Imagine Corvallis 2040" survey online. Those of you who are putting this off until the bitter end need to remember that the end is actually quite near now: Despite rumors that the city planned to extend the deadline for a few days, the survey will be pulled off the city's website at the end of this month.
The online survey is meant to supplement the city's series of three Imagine Corvallis 2040 workshops held over the last few months. The survey is a reasonable facsimile of the process workshop participants went through: Respondents answer a series of questions similar to those posed at the workshops: What do you appreciate most about Corvallis? What is the biggest challenge facing Corvallis? What is your vision for the future of the Corvallis and what is one strategy that could help attain that vision?
The same questions are asked in each of six broad focus areas, and participants can elect to answer the questions in any of the areas — or can shoot for the whole enchilada, so to speak, and answer questions in all six.
People we've talked to who went to the workshops said that they were generally fun and thought-provoking. They also said that they suffered a bit from the Corvallis "usual suspects" syndrome — that is to say, they tended to attract the same people you see at all these events.
There's nothing wrong with that, but it would be great if we could cast the net a little wider. This is a great opportunity for you to add your voice to the conversation. But speak up soon.
• ROSE-BERRIES to Corvallis' vibrant classical music scene — and to whatever glitches are driving the scheduling of these concerts.
The city's classical music scene, unusually rich for a city of this size, is one of the undeniably cool things about living here. But for at least the second time this year, classical music fans are faced with a weekend that's jammed with compelling events: A Friday night chamber music performance. An intriguing choral music performance Saturday night. A performance by a world-renowned pianist on Sunday afternoon.
Now, it's possible that if you had the time (and the dough), you could catch all three of these events. And, to be fair, it's always worth remembering that sometimes local promoters have no say as to when performers are available; they often squeeze in Corvallis in the midst of a West Coast swing. It is also true that it can be tempting to schedule an event in the midst of Moms & Family Weekend at Oregon State University, which brings a lot of people to Corvallis. But our hunch is that the combined attendance at the three concerts would have been higher if the events had been spaced out more.
At the recent arts summit hosted by the Corvallis Arts and Culture Advisory Board, one of the topics of discussion was the perceived need for some kind of shared calendar listing all the scheduled events. We're not convinced about that; it seems like a variety of organizations, including this newspaper, already run lengthy calendars. But what would be useful is some kind of calendar that can be used by schedulers looking to avoid, whenever possible, the sort of arts gridlock we're experiencing this weekend.
On the other hand: Three really good musical events on one weekend is a lot better than none. So maybe we complain too much.
• ROSES to former Oregon State Police Sgt. John Burright of Albany (a Corvallis native), who was honored last week when a Salem city street was named in his honor.
The ceremony took place at the site of the future Oregon State Police headquarters building in southeast Salem. Burright's family was presented with replicas of the sign for Burright Lane, which will lead to that new facility.
On Sept. 4, 2001, Burright, Trooper Maria Mignano and Albany Police Department Officer Jason Hoerauf were assisting a disabled motorist along Interstate 5 north of Albany, near the Ankeny Hill exit, when they were struck by a driver who fell asleep at the wheel.
"This is a way to honor John for his contributions serving the citizens of Oregon," said State Police Superintendent Rich Evans. "The sign will remind troopers when they are on their way to work how important the work they do is."
• ROSES to those of our readers, inspired by the May 17 primary election, who are getting ready to write letters to the editor about that election. We love to get your letters, but we have some advice:
First, write early: At some point as the election draws near, we will reach a point when we can no longer fit all of your letters into the print edition. Those late letters will go online, but we know some of you prefer to see your letters in print. If you're one of those people, write early. 
One last word: While you are welcome to take full advantage of our 250-word limit for letters, sometimes a shorter letter sneaks in because it fits better in the available space than a longer letter. We're just saying.