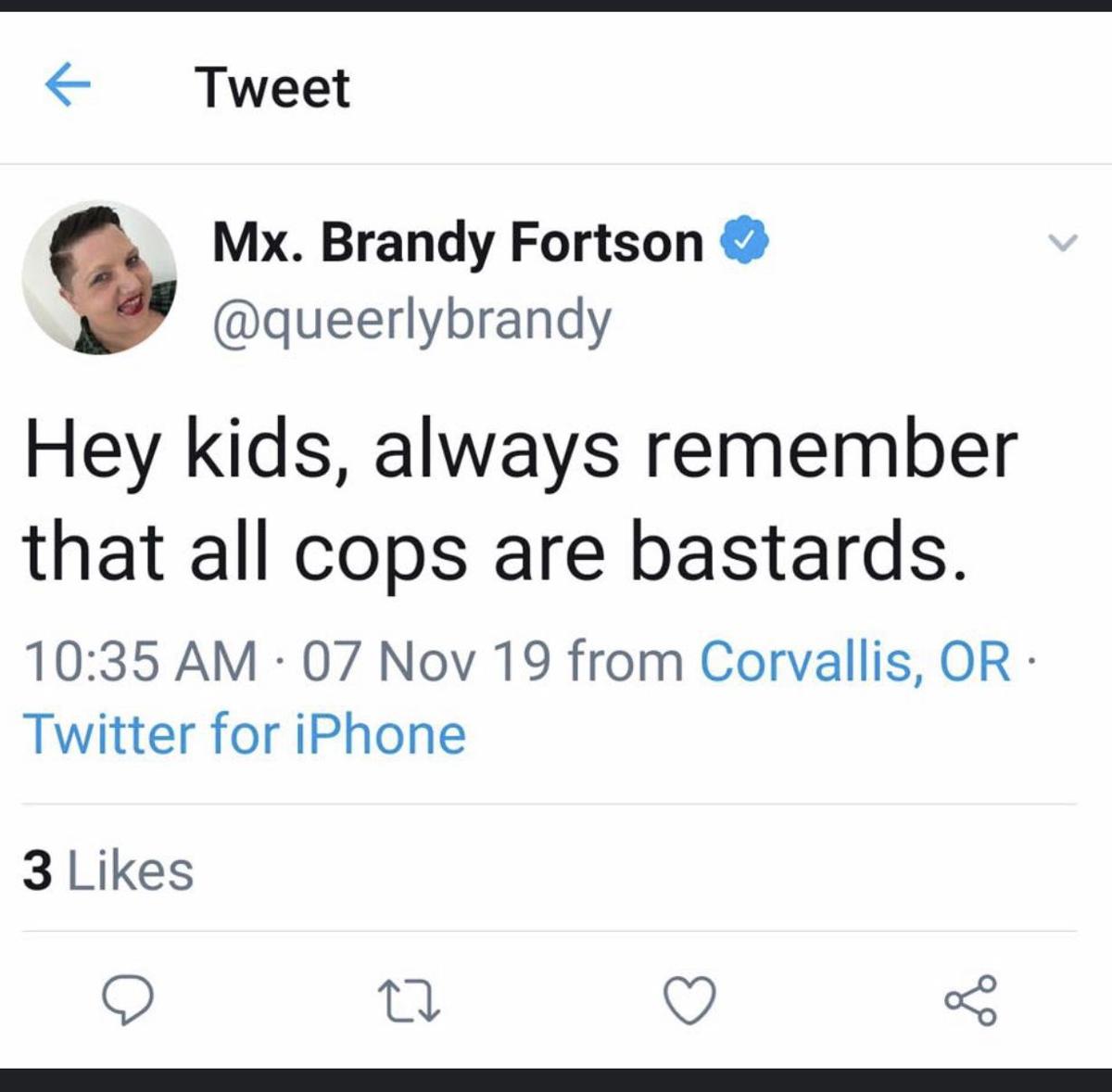 When Brandy Fortson was running for a seat on the Corvallis School Board earlier this year, they posted on a campaign website some of the reasons why they were running. (Fortson identifies as gender nonbinary, so the pronouns used are "they," "them" and "their.")
One of their goals back then, according to the website, was to make sure "that the LBGTQ+ voice is heard, valid and respected on all aspects of school board matters."
That's a worthy goal, and Fortson, running unopposed, won a seat on the board. But they resigned over the weekend in face of a furor caused by a Twitter post that said, in its entirety: "Hey kids, always remember that all cops are bastards."
At a meeting tonight, school board members will officially declare Fortson's Position 6 vacant and adopt a process for the selection of an interim board member.
Before we move forward, there are points we need to emphasize: We have very little background about this incident. Calls and emails from the Gazette-Times seeking clarification from Fortson have gone unanswered. Fortson has declined additional comment, other than a Facebook post on Saturday that was shared by another user. In that statement, Fortson said the tweet referred to an incident that had occurred earlier in Denton, Texas, in which a shopper was arrested because he was using a Walmart shopping cart to take home his groceries.
"My tweet was not shared with context and it was not directed at anyone specific except for that police department," the Facebook post read. That lack of context is important; with more context (and more judicious language), it's possible that Fortson would still have a seat on the school board. 
Fortson added in their weekend statement that "my account at that time was public, stating 'all opinions are my own and thus do not and did not reflect those of the Corvallis School District.'"
Now, it's true that school board members and other members of governmental bodies do not surrender their First Amendment rights when they take office. It is also true, however, that elected officials serving the public in some fashion need to understand how easily the lines can blur between public and private lives; statements that would not have caused so much as a raised eyebrow in the wild world of social media can generate a firestorm when coming from a public official. And in this case, the tweet stands the risk of jeopardizing an important relationship between the Corvallis School District and the area's law enforcement agencies. (Not to mention that by casually telling "kids" that "all cops are bastards," it also potentially undermines the relationships school resource officers aim to build with students.)
As word of the tweet spread last week, it quickly drew criticism from the Corvallis School District and school board members, who noted that Fortson's comments were "not in alignment with the guiding principles set by the Board." The comment drew plenty of additional criticism as well from members of the public, and much of that is justified.
But some of it, frankly, is uncalled for: Fortson said they had received numerous calls and threats and had kept their children home from school. In this day and age, that's not hard to believe. But there's no call for this kind of threat, which is sadly much too common.
In their campaign literature, Fortson wrote that they were looking forward to "serving Corvallis as a member of the School Board and believe my impact on the schools will assist youth and families for years to come." And, indeed, Fortson potentially could have served as an advocate for marginalized youth in the schools. They also could have helped to fill in some of the blind spots that can afflict any elected body of officials.
We may never know all the reasons why Fortson decided to send that tweet. But a moment of hesitation before hitting "send," a pause to think it through, might have made all the difference. That's a lesson we all should keep in mind. (mm)
Catch the latest in Opinion
Get opinion pieces, letters and editorials sent directly to your inbox weekly!