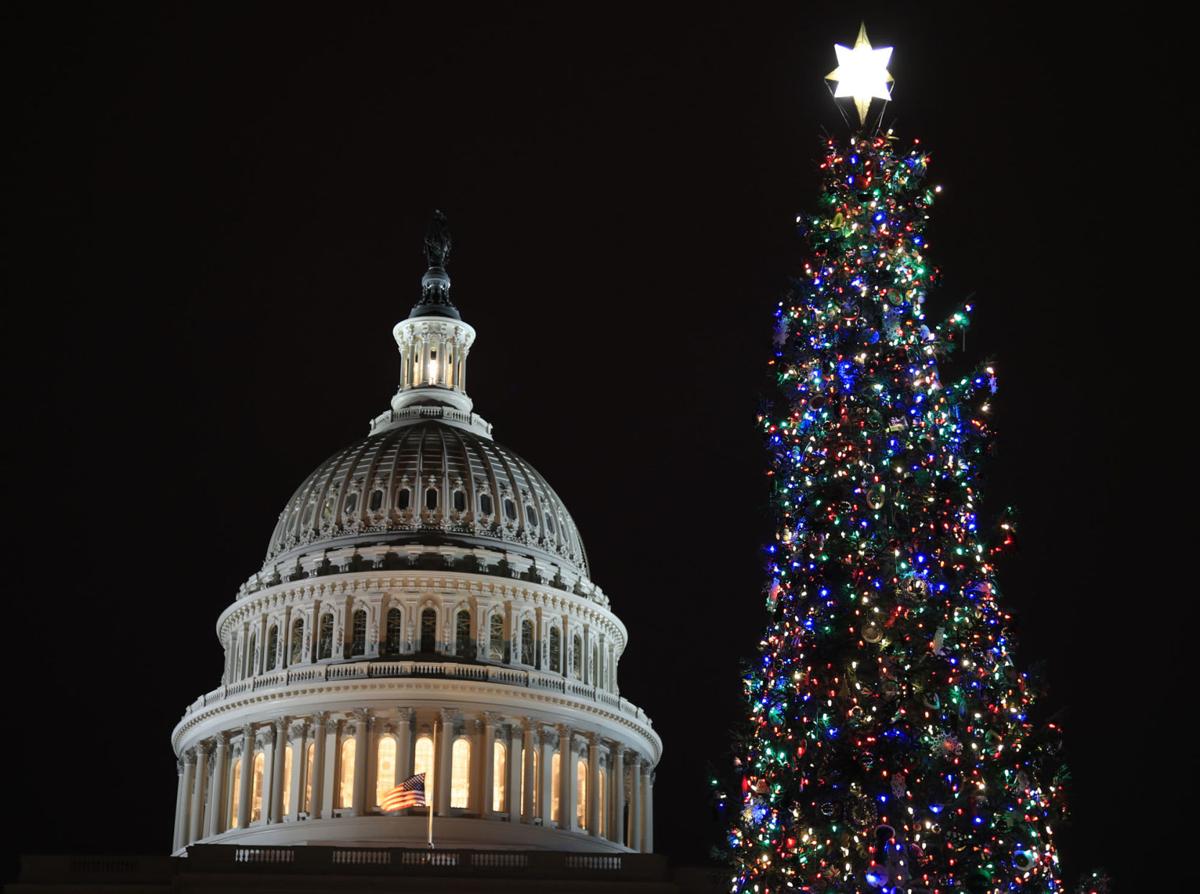 • ROSE (roz) n. One of the most beautiful of all flowers, a symbol of fragrance and loveliness. Often given as a sign of appreciation.
• RASPBERRY (raz'ber'e) n. A sharp, scornful comment, criticism or rebuke; a derisive, splatting noise, often called the Bronx cheer.
• ROSES to everyone involved with the Capitol Christmas Tree, which was lit on Thursday on the west lawn of the U.S. Capitol.
Although the tree was harvested Nov. 2 from the Sweet Home Ranger District of the Willamette National Forest, the story of this 75-foot-tall Noble fir involves all of the mid-valley — and is a source of pride for the entire region.
It's been quite a journey, 3,000 miles or so from the mid-valley to Washington, D.C. And it's a journey that has involved considerably more than just finding the right tree, harvesting it, sliding it into its plastic enclosure and trucking it down the highway.
The Sweet Home community and people throughout the mid-valley have been incredibly supportive of this process from the first announcement, about a year ago, that the Capitol tree would come from the Sweet Home area. (Every year, the Capitol Christmas Tree comes from one of the national forests.) Residents were invited to explore the forest to keep an eye out for just the perfect tree, and many of them did so — and the hope is that at least some of them might return to the forest for many years to come.
You have free articles remaining.
Oregon residents were charged with creating some 10,000 handmade ornaments that now proudly adorn the Capitol tree, along with dozens of other trees from the Sweet Home Ranger District that will be placed in other federal buildings in Washington, complete with handmade tree skirts for each one.
Creating those handmade ornaments and was the sort of labor of love that you expected mid-valley residents to embrace, and they came through. Everyone who had a hand in crafting those ornaments has reason to be proud today: Every single one of those ornaments serves as an ambassador from the Beaver State. 
As does the tree itself, standing watch over the Capitol for the remainder of the holidays. Think of it as a 75-foot-tall Christmas card from Oregon.
• ROSES to Steve Matthes, the longtime director of the Corvallis Community Band, which performs its annual free holiday show this Sunday at 1:30 p.m. at the First United Methodist Church Community Center, 1165 NW Monroe Ave.
As the nation continues pouring out tributes to former President George H.W. Bush, a reader called to point out that Matthes was honored as part of Bush's "thousand points of light" campaign to promote community volunteerism. Part of those efforts was a program that set out to identify and honor federal employees who were doing outstanding volunteer work in their communities.
Matthes, at the time a scientist in the U.S. Bureau of Mines in Albany (now the National Energy Technology Laboratory), was honored for his work giving science demonstrations at local schools, at da Vinci Days and for being a longtime mentor in the Saturday Academy program. He received the award from Manuel Lujan Jr., then secretary of the interior.
Matthes has since retired from that job, but it's clear that his passion for community hasn't waned — as he'll demonstrate again on Sunday as he guides the Community Band through its holiday show. 
• ROSES to news that the city of Corvallis has allocated another $5,000 to its program that gives small grants to help out with a variety of neighborhood and community projects. We've been fans of this program since its start two years ago and have watched it effectively dole out small amounts of money to neighborhood-based efforts.
The twist this year is that the additional $5,000 is meant to bankroll projects with a communitywide focus, to expand the scope of the program. We're a little dubious about this: We think it might have been better to add the additional money to the neighborhood pot, increasing it to $10,000, especially since requests for that money have thus far considerably exceeded the amount available. But we'll watch how that plays out. In the meantime, we're thrilled that the program has gotten the green light for another year. This is a case where a small investment by the city yields big returns. (mm)