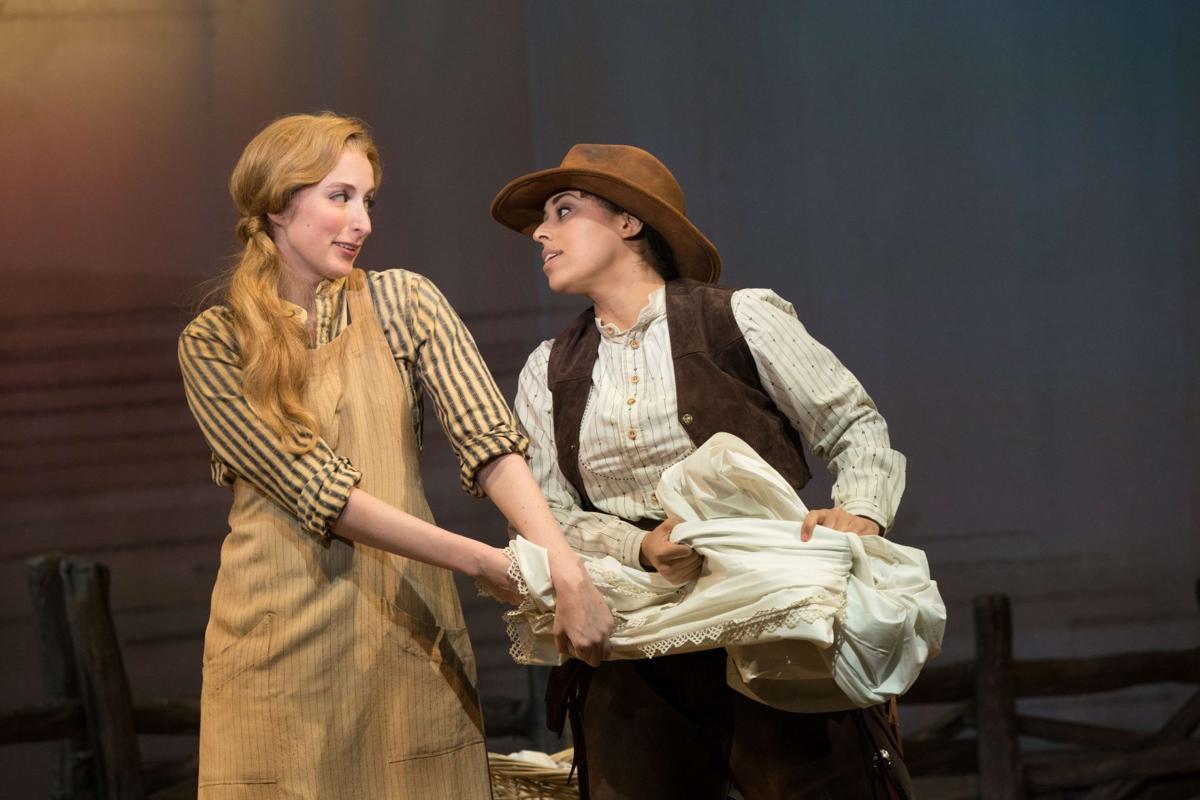 It would have been fun to be a fly on the wall when the Oregon Shakespeare Festival's Bill Rauch pitched the idea for his same-sex "Oklahoma!" to the Rodgers & Hammerstein Organization.
Rauch, who is gay, has said this production, now playing to sold-out and cheering audiences at the Ashland festival, has been a dream of his for decades: "The idea of a production with same-sex couples has been hibernating in my heart for more than a quarter of a century." 
After becoming director of the festival in 2007 and developing a relationship with Ted Chapin, head of the Rodgers & Hammerstein Organization, Rauch worked up the courage to make his pitch for a production in which both Curly and Laurey are women and Ado Annie transforms into Ado Andy, the love interest of Will.
Chapin, Rauch has said, initially was "very clear that it's not an idea that he would've been attracted to in general, but it was an idea that intrigued him because of our relationship."
You can understand some reticence on the part of the Rodgers & Hammerstein Organization, which seeks to protect the integrity of the great American musicals created by Richard Rodgers and Oscar Hammerstein II. And 2018, after all, marks the 75th anniversary of "Oklahoma!," their first collaboration, which integrated book, music and story into a seamless whole.
As it turns out, though, there was no reason to worry. Despite the same-sex casting, Rauch's high-energy, joyous production breathes new life into the show while remaining faithful to its considerable strengths. (Some of those strengths flow back to Lynn Riggs, who wrote "Green Grow the Lilacs," the play that formed the basis for "Oklahoma!" Riggs, as it turns out, identified as gay and part Cherokee.)
The festival's production hasn't solved what to do about the show's biggest weakness, the villainous (and, I think, mentally ill) ranch hand Jud, but that issue is baked too deeply within the DNA of the musical for any mere director to solve. (Am I alone in this? Is anyone else troubled by the song "Pore Jud is Dead," with its overtones of suicide? And, then, when Jud dies after the knife fight with Curly, the show dismisses the incident with this curious speech by Aunt Eller: "Oh, lots of things happen to folks. Sickness or bein' poor and hungry even — bein' old and afeard to die. That's the way it is — cradle to grave. And you can stand it. There's one way. You gotta be hearty. ... You cain't deserve the sweet and tender things in life less'n you're tough." Actually, on a closer look, that's better than most of the self-help books out these days.)
Rauch has assembled a first-rate cast for this show and draws a star-making performance from Tatiana Weschler as Curly. Weschler commands the stage from the minute she strides onto it to sing "Oh, What a Beautiful Mornin'." The rest of the show is a veritable parade of musical theater's greatest hits, from "The Surrey with the Fringe on Top," to "I Cain't Say No," to "People Will Say We're in Love," to "Kansas City," even more wry than it was in 1943. The song "Oklahoma!" (which, oddly enough, Rodgers and Hammerstein added only after the show's initial tryouts in New Haven, Connecticut) also makes an appearance.
It's all ridiculously entertaining and optimistic and hopeful; it doesn't have an ironic bone in its body, and that's refreshing. After a while, you forget about the same-sex casting and just root for true love to find its way, confident that it will by the final curtain. As Rauch has said, quoting Lin-Manuel Miranda, "love is love is love."
And there will always be something timely about a show that insists, as this one does in the song "The Farmer and the Cowhand," that groups who despise each other need to learn how to get along. In this production, Rauch has created, in his words, "an alternative utopian community that reflects progress and acceptance for our time." For Rauch, who will leave the festival next year to take on artistic director duties at the new Ronald O. Perelman Center in New York City, it's a fitting finale.
About BS&T
The Think Too Much crack research staff (or, more precisely, an alert reader) reports that the lead singer for Blood, Sweat & Tears at its July 5 River Rhythms performance was Tommy Bowes, a veteran musician who's also performed with Tower of Power. Our alert reader reported that Blood, Sweat & Tears recently performed at a fair in Paso Robles, California, and Bowes introduced himself at the end of the set. There was apparently no mention of the band's last singer, "American Idol" notable Bo Bice. I could get the research staffers working on what happened to Bice, but they're all on vacation. (mm)
Mike McInally is the editor of the Democrat-Herald and the Gazette-Times. Contact him at mike.mcinally@lee.net.