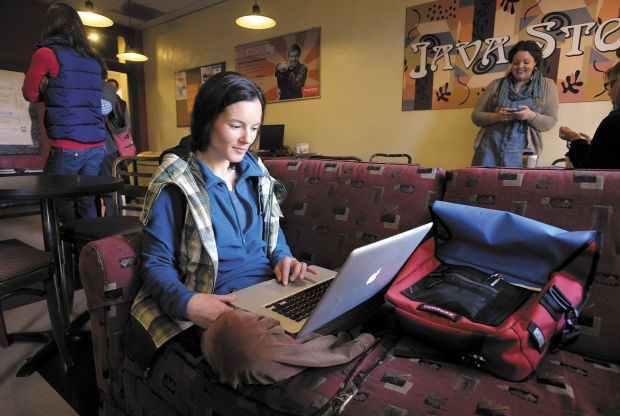 Oregon State University student media adviser Kate Willson thought she was just doing her job when she filed a public records request with the university. Now she's worried it could get her fired.
OSU's chief spokesman says Willson's job is safe and the university was not trying to muzzle her. But he also says Willson was out of line when she tried to obtain public records from the institution she works for and that all such requests should be filed by student journalists, not their adviser.
Willson, 33, is an accomplished journalist with a background in computer-assisted reporting and a resume that includes stints with the McMinnville News-Register, the Albuquerque Journal and the International Consortium of Investigative Journalists.
She came to work at OSU in the fall of 2012 as the editorial content coordinator for student media, a position that involves mentoring staffers at the university's student newspaper, The Daily Barometer, as well as the campus TV and radio stations.
This fall, Willson made plans to teach a workshop on computer-assisted reporting. To make the lesson as meaningful as possible for the students, she decided to use real world data: five years' worth of campus crime statistics and employee compensation information, including data on student pay.
In early October, following OSU's policy on acceptable use of university information, she started by approaching the custodian of the crime statistics. But she was told she needed to file a formal public records request with Beth Giddens, a paralegal in OSU's Office of General Counsel.
Filing public records requests is something Willson knows how to do. Before leaving journalism for academia, she had filed numerous requests for documents from all kinds of government agencies for use in her reporting.
On Oct. 18, Willson filed two formal requests with Giddens, one seeking the crime data and another seeking information about the university's compensation database. As she had done with similar requests in the past dealing with complicated databases, Willson asked for field names and other documentation that would help her understand the employee pay records she planned to request later.
"I am an educator at Oregon State University and I will use this information to craft a records request for compensation data, with which I will train student journalists in the logistics and ethics of using structured data in their reporting," she explained in her request.
"Those students work for educational news media organizations and many will go on to professional newsrooms."
Both requests met with resistance from the university.
Initially, Giddens estimated it would cost more than $10,000 to provide the crime data because of the need to remove identifying information about students protected under FERPA, the Family Educational Rights and Privacy Act. After Willson amended her request, Giddens said the crime data could be provided at a cost of $24.53.
The other request proved far more problematic.
In a written response to Willson, Giddens said she would not provide details about the structure of the compensation database because that information was exempt from disclosure under a section of the Oregon Public Records Law intended to protect computer programs.
Willson persisted, explaining that she needed the information in order to formulate a focused record request and ensure that her students would have a clear understanding of the data they were working with.
After amending her request several times and meeting with more denials, Willson emailed Giddens again on Oct. 31, once more explaining that she needed technical information about the database in order to formulate a focused request for compensation records.
She offered to sit down and discuss what she needed with a programmer familiar with the database, as she had done with similar requests to other public agencies, to make it as easy as possible to provide the information she was looking for.
She also pointed out that Oregon law allows members of the public to appeal denials of public records requests to the county district attorney's office.
That's when Giddens' boss, OSU general counsel Meg Reeves, entered the fray, asking to meet with Willson and her supervisor, OSU student media director Julia Sandidge.
The meeting took place on Nov. 5 in Reeves' office on the sixth floor of the Kerr Administration Building.
By Willson's account, it was an uncomfortable situation. Rather than explaining why her office had denied Willson's records request, Reeves — the university's top attorney — told her she had no legal right to request the records in the first place.
In Oregon, any person has the right to inspect any public record unless it is expressly exempted from disclosure by law. But according to Willson, Reeves argued that since OSU is not considered a person under the law, its employees do not qualify as persons for purposes of making public records requests.
(In an email exchange with Willson folowing the meeting, Reeves explained it this way: "Kate Willson, private person, may inspect public records in response to a request. Kate Willson, OSU employee, may not.")
The meeting took another unexpected turn, Willson said, when Reeves stopped in mid-sentence to announce that Willson was her client and that they had a legally privileged attorney-client relationship.
As Willson understood it, the statement was meant to convey that she was not to discuss anything that was said in the meeting because it was privileged information. That impression was reinforced by email messages Willson received from Reeves, which carried a stern warning in boldface italic capital letters: "This is an attorney-client communication. Please do not redistribute this email — or disclose its contents — without authorization from the OSU Office of the General Counsel."
"What it felt like," Willson told the Gazette-Times, "was an attempt to intimidate."
The meeting also seems to have set Willson on a collision course with her boss.
On Nov. 6, Willson got a lengthy email from Sandidge stressing that "OSU Student Media hired you to perform as an educator, not as a journalist."
While she was free to pursue journalistic projects on her own time, Sandidge wrote, she should not file any requests for OSU records in her capacity as an adviser. Any such requests from student journalists should be filed completely on their own, and not jointly with Willson.
She also attached a copy of the College Media Association code of ethics "which states that a faculty who assumes advisory roles with student media must remain aware of their obligation to teach without directing or producing."
Willson took none of this lying down.
She fired off emails to Reeves and Willson, asking for clarification and defending her actions.
She also filed an amended public records request, this time as a freelance reporter. Megan Campbell, the managing editor of The Daily Barometer, and the Gazette-Times also signed onto that request, which the newspaper is still pursuing.
On Dec. 4, Willson was called into another meeting, this time with Sandidge and Jeri Hemmer, OSU's associate director of human resources.
Willson says she wasn't allowed to record the meeting or even take written notes. Both women, Willson says, repeatedly pressed her to admit that she had violated OSU policy and her employment contract by filing the public records requests, something she refused to do.
And while she says she wasn't explicitly threatened with termination, she has no doubt she was being warned to back off or she would lose her job.
"There's no question," Willson said.
Neither Reeves, Sandidge nor Hemmer would agree to be interviewed by the Gazette-Times for this story or answer questions sent via email. Campbell and Warner Strausbaugh, the editor of The Daily Barometer, also declined to be interviewed.
But Steve Clark, OSU's vice president for university relations and marketing, talked at length with a reporter about the situation.
He said Willson has no reason to be worried about losing her job, but he also defended the university's handling of the matter. He insisted that OSU is not trying to conceal information the public has a right to see — it's simply following the law.
"It's not appropriate, according to the law, for an employee (of a public institution) to request public records from their place of work," Clark said.
"Learning to use data as a student journalist is a fine goal or outcome, but state law does not allow Kate as an employee of the university to request public records with a student."
He added that the university has provided records over the years to reporters for the Daily Barometer and other student media outlets. He also said Willson was free to request public records held by OSU as a private citizen and that she could then use the data to teach a workshop — she just couldn't ask for the records as a university employee.
"The point is quite simply who made the request and how did they make the request," Clark said.
He added that Sandidge was within her rights as a manager to tell Willson not to help students file records requests.
And he insisted that Reeves was acting properly as the university's chief legal counsel when she directed Willson not to discuss their conversations by invoking the principle of attorney-client privilege.
"When you meet with an attorney, it's a confidential matter between you and your attorney. Those meetings are confidential," Clark said.
"It wasn't Kate's job or her authority to decide what information provided by the university attorney should be released," he added. "I'm not saying she's a bad person, I'm just saying that's not in her job description."
Steven Wilker, a media law attorney with the Portland law firm of Tonkon Torp, said he's baffled by Oregon State's position.
To say that public employees don't have the legal right to file a public records request with the public agency they work for is an "exceptionally narrow" reading of the Oregon Public Records Law, Wilker believes.
"That's an argument only a lawyer could love," he said. "I don't think it comports with the purpose of the rule, I don't think it comports with the spirit of the rule, I don't think it comports with the language of the rule."
He's also puzzled by Reeves' assertion that, by virtue of her position as the university's general counsel, she automatically has an attorney-client relationship with Willson, a university employee.
"Her client is the university; her client is not that teacher," Wilker said.
But even if Willson were, in fact, Reeves' client, that would not give Reeves the power to order Willson not to repeat what they said or wrote to each other. That's "Lawyer 101," Wilker said.
"The nature of attorney-client privilege is it's a privilege of the client," he said, "and the client is free to waive that privilege."
Rachele Kanigel, an associate professor of journalism at San Francisco State University, is the president of the College Media Association.
While the organization has declined to take a position on Willson's situation, Kanigel said the CMA's code of ethics was intended as a set of guiding principles for advisers and institutions, not as a blueprint for disciplinary action. Student media advisers, she said, are often obliged to perform a near-impossible balancing act.
"It's important that we not do the job of student reporters or editors," Kanigel said.
"However, I think it's equally important that we be good role models and show students how to do good, aggressive journalism."
Tim Gleason, the former dean of the University of Oregon School of Journalism and Communications, remembers Willson from an internship and calls her "a great journalist."
But he also said she's in a very difficult professional gray area. On the one hand, her job is to train college students to be hard-nosed investigators. On the other hand, the institution they're investigating is her employer.
"Whenever you get a student newspaper trying to be a truly independent student voice when it is in fact affiliated with a university, the adviser ends up in a very tricky situation," Gleason said.
"If student journalists are going to do their job, they are going to be filing public records requests. How can (Willson) function as an adviser to a student publication if she can't be involved at some level in public records requests?"
It's an all-too-common situation, accoridng to Frank LoMonte, the executive director of the Student Press Law Center in Arlington, Va.
"About four or five times a year, we get a call from an adviser who has been fired or is about to be fired because his students are getting uncomfortably close to a story someone doesn't want to see published," he said.
"It's a real white-knuckle position."
Like most members of the professional faculty at Oregon State, Willson is on a one-year employment contract with the university.
Her original deal, which expired this summer, was renewed to run through June 30, 2014, at a salary of $48,000 a year.
Willson assumes that OSU will honor the remainder of her contract, but she doesn't expect to be offered another when the current agreement expires.
Her experience has left her feeling frustrated and confused.
"They're making such a big thing, and it's not," Willson said. "It's a public record — who cares if I get it?"
The Oregon Public Records Law was passed by the Legislature in 1973 in a spirit of transparency and open government, Willson added.
But various agencies and institutions have chipped away at those foundations with one exception after another, steadily eroding the public's ability to access government information. Wilson feels an obligation to do something about that.
"Every time they deny and we don't push back, we make it worse," Willson said.
"Being right isn't everything, but I feel like if you're teaching students how to do journalism, you can't exactly be the kind who shrinks away. What kind of example would I be?"