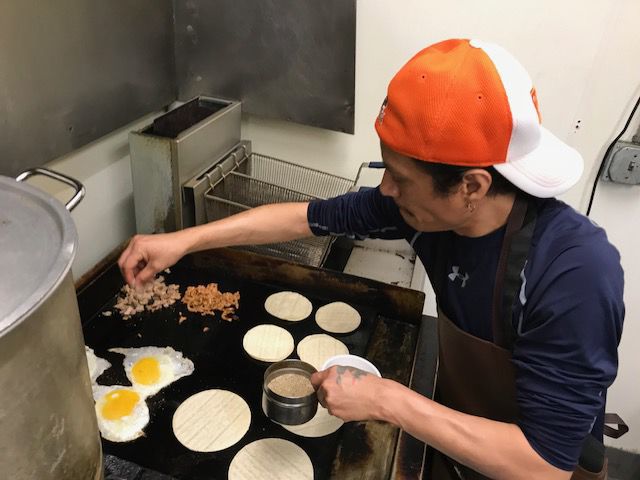 Mid-Willamette Valley residents have gradually been getting used to eating quality meals from food carts and stands.
But tucked away in another unlikely location — the Mobil gas station convenience store off of Main Street in Philomath — is what some locals consider the best Mexican restaurant around.
El Cruzero's menu includes staples such as burritos, tacos, quesadillas and tortas.
But the eatery focuses on recipes from the Yucatan, so it offers slightly different flavors from other regional restaurants.
"I try to make authentic food," said Irvin Poot, who has operated the business with his wife Yolanda Armenta for about two years. For much of that time, they've been the only workers at the eatery.
Poot, who is originally from the Yucatan, moved to Oregon about 25 years ago, and he said he worked in several local restaurants gaining the skills to open up his own business.
Yucatan-flavored specialties at El Cruzero include salbutes de chirmole tacos (turkey tacos with roasted, dark mole) and cochnita pibil (pork slow roasted in banana peels). Poot said both dishes were "numero uno, number one," both for foodies and regular customers.
"The cochnita pibil, the meat is very tender," said Poot, as he made tacos for an order on Thursday. Tacos in general are the top seller, but mid-Willamette Valley residents also have a fondness for chile rellenos, he said.
Most of the orders at El Cruzero are to go, but the restaurant also has a seating area with a television so customers can watch soccer (football en Espanol).
Mark Lehnert, who works in Philomath, was getting lunch at El Cruzero Thursday and said the quality of the meal for the price makes the restaurant stand out.
"He makes real food and he gives you an honest deal for the money. A lot of places, you spend your money and you don't get your tummy full," Lehnert added.
Jose Garcia, who also works in Philomath, said he stops by El Cruzero every day he's in town.
"This is my home," he said, with a chuckle. "Everything is good but my favorite plates are tacos and tortas," he added.
Mobil station manager-on-duty Richard Pierce said El Cruzero helps bring in customers for the gas station and convenience store.
"And they're good people," he said, of Poot and Armenta.
"Philomath needs more food establishments out here that are easy to go to and quality food," Pierce added.