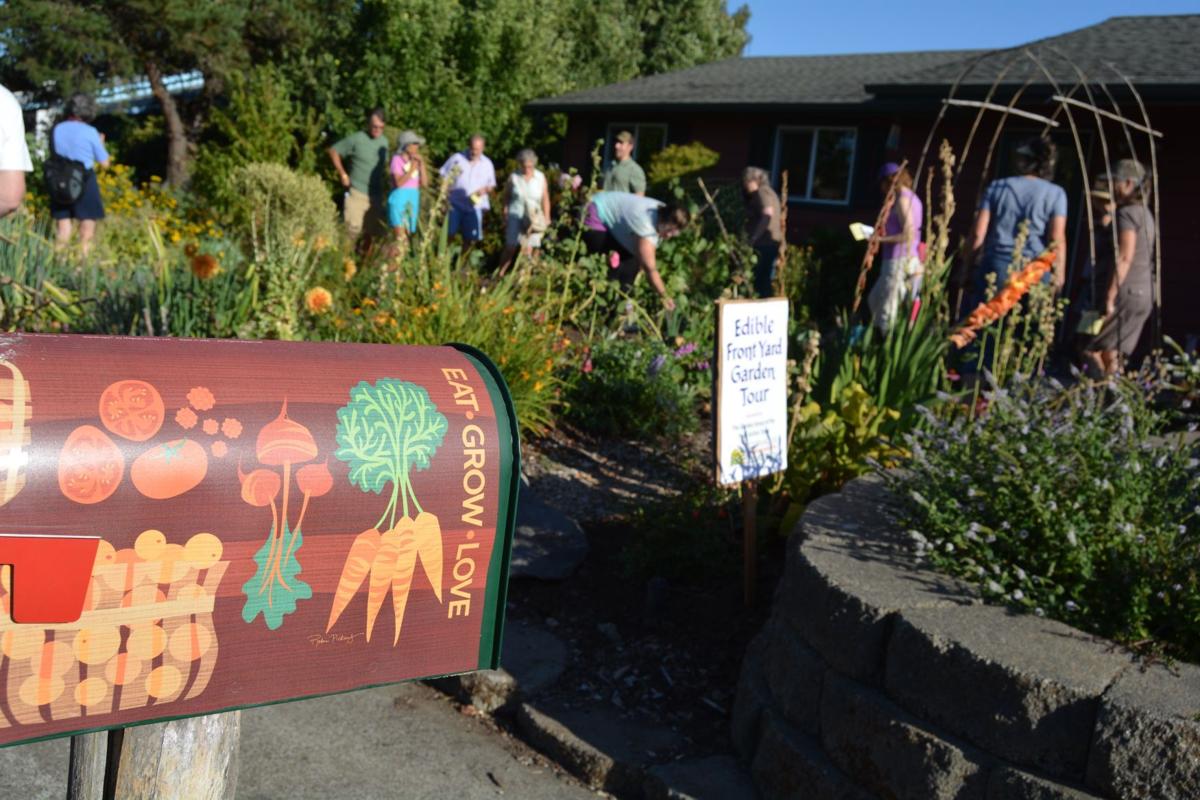 It couldn't have started in a more appropriate spot — on Green Street with the Grow family.
The Edible Front Yard Garden Tour, sponsored by the Food Action Team of the Corvallis Sustainability Coalition, was staging its first-ever event in Philomath on Thursday evening.
Just a few weeks after giving birth, local resident Sophie Grow stood in front of her house answering questions and showing folks what she called a family project that became "kind of an outdoor classroom for our kiddos."
"The idea is to take people around to see a variety of gardens so the tour creates ideas for their own yards," tour organizer Mark McGuire said.
On this first attempt in Philomath, there were three gardens on the tour, one less than last month's event in Corvallis.
"It's harder to find edible gardens that are within walking distance of each other in Philomath," McGuire said. "This year, we had close to 100 people at the Corvallis tour and the year before I heard we had close to 90 and so we're just ready to expand, I guess, and see how it does in a neighboring town."
The hosts of each east Philomath site gave overviews of their gardens. After the first stop, participants walked a short distance down Green Street for the second presentation and then on over to Vincent Street for the finale.
The goal of the tours, which began three summers ago, is to inspire residents to consider edible plants as an option when they landscape their yards, thereby increasing home food production in the community.
Owen Dell, a landscape architect and a Food Action Team leader, said the focus on the front yard is to encourage people to use it for something more productive than grass.
"We've had a lot of people come on this tour and then they're on the tour the next year, or the year after," Dell said.
Dell said home food production is environmentally friendly, can be cheaper than buying food and increases a community's ability to withstand a disaster.
In addition to fostering greater self-reliance, the team hopes to involve more people in the joys and health benefits of edible front yard gardening, such as regular exercise, quality food and a sense of connection to the neighborhood.
"Home food production strengthens our local economy … and dollars spent at the farmers' markets don't leave our area," McGuire said. "So I think that's starting to appeal to more people. It seems to be on the forefront of a lot of people's minds right now."
In that same vein, people simply want to know what's on the supper table.
"I think that people want transparency," McGuire said. "They want to know what goes in their food. … When you have food growing right in your front yard, you have the epitome of transparency."
Then there are social aspects to the activity, whether it's a family project such as the case with the Grow clan or getting to know others in the neighborhood.
"It's an opening to a positive conversation," he said. "There is no dark side to food-growing. It makes people feel so good."
Dell said he began his own front yard garden three years ago. Neighbors he didn't know begin to talk to him.
"It brings people together. I know all my neighbors now," he said.