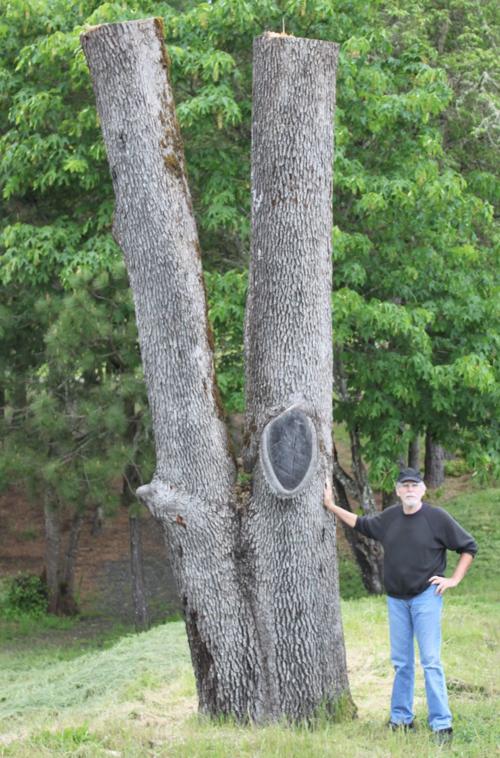 Philomath resident Michael Sprouse knows his time in life has grown short after diagnosed with terminal cancer. In an effort to beautify WestBrook Park while paying tribute to an old oak, Sprouse has devoted precious time toward a fundraising campaign.
Sprouse has orchestrated the formation of "Supporters of WestBrook Park" and hopes to raise $3,000 for a professional wood carver to create a bald eagle sculpture out of a tree trunk.
Sprouse has been fighting multiple myeloma, a terminal cancer of plasma cells. He went through a bone transplant four years ago when he was given two to five years to live.
"I spent two years sitting in my garage entrance recovering and practicing my wood-carving hobby," Sprouse said. "Watching the life cycle of that 75 to 100-year-old oak and its inhabitants, including an American bald eagle, I felt a kinship."
The city removed the tree this spring because of natural problems and Sprouse, who lives across the street from the park situated at Topaz and Jade streets, wanted to do something.
"That's when I thought it could still be a focal point of WestBrook Park," said Sprouse, who volunteers time to keep the park looking good. "Being a wood carver myself, it looked like a perfect subject for a large American bald eagle sculpture."
Sprouse researched chainsaw artists to find a candidate who could undertake such a project. He also worked with the city to leave about 15 feet of the trunk for the carving.
Monetary donations can be made online at gofundme.com/eagleinpark or at any Citizens Bank branch for the Supporters of WestBrook Park fund.
Sprouse said if the fundraising goal falls short, money collected will go only to improvements at WestBrook Park.