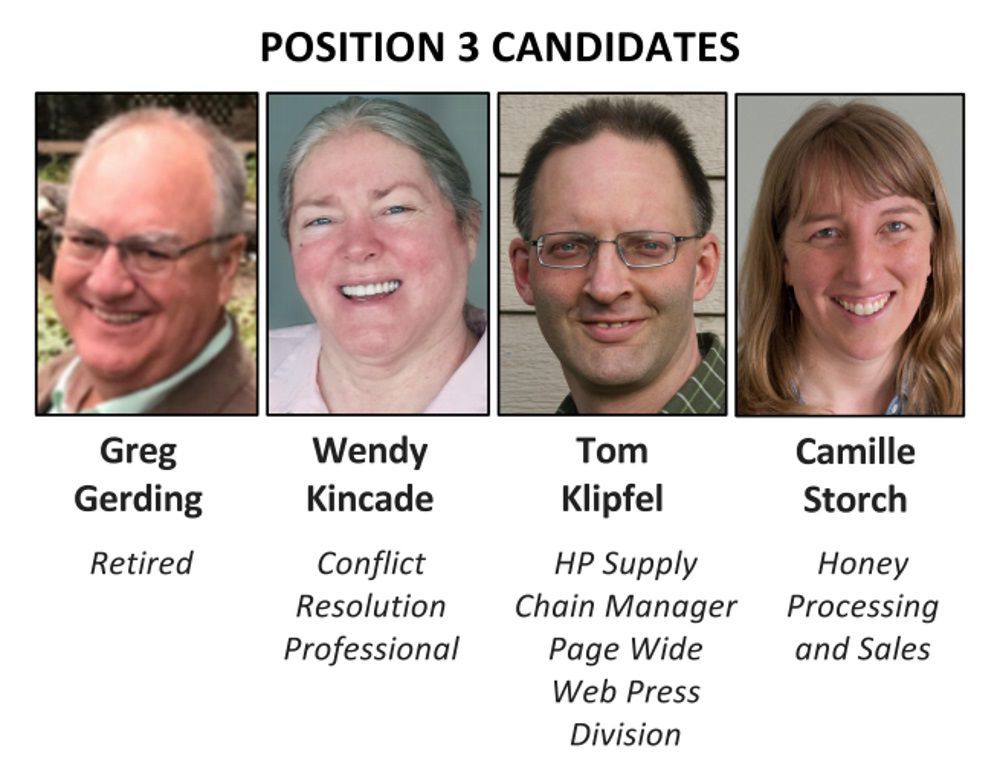 Four candidates filed for the desire to fill Position 3 on the Philomath School Board — the incumbent Tom Klipfel along with challengers Greg Gerding, Wendy Kincade and Camille Storch.
Gerding is a U.S. Navy veteran who is three years into retirement after serving as a fiscal director with Willamette Neighborhood Housing Services. Past governmental experience includes serving as a program analyst on the assistant secretary of the Navy's staff in research, development and acquisition (1989-92) and intelligence enterprise integration manager with the Defense Information System Agency's headquarters staff (1992-95). Gerding, a Philomath High graduate, earned a professional certificate in systems engineering from the University of California-San Diego, a bachelor of science degree in marketing from Oregon State University, a master of business administration degree in finance from Golden Gate University and a master of science in computer systems from the Naval Postgraduate School.
Kincade has been self-employed as a conflict resolution professional at BlueSkyMorning since 2005, has volunteered for Neighbor to Neighbor Mediation since 2011 and has volunteered as a board member for Whiteside Theatre since 2014. Her educational background includes an associate of science degree in block transfer from Southwestern Oregon Community College, a bachelor of science degree in business management from Linfield College and a master of science degree in conflict resolution from the University of Oregon.
Klipfel works for Hewlett Packard as a supply chain manager for its Page Wide Web Press Division. Klipfel has worked in several capacities for HP since 1993. Prior governmental experience includes a budget committee member for the city of Philomath (1998-09), and for the Philomath School District as a middle school site council member (2006-13), long-range facilities planning committee member (2007), bond oversight committee member and secretary (2010-13), budget committee member (since 2008) and school board member (since 2007). His educational background includes bachelor of science degrees in mechanical engineering and aeronautical engineering from the University of California-Davis and a master of science degree in operations management from Purdue University.
Storch is self-employed with Old Blue Raw Honey in processing and sales. She is a Philomath High graduate and attended Linn-Benton Community College in general education and earned a bachelor of arts degree from Oregon State University in geography.
1. What priorities would you emphasize if you are elected to the school board?
GERDING: I would have four priorities: 1), Increase two-way communication between the school board and the community-at-large. Listen to all points of view.
2), Revitalize faith and trust in the school board's decision-making ability that they are acting in all student's best interests. 3), Build a sustainable long-term budget for the Philomath School District. 4), Maintain educational excellence in all PSD endeavors.
KINCADE: My interest in serving as one of five directors on the Philomath School District Board is based on a strong desire to help the Philomath community work collaboratively to solve its problems and provide a healthy environment for everyone who lives, works and visits here.
My wish is to be a part of building an environment where all voices are heard; where protecting the rights and meeting the needs of all individuals is a priority; and where the impacts of mistakes are corrected through accountability and the restoration of people and relationships.
If elected, my primary focus will be to bring: better informed decision-making; an emphasis on the appropriate use of power; forums where all perspectives are heard and have weight; and most importantly, I will bring a willingness to see the human in all people.
KLIPFEL: Philomath has a healthy 90 percent graduation rate, but with 1,400 students in our schools, that is 140 kids who will not graduate. Last year, I led the school board to set the vision to "graduate every student and transition each into a job, training or college."
That is my No. 1 priority and to achieve that goal I would make sure we (1), monitor kids against graduation-progress indicators at all grades, (2), provide appropriate programs for any kid who falls behind and (3), continue to offer a diversity of activities (sports, music, etc.) to keep kids engaged.
There are schools in Oregon with nearly 100 percent graduation rates. I am committed to making Philomath one of them.
STORCH: Studies as well as common sense show that student success is directly tied to the quality of the teachers in the classroom, so recruiting and retaining the most qualified, highly skilled educators and staff is at the top of my priority list.
Beyond that, I will step into the role of school board director with an open mind and without a concrete agenda.
2. If budget cuts out of Salem for the next biennium become a reality and the school district cannot find relief, what would you fight to save and in what areas would you consider cutting?
GERDING: Solving our budget crisis shouldn't come at the expense of students. We should do everything we can to protect the student learning opportunities and experiences. Likewise we cannot solve it through teacher sacrifices alone either. First do minimal harm to students.
Save: Student programs/services to the maximum extent possible. The majority of most school district budgets are personnel-based and Philomath's appears no different. Anytime one is looking for budget reductions, the initial place to look is personnel since that is where the majority of the budget is expended.
Consider for cutting: 1), Administration/staff office spending. 2), Review all noninstructional positions for savings. Can services/positions be shared? Eliminate ancillary positions where able. 3), Look for greater efficiencies in overhead. 4), Freeze new hires/impose hiring delays. 5), Cut days from the work-year for all PSD employees. Maximize cut days on days when students would not be in class. 6), These steps will undoubtedly not get us the budget we need; then we need to look at student program cuts – which translates to teacher cuts and reduced class offerings.
We, the PSD community, must work closely together, considering all inputs, on passing an operating levy next year or there will be dire budget consequences.
KINCADE: Making important decisions about services and supports, whether cutting things out or adding things in, should be done collectively and collaboratively by all of those who will be impacted by the outcome of said decisions.
I support using a respectfully facilitated public process for all major decision-making and will support the outcomes that result from such a process.
KLIPFEL: As a school board member, I have managed through two substantial budget reductions. What I have learned is better times eventually replace down times and once you cut a program, it rarely comes back.
Therefore, this is my approach on necessary budget cuts: (1), eliminate inefficiencies, (2). avoid replacing retiring or departing staff wherever possible, (3), slow down replacement purchases (technology, textbooks) and (4), spend some of the reserve. Given the health of Philomath's budget, these actions can bridge the gap to the next stronger cycle and avoid cutting valued programs that hard to bring back later.
STORCH: Basic facilities maintenance is critical. Deferring maintenance is almost always more expensive in the long run. We are legally mandated to offer quality, engaging curriculum for special needs children, and we can't let them down.
If at all possible, we need to maintain or improve current teaching staff levels and work with the teachers' union to ensure members feel adequately supported by the district.
School is often the safest, healthiest and most positively stimulating place for many vulnerable or disadvantaged students. We have a moral obligation to provide the services they need to learn and behave appropriately in the classroom. Because of budget shortfalls, state officials are discussing major cuts to social service programs, increasing food and housing insecurity for families in our community, so support services in school will be more important than ever.
Many discretionary programs have benefited from generous support of community organizations and local businesses. I would work to strengthen and expand those relationships so that we can continue to offer a broad range of top-tier programs to all students.
Making budgets cuts that will negatively impact students and teachers is incredibly difficult, and I will not take those decisions lightly. Cuts will hit close to home for me, personally, because my own children and their classmates will face the consequences of any and all program reductions for the next decade.
3. What lessons should the school board and community take away from the hazing incident, and what do you feel went right and what could've been done better?
GERDING: The necessity for open, two-way communications, as permitted by law, after such an incident is critical. It appears the board could have turned outward to involve the community more as to the probable process, status and progress of the investigation, while still ensuring the rights and safety of all students/personnel.
The incident took the board and community by surprise, but a well thought-out, forward-looking communications plan with the goal of keeping the community informed and united could have been very beneficial to all. Lack of information flow leads to misinformation, innuendo and mistrust. Trusted communications by the board and the community is essential.
The school board is responsible for establishing policy and providing governance. Just establishing policy is not enough; there must be follow-through with appropriate governance. The board had an established hazing policy, but was appropriate hazing orientation/training provided to students? Was it addressed adequately in student handbooks? Proper governance should ensure that policies that require action are in fact followed and acted upon.
This was a horrible incident that ideally never should have happened. The board dealt with an extremely trying and difficult situation.
KINCADE: The main thing I hope the Philomath school board, administration and community have learned from the school administration's response to the occurrence at Camp Rilea last summer is that emphasizing punishment for those who have done harm, and providing little to no direct support to those who have been harmed, is an ineffective and harmful way of responding.
I hope the school board and school administration are able to develop a system and embrace a philosophy that allows for open dissent and respectful input by staff, students, parents and concerned community members, and that future responses to harm emphasize accountability by offenders, needed services to victims and the restoration of people and relationships.
The Philomath School District's current disciplinary system is based on what I believe to be an outdated retributive philosophy of justice where the emphasis is on punishing offenders and ignoring victims. I propose a complete review and revamping of this system and support the development and implementation of a restorative system — a system that includes accountability by offenders with an emphasis on making things right for victims and an overall philosophy of repairing relationships and restoring community peace.
KLIPFEL: As a parent, the hazing incident was truly heartbreaking. As school board chair, it has caused me more stress than I can possibly describe. We as a community need to continue teaching our children to always treat each other with love and kindness and that making others feel harassed or bullied is never acceptable.
As to how the school board handled the incident, regrettably, there was no "good" way; there was only the legal way as outlined by school policy and the law. Some people wanted more open communication and the "court of public opinion" to determine the consequences of those involved, but since we were dealing with minors, that would have been nothing less than unethical and illegal.
What happened at Camp Rilea was very serious. Anyone who believes otherwise does not have a full understanding of the events. The boys involved deserve forgiveness and they have mine. However, our actions must have consequences.
As a board member, I had to decide on consequences for boys I have known for more than 10 years in order to stand up for 11 boys whose names I did not even know. It was the hardest thing I have ever done in my entire life, but that is what every board member must do — be fair and unbiased regardless of who is involved. Knowing what I do about this very difficult situation, I stand by my decisions.
STORCH: ASB president, Christopher McMorran, put it well, "I really would encourage the community, and our school board and everyone in Philomath to please be a better example of love and forgiveness during this time."
I would add that as adults, we have to be better role models of civility and community mindedness in our words and our actions.
I am an informed community member, but I'm not privy to the exact facts and details that the administration, the current school board and some more closely involved individuals had last fall nor will I ever be in a position to re-adjudicate this particular incident.
Without that information, I can't know for certain if the decisions made were completely fair or appropriate. That said, I do believe that the administration and the board made those decisions in good faith and on the advice of counsel without a personal sense of spite or greed as some have suggested.