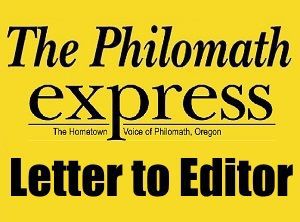 More to fee
than advertised
The Philomath City Council is proposing a $17 monthly "public safety service fee" be levied on each household and business in the city in order to shore up the general fund. This fee would be included on individual utility bills. Is it legal to add a fee to the utility bill that is not related to the utility?
It is called a fee but in reality it is a tax and as such it should be billed out as a tax so that it can be claimed as an income tax deduction.
The term "public safety service fee," coupled with several references to the police department in the February newsletter, leads one to believe that without the income generated by this "fee," our community will be unsafe.
However, the truth is, as confirmed in the Feb. 13 city council hearing, the extra revenue would go into the general fund for other expenditures as well. Why not call it the general fund fee? Perhaps because it doesn't have scare tactic value?
Property taxes account for approximately half of the general fund and are capped at a 3 percent increase annually. The economy has been growing slowly over the last few years — averaging 1.12 percent inflation rate over the last three years and 2016 saw a wage increase of 2.4 percent. These figures indicate that tax revenue should cover the cost of wage, material and service cost increases. The general fund also receives other revenue, for example, franchise fees, cigarette and liquor tax, state revenue sharing, etc.
The newsletter makes reference to the fact that Philomath has had limited growth and also has limited growth potential. Hence, limited opportunity to increase property tax generated revenue. Actually, there has been some growth and there is potential for more growth. At least three new businesses opened in 2016.
A 90-unit high density development is scheduled to break ground on 19th Street in May. The city is paid system development costs by the developer and tax revenue will be generated. Two Houser Lane properties were rezoned high density in late 2016. The Skirvin property was annexed and rezoned.
There is growth and potential for growth. However, planned growth is only part of the answer to the budget issues. Fiscal responsibility is the other part.
This "crisis" didn't develop overnight but all of a sudden, in the 11th hour, 59th minute, the citizens are expected to bail the city out.
City needs
fiscal discipline
The City of Philomath notified residents of a proposed $17 per month "public safety service fee" per household. This totals $204 a year, or $1,020 over the five years the city projects it would be needed.
From 2010 through 2015, the city's expenditures increased 32.7 times as fast as the population did. While property tax revenue rose by 14.5 percent, the city insists it needs to dig ever deeper into the pockets of its residents to survive.
The city has not exerted fiscal discipline, preferring to tax residents instead of increasing revenue through sources such as municipal court and grants, controlling cost overruns or reexamining generous staffing, salary and benefit levels. For example, police department expenditures increased by 28.3 percent from 2010 through 2015, and the police department overran their budget by $52,070 in 2015-16.
The city has $4.84 million to draw on in the state treasurer's investment pool. Just 10 percent of this amount would address immediate issues, until realistic budgets and financial discipline are implemented.
The city represents they have a "revenue problem." This is meaningless. I have a revenue problem and most likely you do too — there are things you want that you can't afford. But you live within your means, and the city must, too.
This "fee" is possibly an illegal tax, positioned as a fee to bypass citizen voting. Your last opportunity to make your voice heard is to give oral comments at the Philomath City Council meeting at 7 p.m. on March 13.
Catch the latest in Opinion
Get opinion pieces, letters and editorials sent directly to your inbox weekly!