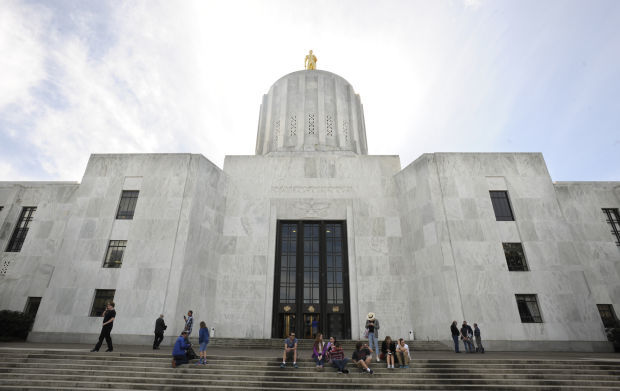 It seems as if the Oregon Legislature may be following the lead of Gov. Kate Brown in dealing with the problems associated with the state's public pension system.
In her recent inaugural speech, Brown outlined a list of ambitious goals for the legislative session that started a week ago. One of the issues that didn't get much attention in the speech was the state of Oregon's Public Employees Retirement System, which faces an unfunded liability now estimated at around $26 billion.
To be fair, Brown did talk about finding ways to give schools additional money to help offset their increasing premiums for PERS — but that proposal just relieves one of the system's symptoms, not any of the underlying issues.
The 2019 Legislature has started its work as the system confronts an additional problem, according to a recent story by The Oregonian's Ted Sickinger, whose reporting on this topic has been essential. Sickinger reported that the system faces a negative cash flow, which is to say that it pays out more — much more — than it takes in before investment earnings. Last year, Sickinger reported, the system took in about $1.4 billion in contributions from employers and it paid out $4.7 billion in pension benefits.
That in itself isn't necessarily a problem, Sickinger noted; many mature pension systems are in similar straits.
But here's where this gets dicey: Looking ahead to the next few decades, the amount of money PERS will be paying out each year grows dramatically. Estimates now are that the annual payments by the time we get to 2035 will add up to $8 billion. Where will that extra cash come from?
Now, 2035 seems like a long ways away, but it's not: It's barely 15 years out. 
So you would think that Brown and the Legislature would be knocking themselves out to try to fix some of these issues.
You have free articles remaining.
And the truth is that some PERS bills have been introduced this session, but most of them have come from the Republican side of the aisle. (In fact, most of them have come from Republican Sen. Tim Knopp of Bend.) 
However, it's unclear whether legislative leaders have much appetite for any of these PERS proposals. It could be that most of these bills will end up dying quietly without even getting so much as a hearing.
Considering the makeup of the Legislature, bills from Democrats have a much better shot at success this session. Aside from the bills Brown is pushing, those include a measure from Sen. Arnie Roblan to establish a 401(k)-like retirement fund for new employees and another bill from Rep. Brad Witt that would designate a portion of proceeds the state gets from any sports betting to reduce the unfunded liability.
Those measures could be useful, but Knopp's proposals go deeper. They include:
• Senate Bill 148, which would give employees a choice between participating in either the traditional defined benefit pension system or a new contribution plan that works a bit like a 401(k).
• Senate Bill 149, which calls for a study of a proposal to set up an early retirement program for eligible employees that could help reduce the unfunded liability.
• Senate Bill 532, which would require employees and employers to each contribute 3 percent of salary to employees' supplemental individual retirement accounts.
• Senate Bill 531 includes many of the PERS proposals Knopp has made in previous sessions, to no avail.
We suspect few, if any, of Knopp's PERS proposals will gain much traction this session, but he deserves praise for keeping the faith that we can make some progress on the issue. That faith does not appear to be shared by legislative leaders, but we'll see.
And our guess is that the Legislature has a limited number of sessions remaining before it no longer has the luxury of relegating PERS reform to a quiet death in the shadows of the Capitol. (mm)