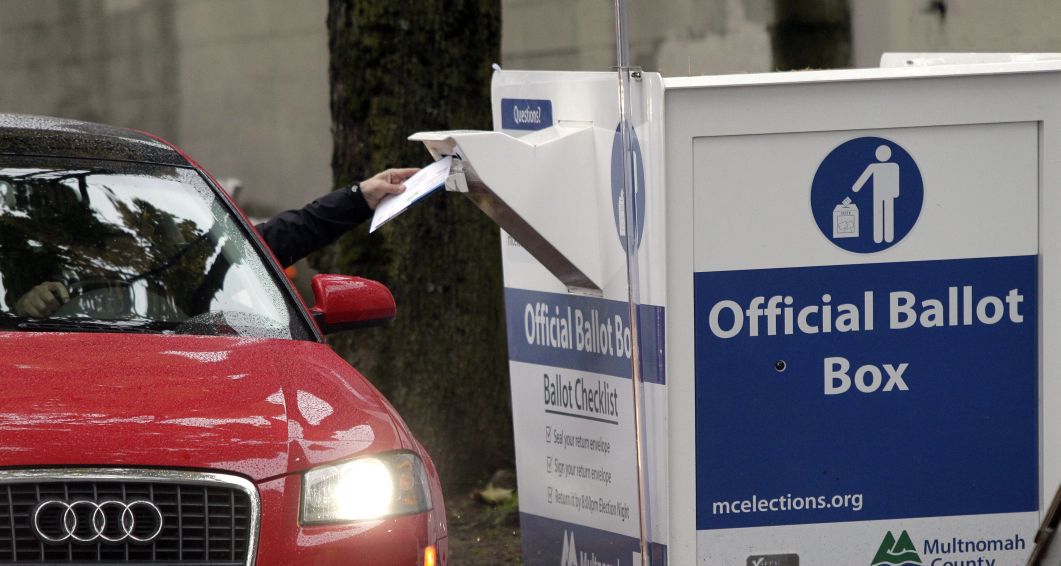 Today's election in Oregon is the first one since the state's new motor-voter registration system has added more than 50,000 new voters to the rolls.
But the primary election isn't likely to give us much in the way of clues on whether this new mass of voters will have any substantial political impact. We'll have to wait until the November general election, and it will be interesting to see if there's a candidate or issue on the ballot that engages voters who thus far don't seem enthused about politics.
The sheer numbers, though, are impressive: Oregon Secretary of State Jeanne P. Atkins says that the motor-voter system has added 51,558 voters to the rolls since it went into effect at the start of the year. Under the system, people who get or renew a driver's license are automatically registered to vote, unless they specifically opt out. People also get a chance to align themselves with a political party; if they do nothing, they're registered as nonaffiliated voters.
Oregon has about 2.3 million voters, so these new voters make up about 2 percent of the state's electorate. That's not a big chunk — not yet — but it could be enough to turn the tide in a close race.
If you could persuade them to vote.
The early signs suggest they're not particularly politically motivated: Only about 16 percent of these new voters took the time to align themselves with a political party, an action that would have required them to return a postcard to election officials.
More than three-quarters of the new voters (76 percent) didn't bother to return the postcard, so they're officially on the rolls as nonaffiliated voters.
And nonaffiliated voters generally don't get to participate in a party primary, although they did have the opportunity to vote in this year's Independent Party primary.
Our guess is that most of these new voters received the state's ballot that went out to nonaffiliated voters — it listed a handful of unopposed nonpartisan races — and shrugged. We will be surprised if these new voters leave much of a mark on the primary. In fact, we will be surprised if many of these new voters actually vote in today's election.
There's been some call to reform the state's primary elections to make them more appealing to new voters, but Oregonians seem to like the idea of changing the state's primaries about as much as they like the idea of a sales tax. And, of course, the parties themselves get to decide whether their primaries are open or closed.
The general election in November, of course, is another story entirely, and that's where new voters could make a difference. But candidates and people involved in the ballot measure battles will have to craft a case that new voters find sufficiently engaging to overcome what appears to be a certain indifference to politics.
That's not an impossible task, of course. A candidate who figures out how to do that may well reap a big reward: Barack Obama, to list just one example, rode a wave of youthful support all the way to the White House. The trick will be finding just the right message.