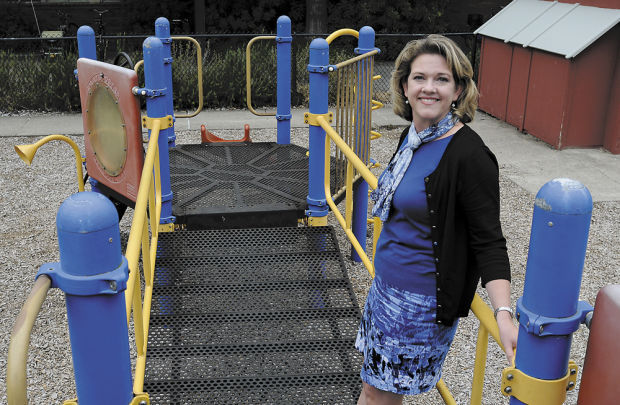 Professor Megan McClelland studies value, develops assessment of students' self-regulation
Oregon children starting kindergarten this fall will be assessed to determine their readiness to learn — a statewide effort that's been built in part on research by a faculty member at Oregon State University.
Megan McClelland, an associate professor at OSU's Hallie E. Ford Center for Healthy Children and Families, has long been fascinated with the idea of how children's ability to "self-regulate" can help predict long-term success in school.
Self-regulation is defined as children's ability to control their behavior and impulses, follow directions and persist on a task.
McClelland gives credit to an "amazing adviser" she had in graduate school who suggested she take a look at learning-related skills. It might be worthwhile, the adviser suggested, to see which of those skills were most effective at predicting school success.
"He said, 'I think there might be something there.'"
And how: After years of working on the issue, McClelland and her colleagues at OSU and elsewhere have amassed a pile of evidence that shows that students with higher self-regulation skills do better in school. One recent study, for example, showed that students with high ratings of self-regulation at age 4 had a 49 percent better chance of completing college by age 25.
Considering Oregon's push to make sure that students start school ready to learn, it makes sense that state educational authorities would want to get a better handle on skills such as self-regulation.
So, starting this fall, kindergarten teachers will be using the Child Behavior Rating Scale, a series of 17 items, to assess students. Ten of the items measure self-regulation; the remaining seven assess social-emotional skills.
The idea is to identify which students need a bit of a boost in their self-regulation and related skills to increase their chances of success in school.
And, McClelland said, the good news is that both parents and teachers can help students develop those self-regulation skills. (See the information at right for details.)  
Teachers won't be asked to do the assessments until several weeks have gone by in the classroom, in part so that they can distinguish between a student with some self-regulation deficits and a student who's merely had the kindergarten equivalent of a bad hair day or two.
"There's been some concern about teaching to the test," McClelland said. "But teaching these skills can help students over the long run."
In the meantime, McClelland — herself the mother to two children — continues to find new avenues to explore with self-regulation.
A recent study, for example, showed that a gender gap exists in behavior and self-control in American children — but that a similar gap between boys and girls does not seem to exist among Asian children.
In the United States, girls generally have higher levels of self-regulation than boys. (Shannon Wanless, now at the University of Pittsburgh, started this research while a graduate student under McClelland.)
"It was remarkable," McClelland said. "There's so much of a focus in these societies on compliance and respect and controlling your behavior. … I was amazed at these 3-year-olds."
Mike McInally is the editor of the Democrat-Herald. He can be reached at 541-812-6097 or mike.mcinally@lee.net
Be the first to know
Get local news delivered to your inbox!