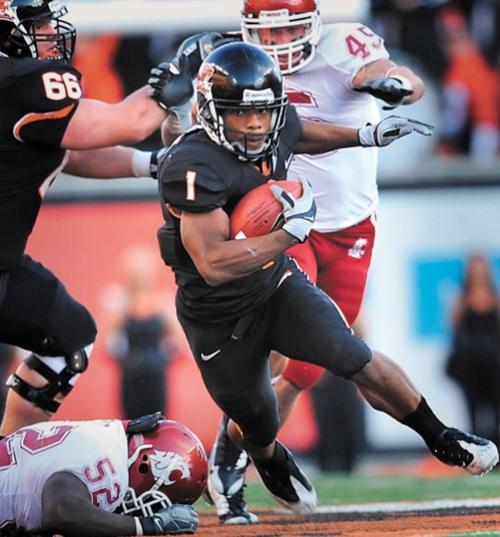 This is one of those rare games the Beavers are supposed to have in hand by halftime.
Everyone expects a big OSU win.
On paper, that may be true. In reality, it could be a struggle.
There's no doubt Portland State is going to come out with a little chip on its shoulder and try to take it to the Beavers from the opening kick.
The key for the Beavers is to take it to the Vikings from the first play.
Mental approach is important. The Beavers absolutely cannot afford to take the Vikings lightly.
The Beavers can't expect to simply show up and celebrate a blowout.
The Beavers have established themselves as a solid program in the past decade. Bowl games are the expectation rather than the exception.
They've built on past success to bring in higher level talent and the program has the stability of a long-term coach in Mike Riley.
Just four seasons ago, the Beavers took a 41-14 win over PSU in the 2005 season opener. But these are different teams and the Vikings are not going to lay down.
The Beavers don't have to look deep in their past for an example.
You have free articles remaining.
Going into the 2000 season, the Beavers were loaded with talent. They had receivers Chad Johnson and T.J. Houshmandzadeh, running back Ken Simonton, linebackers Darnell Robinson and James Allen and defensive ends LaDairis Jackson and DeLawrence Grant.
The team was so good that it finished 11-1 and won the Fiesta Bowl. Yet the season might have gone in a different direction had Eastern Washington been able to pull off an upset of the Beavers in the first game of the season.
EWU came within a whisker, but the Beavers held on, 21-19.
That's a lesson that should not be lost on this Oregon State team.
Confidence begins to build up steam the longer a team is in a game, so a strong start for OSU is important.
The Beavers have superior speed and need to use it. They should pound away at PSU with Jacquizz Rodgers and then stretch the Vikings deep with pass plays from Sean Canfield to James Rodgers and the other receivers.
Get the ball in space against the Vikings and make it a speed-on-speed match.
On defense, defensive ends Kevin Frahm and Ben Terry need to keep constant pressure on PSU quarterback Drew Hubel, forcing him to throw early or take a sack.
Otherwise, the Vikings' run-and-shoot is capable of putting up big numbers.
Enough pressure could result in some turnovers and at least will help keep the OSU offense on the field.
Build a big lead. Then, as the game goes on, Riley can take a look at some of his reserves and work on getting the team ready for the rest of the season.