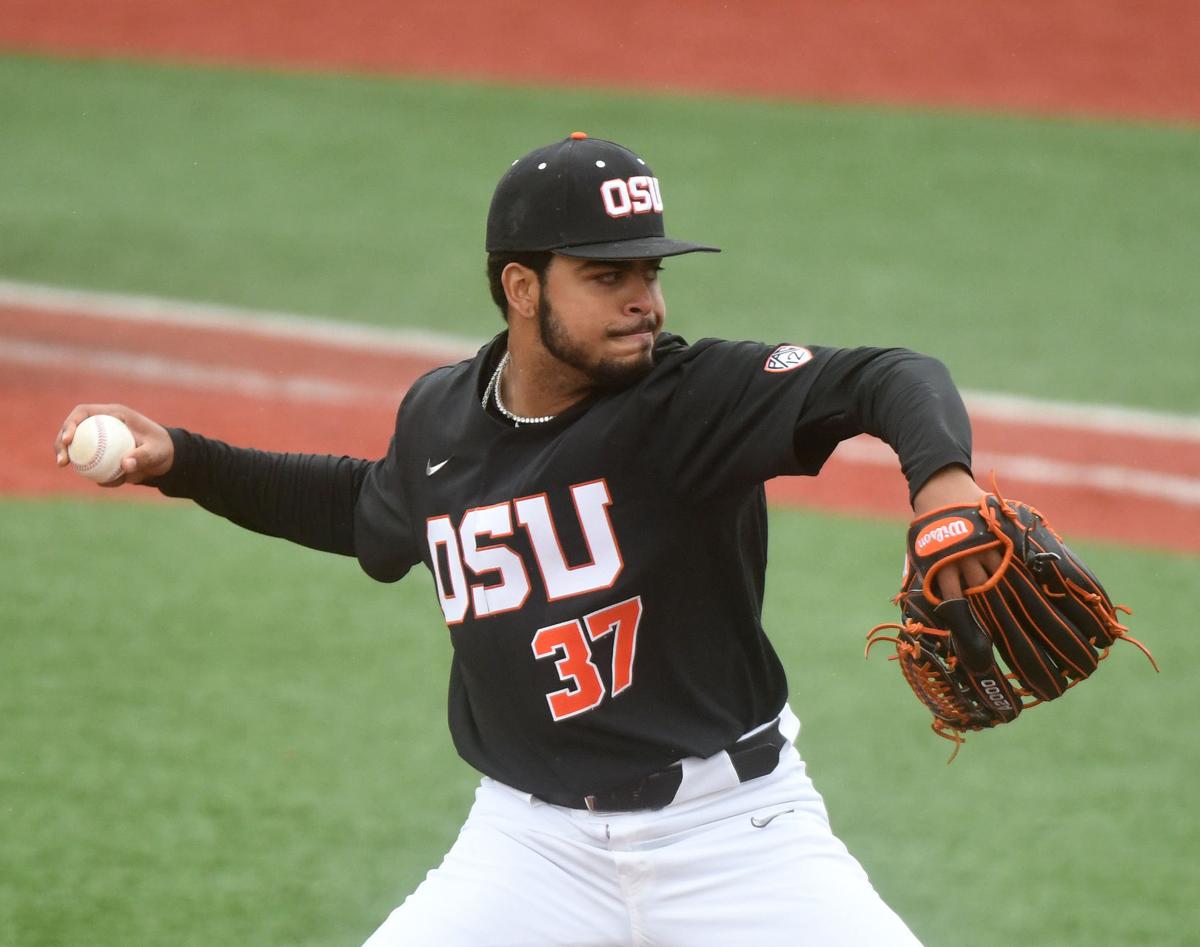 Even in Oregon State's star-studded stable of pitchers, it's impossible not to notice Bryant Salgado. 
You can partially attribute that to his stuff; the sophomore right-hander has been nearly unhittable in his debut season with the Beavers while mixing a devastating curveball with a heater that touches the high 90's. But often, just as electric as Salgado's fastball is the moment that comes directly after it crosses the plate. 
In a sport that is frequently criticized for muting the personalities of its stars, Salgado is having none of it. His inning-ending strikeouts are followed by loud, energized celebrations, and a big play from a teammates is typically met with a frenetic yell of approval.
Case in point, during an early March game against BYU, Salgado came on in a high-pressure situation in the eighth inning and blew a 98 MPH fastball past Cougars' star Mitch McIntyre to escape a jam and preserve an Oregon State lead. 
Afterward, Salgado let out a loud yell and pumped both fists before tugging on the front of his jersey and pointing toward the Beavers' dugout. 
"That dude's a blast," Oregon State reliever Joey Mundt says with a laugh. "He's just high-energy, high-intensity. Every time he finishes out an inning, he's fired up. It's loud; he's a loud player and it's awesome to see."
During a long journey that brought him from Houston to Corvallis, Salgado has blossomed from a fringe draft prospect whose fastball barely reached 90 MPH three years ago, to a top-end reliever who believes he'll be able to touch 100 by the time the season ends. 
At each step of the way, he's kept that passion for the game whenever he steps foot on the mound.
Support local news coverage and the people who report it by subscribing to the Corvallis Gazette-Times.
"I'm very happy and very fortunate to be here, and I bring that to every game," Salgado said. "After every inning, I feel like I give my team a chance to win. I love winning, so that's where the fire comes from."
In his first season in Corvallis, Salgado has made a seamless transition to Oregon State's loaded bullpen. Beavers' coach Mitch Canham has more than 10 reliable relievers to choose from on a nightly basis, and he has leaned on Salgado more frequently than any of them — often in high-leverage situations. Salgado has yet to surrender a run in nine appearances and has struck out 12 batters in 12⅓ innings.
Just as significant as his late-game contributions, though, has been the contagious vibrancy he brings to the clubhouse. 
"He definitely brings a lot of energy, a lot of fire," catcher Troy Claunch said. "Sometimes you have to simmer him down a little bit — he'll get going a little too hot. But he gets these guys fired up. He embodies what it means to be a competitor. He definitely brings that presence to the mound. You can call on him and he's going to be ready to go at any point."
His pure stuff is as good as any pitcher on Oregon State's roster, but Salgado's journey to Corvallis nearly never materialized. 
Salgado was selected by the San Diego Padres in the 34th round of the 2019 Major League Baseball draft out of San Jacinto Junior College in Houston, and was tempted to sign. His obvious desire to improve and natural arm talent always made it easy for coaches and scouts to fall in love with him as a prospect. But the more difficult part of the equation seemed to be finding a way to unlock that talent. 
July 2019 proved to be a sliding doors moment for Salgado — he could take the Padres' offer and sign for an amount that was probably far below his talent level, or he could continue building for an eventual move to a Division I school and hope for a better offer the next time he was draft eligible. 
"I had some contacts across the country who had reached out and told me to make sure I'm taking a look at this guy," Canham said of Salgado. "I started communicating with him little by little, learning about what makes him tick. You see the stuff on video and say, 'Wow, that's electric, no doubt about it.' But it took a lot of time. We want to make sure the guys who come here really want to be here — we weren't sure if he was taking off in the draft."
Salgado knew he wanted to be a Beaver after his first phone call with Canham, though, and knew he had plenty more to show the baseball world than just the tantalizing potential that had caused the Padres to take a late-round flyer on him. 
He also knew that at San Jac he had found the perfect coach to help him unlock that potential. 
Woody Williams was a 15-year Major League veteran who retired in 2007 and immediately went into the world of coaching. A Houston native, he joined as a volunteer assistant at San Jac in 2015 and helped the Gators, a perennial JUCO powerhouse, continue to churn out elite Division I pitching talent. 
In two years with Williams, Salgado evolved from a talented "thrower" with a strong arm, to a fluid, polished pitcher who learned how to mix his sharp fastball with above-average secondary pitches. Williams' hands on, detail-oriented approach to coaching is paired with an easy-going personality that makes it easy for pitchers to buy what he is selling. In Salgado's case, it didn't take long for the results to start showing on the radar gun.  
"It was never about talent with Bryant, more just mechanical issues," San Jac assistant Kory Koehler said. "When he got to us, he was kind of all over the place — he would fly open. He didn't get a lot of extension on the fastball. He learned how to pitch more linear and directionally toward the plate and was able to stay up underneath his legs. Woody just did a great job with him. … He was willing to work and there was a steady climb in velocity each year."
As far as Major League pitchers go, Williams was a stellar hitter who cracked 30 extra-base hits during his decade-and-a-half career, and he never lets his pitchers forget that. Williams often jumps in the box during live batting practice and, according to Koehler, regularly tees off on the players he coaches. 
When a clip of Salgado finishing off a big strikeout for the Beavers recently made waves on Twitter, Williams was quick to respond: "my bat is ready to square him up!" 
"He knows my stuff better than anybody," Salgado said with a smile a few days later. "He's been like a second father, basically. He's taught me a lot of things. That's why he chirps up a lot that he'll hit me." 
These days, though, even Williams might have a tough time barreling up his protege. The rest of the Pac-12 has yet to find a way to do so. 
"If he would have come back to San Jac for a COVID sophomore year, I would guess he would have gone in the top five rounds," Koehler said of Salgado's draft outlook. "At Oregon State, he's that bridge-gap bullpen arm. Do I think he's worthy of being a top-10 round guy? There's no doubt in my mind. He's got all the stuff in the world."
Jarrid Denney can be reached at 541-521-3214 or via email at Jarrid.Denney@lee.net. Follow him on Twitter @jarrid_denney