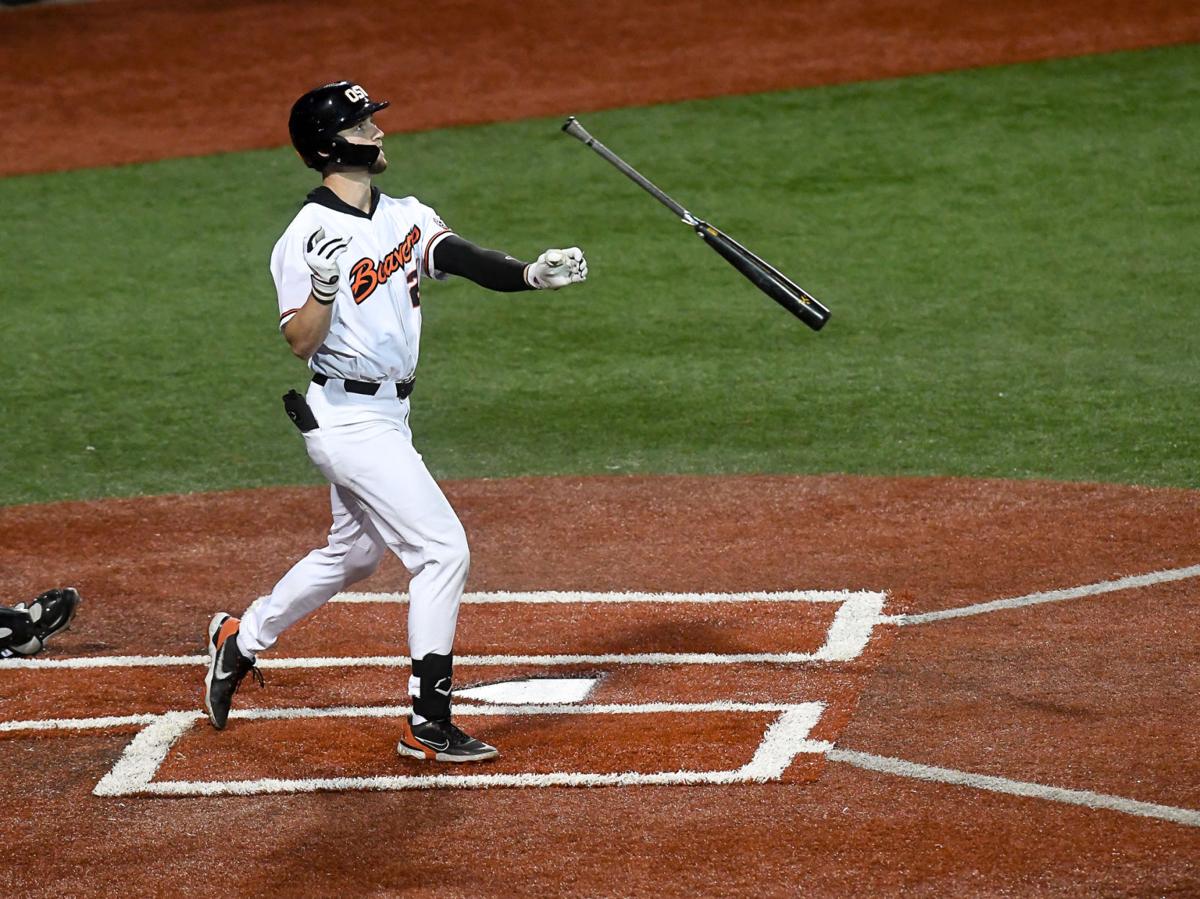 In the span of a few hours last Friday, Jacob Melton launched three home runs that traveled a combined 1,254 feet — nearly a quarter-mile worth of dingers. 
All three cleared the right field fence, and one sailed over the bleachers, out of the ballpark and beyond the railroad tracks that run parallel to Southwest Washington Way. If you were to believe a rumor that circulated on Twitter post-game, his second homer went so far that it struck a Starship robot delivering Panda Express to the nearby dorms. 
When the dust settled, he finished the night 4-for-4 with three long balls, a double and six RBIs. If you ask those who watch Melton work day in and day out, it isn't surprising that he turned a Pac-12 baseball game into his own personal home run derby. What's surprising is that it didn't happen sooner. 
"You guys don't want to miss his batting practice," Oregon State coach Mitch Canham said."He's strong. His bat's whippy through the zone. The deal was trying to get it consistent and match that timing up in the game as well. I think everyone's been excited waiting to see when that animal is gonna get released out of the cage and go to work like that."
Long before he arrived in Corvallis, Melton's talent was obvious; he's 6-foot-3 with a fluid left-handed swing, has power to all fields, plays multiple positions and runs as well as any player in the Pac-12. Over the past month, though, it has all clicked into place for the Oregon State sophomore. After struggling to consistently crack the starting lineup early in the year, he is hitting a conference-best .469 in 23 games on the year, and his .734 slugging percentage is the fourth-best in the Pac-12. 
As it turns out, a slight midseason tweak to his timing recommended by Oregon State assistant Darwin Barney is what has transformed Melton from a talented, toolsy player to one of the best power bats in the conference.
"I don't think in my wildest dreams I would have figured it would turn out like this so far," Melton said after his three-homer game. "But it's not really a product of chance. I put in a lot of work in the offseason and made a lot of adjustments from last year. Really changed myself as a person and a player."
Support local news coverage and the people who report it by subscribing to the Corvallis Gazette-Times.
Most left-handed hitters with Melton's makeup are extremely pull-heavy — they want to turn on the ball and hammer it to right field. In today's 'launch angle' era, hitters are incentivized to swing early and put loft on the ball, but that often comes out the expense of making contact. 
Throughout his career, Melton has ignored that trend. He sprays the ball to all fields, hits well in two-strike counts and has no problem waiting on a pitch and taking it the other way. It's part of what makes him such a special hitter. 
Former Beaver great Andy Peterson coached Melton in his lone season at nearby Linn-Benton Community College, and with the Okotoks Dawgs during the summer season in Alberta, Canada. 
The way he tells it, Melton's power to the opposite field is the stuff of legends. 
At Linn-Benton — playing in the Northwest Athletic Conference, a wood-bat league that has a reputation for producing talented pitchers and stifling the power numbers of hitters — Melton hit .365 and cracked three homers in his lone season with the Roadrunners. He took all three of them to the opposite field. 
"He would have triples where he hit a line drive at the left fielder," Peterson said. "The guy would take a couple of steps in with his first read, and the ball would hit the wall. That kind of thing. Everything he hit was oppo — all his homers and extra-base-hits. It was different from everyone else. He was in a league of his own, I guess you would say."
Peterson recalls an early glimpse of what can happen when Melton does pull the ball, though. In a 2019 game in Alberta, Melton launched a home run to right field that sailed over the scoreboard and out of the stadium. It took one bounce off the highway pavement and rolled into the Shell station across the street. 
"If he's getting locked in, and the coaches at OSU have figured something out with his swing, then that's scary," Peterson said. "If he's able to pull balls as far as he's hitting them, that's a scary concept."
Over the past few weeks, Melton has been hunting fastballs early in counts and turning on them. The results have been devastating for opposing pitchers, and last Friday's three-homer showing was the product of the timing queue that Barney helped him implement. 
"It was just all about getting going earlier," Melton said. "I felt at times I was getting rushed to deliver the barrel early on in the season. This new adjustment is letting me start on time and getting down in a really good spot."
Melton's firework display last Friday turned plenty of heads, but the power has been present even when the ball doesn't leave the yard. Exit velocity, a metric used to measure how fast a ball is going when it leaves the bat, is useful for analyzing how strong of contact a batter is making. 
Canham said that in the nine at-bats prior to Melton's three-homer game, all but one of the balls he hit registered an exit velo between 105 and 110 miles per-hour. For context, only 75 big-leaguers have hit even one ball harder than 110 mph this season, and San Diego Padres' star Fernando Tatis Jr. leads the majors with an average exit velo of 96 mph, according to Baseball Savant. 
"The ball came off (Michael Conforto) and Dylan Davis's bat different than most guys — it just sounds different," Peterson said. "Melton is the same way."
Just as key as the mechanical adjustments for Melton has been the newfound confidence that has followed his recent success. 
His second home run last Friday was followed by a massive bat-flip, which he said wasn't necessarily planned, but just an emotional reaction in the few moments after he barreled up a pitch. As much as Canham, Peterson and the rest of those close to Melton rave about his ability to crush a baseball, they are even quicker to talk about his humility as a person.
They all agree that since he bat heated up, they've noticed something different mentality-wise in Melton that indicates his recent production isn't going to slow down anytime soon.
"It's clicking and he's confident," Canham said. "The way he's going to work, it's contagious. The guys are excited for him because he's a wonderful human being and he works his tail off. You can just see — it's almost like he's walking a little bit taller because he believes in himself."
Jarrid Denney can be reached at 541-521-3214 or via email at Jarrid.Denney@lee.net. Follow him on Twitter @jarrid_denney