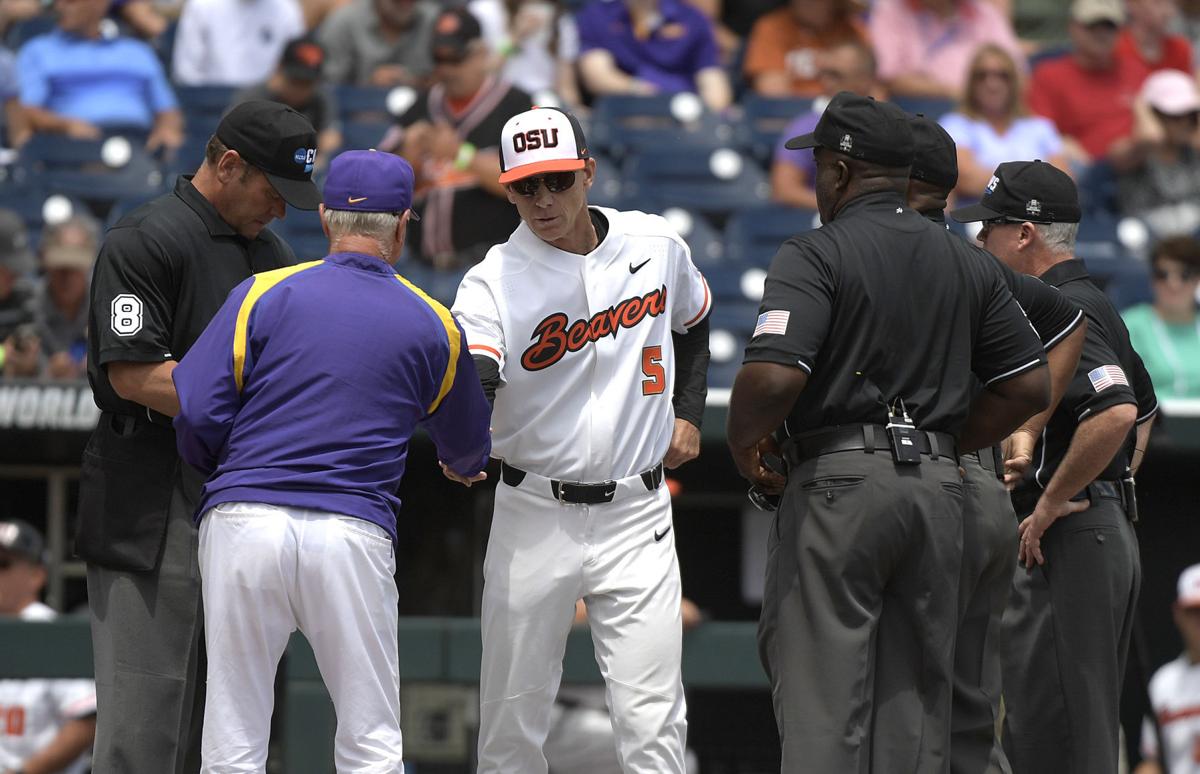 Former Oregon State coach Pat Casey is reportedly a candidate to take over as the next head coach at LSU.
Casey, who guided the Beavers to three national titles and won 900 games during his 24-year tenure in Corvallis, announced his retirement in September 2018.
But D1Baseball reported Wednesday that Casey has emerged as the leading candidate to become LSU's next head coach. Later Wednesday, The Advocate reported that Casey recently visited Baton Rouge to discuss the position.
On Thursday, though, the Advocate reported that Casey is unlikely to become the Tigers' next coach. 
Legendary LSU coach Paul Mainieri is set to retire at the end of this season. The active leader in career NCAA wins, Mainieri, 63, has been at the helm of the Tigers' program for the past 15 years. Last week, LSU upset Oregon in Eugene to win the regional hosted by the Ducks.
Casey, 62, has been serving as a senior associate athletic director and special assistant to athletic director Scott Barnes since he retired from coaching. He is under contract until 2022 and set to make $630,000 during the final year of his deal.
Mid-Valley Media attempted to reach Casey by phone Thursday, but did not receive a response.
Support local news coverage and the people who report it by subscribing to the Corvallis Gazette-Times.
During his 31-year coaching career, which included seven seasons at George Fox, Casey went 1,071–571–7. He led Oregon State to the postseason 12 times and was named national coach of the year five times.
During his retirement press conference, Casey said he could no longer bring the same passion and energy he expects out of his players.
"My problem is that what I expect out of my players on the field, I expect out of myself," he said. "And right now I'm not positive I can give that same effort I expect of them. But I will never put the uniform on unless I do it with that same passion I expect of them."
While he is a beloved figure in Corvallis, Casey garnered some criticism for his handling of former Oregon State star pitcher Luke Heimlich. In 2012, Heimlich pleaded guilty to molesting a 6-year-old family member when he was 15.
The Oregonian/OregonLive reported in June 2017 that Heimlich was registered in Benton County as a sex offender. The publication came across the information while conducting a routine background check on Heimlich, and the information only became available due to a clerical error after the County mistakenly opened an investigation against Heimlich after it believed he had failed to complete a required registration update.
Casey did not comment on Heimlich's situation until the 2017 postseason, after the pitcher withdrew from competing for the Beavers in order to, he said, avoid being a distraction.
"He's a team guy and in his statement he said that he didn't want to be a distraction," Casey said in June 2017. "I can just tell you that he is a fine young man and every second that he's been on this campus, on and off the field, he's been a first-class individual, one that his family should be proud of, your community should be proud of, our team is proud of. I believe in Luke."
Jarrid Denney can be reached at 541-521-3214 or via email at Jarrid.Denney@lee.net. Follow him on Twitter @jarrid_denney