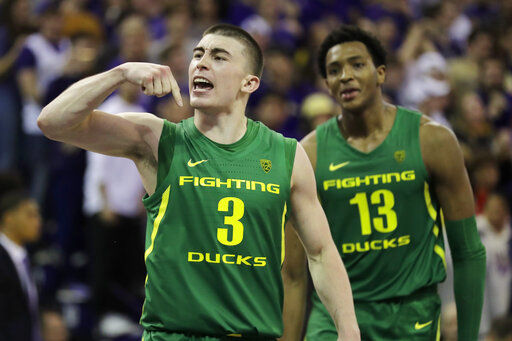 No. 14 Oregon visits Oregon State on Saturday night for the 353rd Civil War men's basketball game at Gill Coliseum. Here's a look at the Ducks.
Oregon is 18-5 overall and 7-3 in Pac-12 play coming off last Saturday's 70-60 loss at Stanford, breaking a four-game losing streak. In conference, the Ducks are 4-0 at home and 3-3 on the road.
The Ducks have secured a 10th straight season with a winning record under head coach Dana Altman, tying an 88-year-old school record.
Senior point guard Payton Pritchard is considered a Pac-12 and national player of the year candidate. He's averaging 19.6 points, 4.3 rebounds and 5.8 assists.
Pritchard shoots 46.8% overall, 40.0 on 3-pointers and 79.0 at the free-throw line.
He's the first Pac-12 player to reach 1,700 points, 600 assists and 500 rebounds in a career. His start Saturday will be his 133rd at Oregon, breaking the school record of E.J. Singler. Pritchard, from West Linn, is the winningest player in program history with 99 victories.
You have free articles remaining.
Junior guard Chris Duarte averages 14.3 points, 5.7 rebounds, 1.7 assists and 1.7 steals, while sophomore guard Will Richardson adds 10.2 points, 3.3 rebounds and 2.4 assists.
As a team, the Ducks shoot 47.0% overall, 38.7 on 3s and 69.2 on free throws. Their opponents shoots 39.8, 32.0 and 74.0, respectively.
In conference games, Oregon is third in scoring (72.3), eighth in scoring defense (70.0), fifth in field goal percentage (43.6), fifth in field goal percentage defense (41.6), fifth in 3-point percentage (34.9), eighth in 3-point percentage defense (also 34.9), first in steals (8.3) and sixth in rebounding margin (0.0).
Also in Pac-12 games, Pritchard is first in scoring (21.2) and Duarte is fifth (17.0). Pritchard is second in assists (5.3), second in assist-turnover ratio, (plus-2.4), sixth in free throw percentage (86.4), first in 3-pointers made (3.1) and first in minutes played (38.8). Duarte is first in steals (2.6).
Oregon sophomore forward Francis Okoro (3.5 points, 4.6 rebounds) will miss Saturday's game to attend his father's funeral in Nigeria. Freshman center N'Faly Dante (6.2, 2.7) will miss his fifth straight game with a knee injury.
The Civil War is the most-contested rivalry in NCAA Division I history. Oregon State leads the all-time series 189-163 after sweeping last year's two-game conference set for the first time since the 2009-10 season.
The Beavers haven't defeated the Ducks in three straight games since 1993.