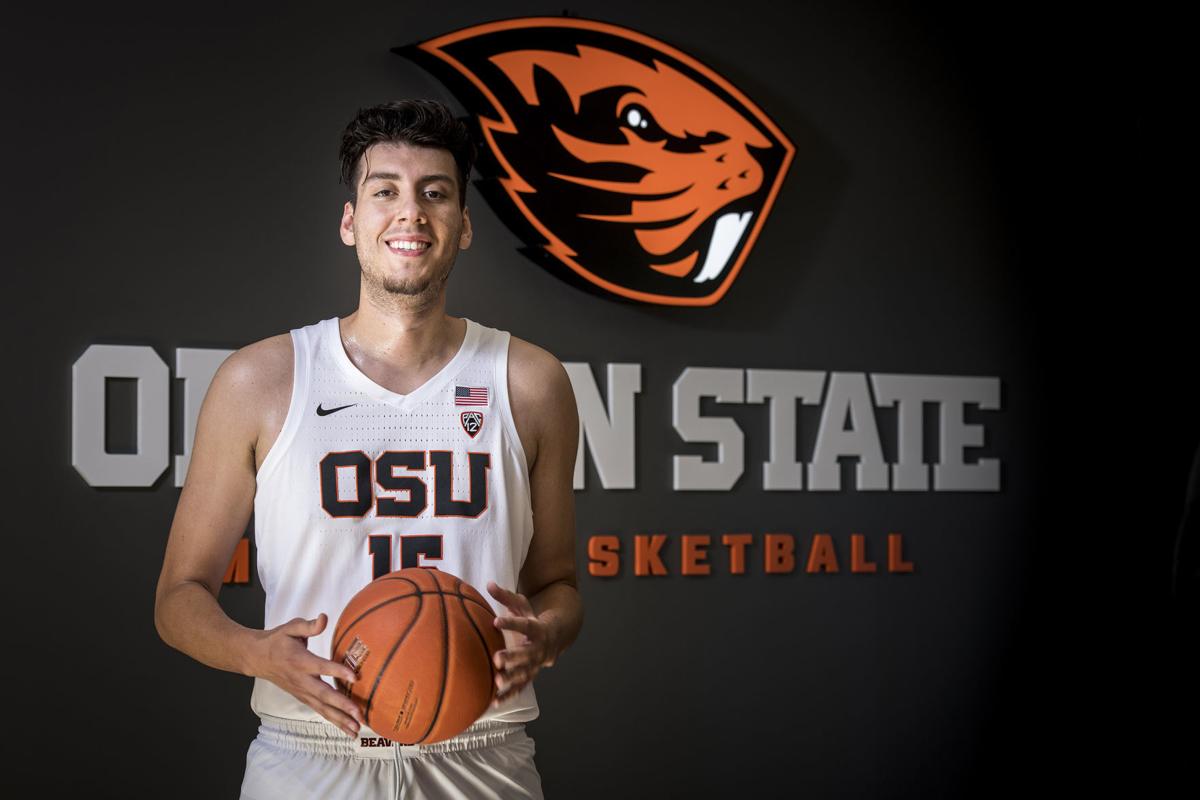 Roman Silva's sport growing up was baseball.
But as his body kept growing, he realized his athletic future might take him in a different direction.
Silva was always tall for his class, with no big growth spurt along the way. He passed his dad — also named Roman — in height when he reached 6-foot-4 in sixth grade. Three years later, as he got ready to enter high school, Silva was five inches taller.
"I figured once I'm 6-9, you've got to play basketball. I at least have to give myself a shot," he said.
Basketball worked out, and after some adversity he's landed on an NCAA Division I roster.
Silva, now 7-1, arrived at Oregon State this summer after one year at San Bernadino Valley College, where he averaged 16.1 points, 7.8 rebounds and 2.0 blocks while being named the Pacific Coast Athletic Conference's co-player of the year.
A junior in eligibility, Silva signed with Texas El Paso out of Diamond Ranch High in Pomona, California, in 2016. But the relationship with then-coach Tim Floyd didn't work out and he headed home after a month on campus.
Later that calendar year, he broke his right foot playing basketball and did the same again in early 2017, requiring surgery.
It was a difficult time for Silva being off the court. He put on weight and wasn't feeling good about the direction life was heading.
He played at a prep school in California during the 2017-18 school year and succeeded, averaging better than 25 points and 15 rebounds. But it wasn't until he got to San Bernadino, under head coach Quincy Brewer, that Silva was feeling closer to 100 percent.
Having shed 60 pounds to his current weight of 260, he put up good numbers despite the frustration of being double- and sometimes triple-teamed around the basket.
Beavers coach Wayne Tinkle likes what he's getting in Silva, whom he has seen work hard on the court and in improving his strength and conditions since arriving at OSU about three months ago.
"What we love is how solid he is," Tinkle said. "He's a guy you can throw it to on the block. He ducks and seals very well, he's good over both shoulders. He has a nice soft touch. His length defensively."
You have free articles remaining.
Tinkle says Silva isn't blocking shots high above the rim like new teammate Kylor Kelley, but he's difficult to score against because of his size.
Silva joins a post group that includes Kelley, true freshman Dearon Tucker and junior transfer Payton Dastrup.
"As he continues to learn our system and get strong and in better condition, we think he's really going to help take some pressure away from Kylor on both ends of the floor," Tinkle said, adding that he envisions Kelley and Silva being able to play together.
Describing his own playing style, Silva said he's a "true big."
"I like being down there on the block, having it anchored defensively and working in the low post," he said, noting that he's worked the last year to stretch his shooting range.
Oregon State guard Gianni Hunt, another first-year player as a true freshman, says Silva is big, strong and can finish at the basket.
"He's good in the pick-and-roll. He's good when he catches the ball in the post. He knows how to operate down there," Hunt said. "He's coming along real well since his first day out here. He's getting in shape. He's getting stronger, he's getting faster."
Oregon State assistant coach Stephen Thompson had been recruiting Silva potentially for a spot in the upcoming recruiting class, but an opening ramped up those efforts and Silva arrived in late June.
He says he chose the Beavers because of the team's culture and OSU's surroundings.
"Once I was on campus it was a no-brainer for me. I loved the environment, the college town feel it has here," he said. "I've learned so much in the little time that I've been here. That's huge for me, to develop and get better."
It's been a journey since he started high school at Etiwanda, in Rancho Cucamonga, where former USC point guard Jordan McLaughlin was a star at the time.
It was during his two years there, playing high-level competitive basketball for the first time, that Silva realized he had a chance to make his name in the sport.
After a couple stops along the way, Silva said he has one goal in Corvallis.
"I came here to win basketball games," he said. "I came here to help the program. Every day I'm doing what I can to make this team better."