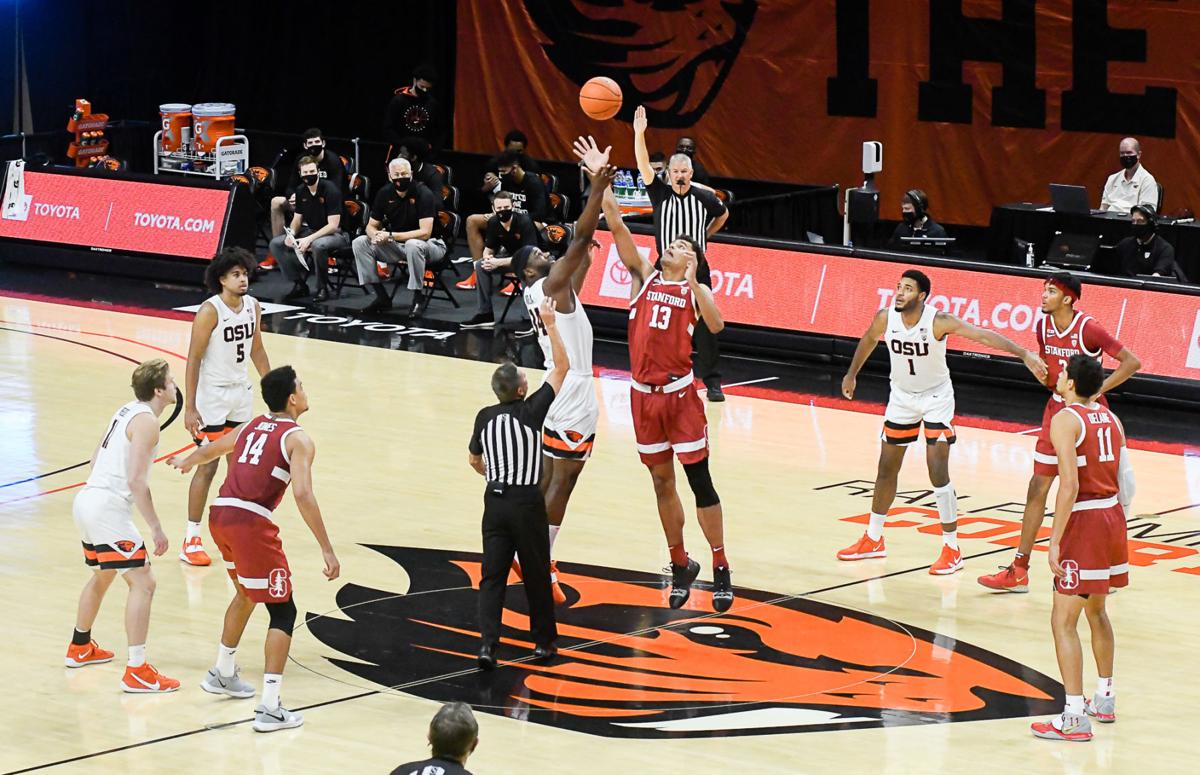 The Oregon State men's basketball program will be off the court for at least a week after pausing all team activities due to COVID-19 test results and contact tracing protocols.
The program announced the pause Tuesday morning.
The Beavers (5-4, 1-2 Pac-12) were to fly to Utah on Tuesday for a Wednesday game with the Utes, followed by a Saturday game at Colorado. Those contests are postponed.
The schools will work together with the Pac-12 Conference to find mutually agreeable dates to reschedule the games.
"We hope by Tuesday of next week we'll be able to begin practices again," OSU coach Wayne Tinkle said.
All of the players not involved in positive test results and protocols will be able to do individual workouts over the next seven days.
The Beavers were to host Stanford last Thursday, Dec. 31, but that game was postponed due to COVID-19 testing results and protocols in OSU's program. That game was played Monday, with the Cardinal taking an 81-71 victory.
Oregon State played its games against California on Saturday and Stanford without senior center Roman Silva and four staff members due to COVID-19 testing results and protocols.
Tinkle said he feels good about what Oregon State and the program have done to try to keep the players and staff safe during the pandemic.
"I think the fact that we went until after Christmas before we had anything says a lot, when a lot of other programs were dealing with these issues as far as back as this summer, the fall," he said. "I think our guys have done a really good job. I think the protocols were really good. We knew it was just an inevitability before we were impacted. We've just got to deal with it accordingly."
Oregon State's Dec. 20 home game with USC was postponed due to COVID-19 issues in the Trojans' program. That game has not yet been rescheduled.
The Beavers' Dec. 23 home game with Santa Clara was canceled due to COVID-19 quarantine rules in Santa Clara's home county in California. OSU instead scheduled and played a Dec. 22 home game versus Portland State.