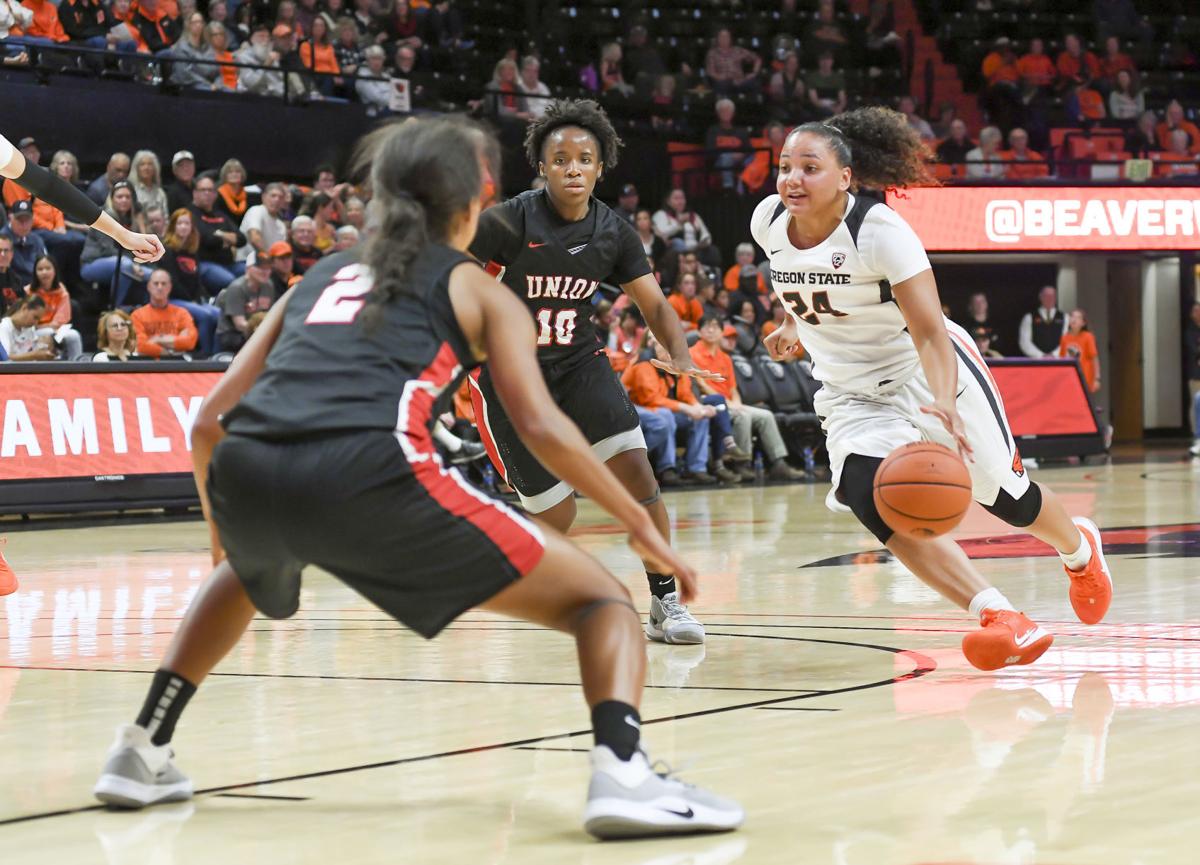 Destiny Slocum once had the opportunity to talk with Diana Taurasi and admits she was in awe.
On Monday night, Slocum, Oregon State's redshirt junior point guard, might just find herself guarding or being guarded by the Phoenix Mercury and WNBA superstar.
Slocum and the No. 7 Beavers will take on Taurasi and Team USA in an exhibition game at Gill Coliseum. The game is part of a four-team tour by Team USA as it begins to prepare for the 2020 Olympics in Tokyo.
"I can't imagine being across from her and her guarding me," Slocum said.
So what might go through her mid in that scenario?
"Oh my gosh, am I about to cross up Diana Taurasi? Probably not. Or Diana Taurasi just stole the ball from me," Slocum said a few weeks back when the game was announced. "I just think it's going to be an amazing opportunity for us to learn and grow."
The game will tip off at 7 p.m. and is the second leg of the four-game college tour. Team USA knocked off Pac-12 power and No. 3 Stanford on Saturday at Maples Pavilion, 95-80. After the battle with the Beavers, Team USA goes to No. 6 Texas A&M and wraps up in Eugene against the top-ranked Ducks on Saturday.
There's no doubt Slocum won't be the only player who may be in awe going up against the likes of Taurasi, Sue Bird and Nneka Ogwumike. Also expected to be in Corvallis are Skylar Diggins-Smith, Sylvia Fowles, Chelsea Gray, A'ja Wilson, Seimone Augustus, Layshia Clarendon and Napheesa Collier.
WNBA MVP Elena Delle Donne of the champion Washington Mystics was scheduled to take part but will not be available due to a back injury.
"I think it's a great opportunity for us," Slocum said. "These are legends of our game, people I've been watching since I could remember basketball. So it's going to be an awesome opportunity to not only get to play against them and compete against them but to learn from them, too. There's a lot of stuff we can pick up as a team before the season starts. That's super big for us."
Slocum also knows that the Beavers must take advantage of the opportunity and go in with the right mindset.
"You have to respect them and the way that they play and who they are," she said. "That comes first. But I don't think our competitive nature rally changes. Any time we step on the Gill Coliseum floor, or any floor, we're going to come in and give the best competition we can, learn as much as we can."
For coach Scott Rueck, he wants to see how his players respond against some of the best players in the world.
"That's what I'm personally most excited about is to see what can we do against them," he said. "How can we adapt as the game goes on. … That's the fun of the challenge. I don't think anyone is anticipating we will beat them by 30 or something."
It will be a great learning experience about how they players react on such a big stage.
"Certainly this is a group that wants to be on the biggest stage at the end of our collegiate season," Rueck said. "Here we are at the beginning and what an awesome opportunity to really propel ourselves forward. I'm confident this group will have the right mindset going into it but that's the fun of it."
Slocum, Mikayla Pivec and Aleah Goodman have all had opportunities with USA Basketball this past summer. Slocum and Pivec tried out for the Pa-Am Games with Pivic making the team; Goodman competed in 3-on-3 tournaments.
"The team that's coming in is the team we all dream about being on," Slocum said. "We've taken small steps to get into that, so it's nice just to kind of see where you could be in a few years or where we could all be in a few years."
The game has been on the players' minds for a few weeks now and they are ready to finally get to turn their full attention to it.
"We've been thinking about it for a while but now it's totally focus mode," Pivec said. "It will just be an awesome opportunity to play against people you've idolized growing up. Try to not worry about being in awe so much and then be able to compete as hard as we can."