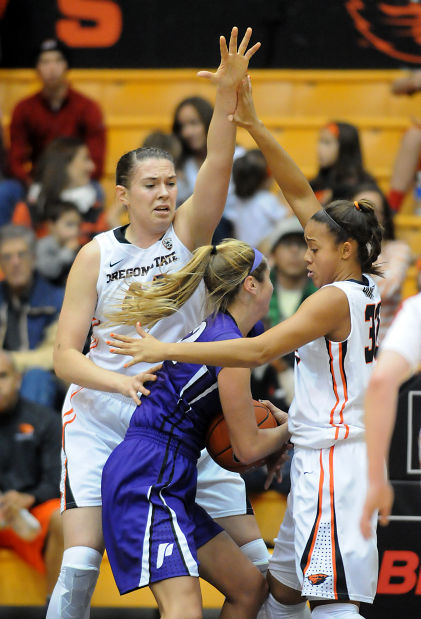 When the Oregon State women's basketball team takes to the court Tuesday it will have been 10 days since the Beavers played against an opponent.
That time away allowed the Beavers, ranked No. 16, to focus on finals as well as preparing for their biggest test on the court to date.
OSU will put its undefeated status on the line when the Beavers (7-0) take on No. 6 North Carolina (9-0) in Chapel Hill. Tipoff is set for 3 p.m. and the game can be seen on espn3.com.
"North Carolina's undefeated, too, so it's going to be a great game," sophomore point guard Sydney Wiese said following the Beavers' 109-61 victory over Sacramento State on Dec. 6. "We can't let adrenaline, obviously, get the better of us. We have to be smart with how we prepare and how we come in with our mindsets to this game because obviously it's going to be a big game. They're a great team and it's going to be a good challenge for us. But I think we're ready and we're excited to head over there."
The Beavers have won all seven games by double figures, and all but one — a 71-61 win over BYU in Hawaii — by 22 or more.
"I'm excited about the test to come," coach Scott Rueck said. "I feel like we've played seven unique styles of teams, we've had some variety in there. They've all prepared us differently. Now we face one of the best teams we will see all year. I think it's perfect timing. I think this team's ready for it."
The Beavers have been tough to defend on offense with all five starters — Ruth Hamblin (14.4), Wiese (14.0), Jamie Wesiner (13.3), Deven Hunter (10.7) and Ali Gibson (10.6) — averaging double figures. Three times this season they have had six players finish a game in double figures.
They are second in the country, hitting 42.3 percent of their 3-pointers. Stanford leads at 43.4 percent. OSU has already made 69, just under 10 per game.
What has helped is the way the Beavers are willing to set up teammates. OSU entered the week leading the country with 25.1 assists per game and had a school-record 40 — on 45 made baskets — in the win over Sacramento State.
"I like where we're at," Rueck said. "The winning is secondary for sure. I mean, I just look at film. I'm coaching to the end (against Sacramento State) because we've got to get better. We've got a lot of things that we can improve, a lot of areas we can shore up and get better. I like, though, the progress we're making, I like how we're playing, I like how they're approaching games. They're approaching both halves the same way."
North Carolina will certainly offer a stiff challenge.
The Tar Heels have already faced four top-25 teams and have won all four — including wins over Pac-12 teams UCLA (84-68) and Stanford (70-54). Other wins against ranked teams are Oklahoma State (79-77) and Rutgers (96-93 in double overtime).
North Carolina, which also beat Oregon (76-59 in Eugene), is coming off an 84-52 win over Appalachian State on Sunday.
The Tar Heels are led by sophomore guard Allisha Gray, who is scoring 17.4 points per game. Sophomore forward Stephanie Mavunga is adding 12.1 and junior forward Xylina McDaniel is at 11.7.
Both teams have found success scoring as the Tar Heels are averaging 80.8 per game while the Beavers are at 86.3. The Beavers are giving up just 55.7 while the Tar Heels have allowed 62.4 points per game.
The Beavers will stay on the road and head to New Orleans for a tournament where they will face Southern Illinois on Friday and Nevada on Saturday. They then head to Tennessee on Dec. 28.
"I think focus for us is staying at a high level and not sinking down to other teams' intensity," Wiese said. "We have to maintain our intensity and stay focused on us."