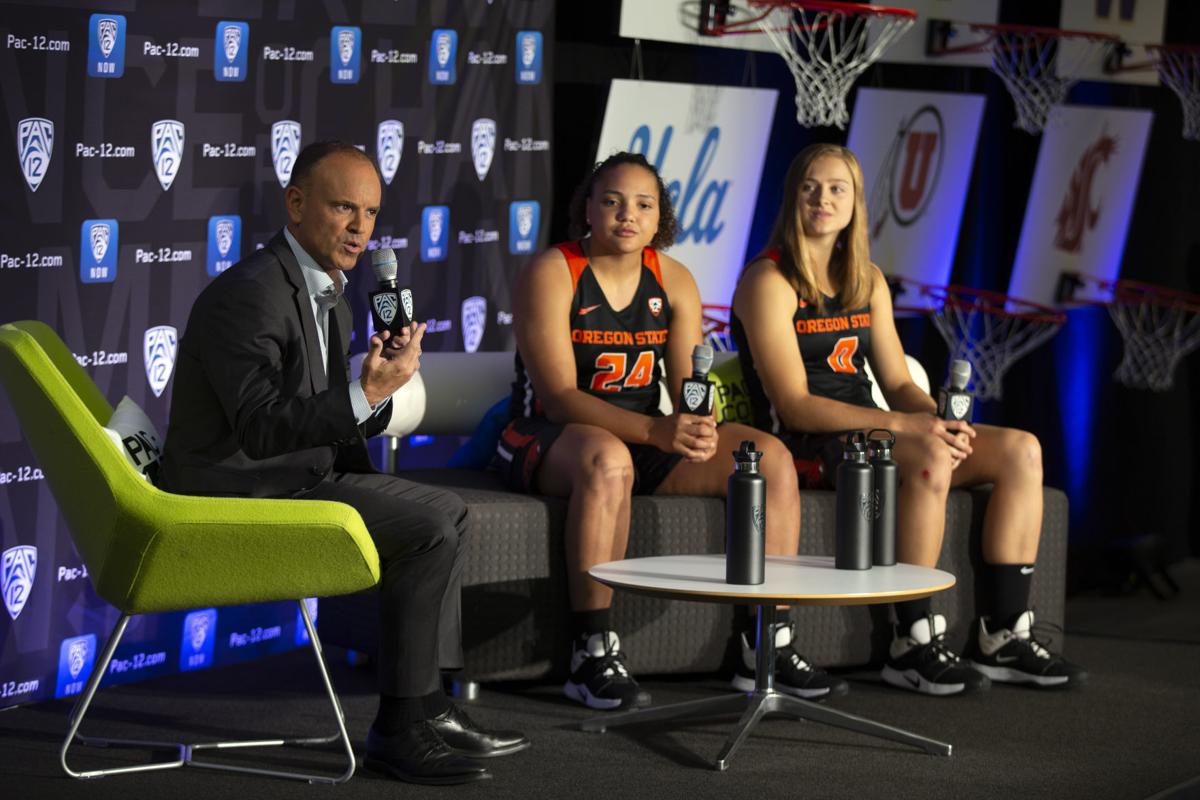 There's no doubt Aleah Goodman, Destiny Slocum and the rest of the Oregon State women's basketball team will be doing a little stargazing on Nov. 4.
That's the day the Beavers will host Team USA in an exhibition game inside Gill Coliseum. Tipoff is set for 7 p.m. and the game will be televised on the Pac-12 Networks.
The likes of Sue Bird and Diana Taurasi, legends of women's basketball, will make their way to Gill that night as part of a training tour in preparation for the 2020 Olympics in Tokyo.
USA Basketball announced Wednesday that Oregon State is one of four college programs to host the USA squad.
Pac-12 rivals Oregon and Stanford will also host exhibition games. The Ducks were picked by the conference coaches to win a third-straight Pac-12 title with Stanford second and Oregon State third.
"It's going to be an amazing experience for us just to have them in our gym, be able to play against them, compete against them so I'm excited," Goodman said. "It's definitely a little crazy. I don't think it's going to hit us until we're actually there. But I know the team is super excited. It's a little nerve-wracking and kind of surreal to be honest."
The U.S. team will open its tour Nov. 2 at Stanford and face Oregon State on Nov. 4., Texas A&M on Nov. 7 and Oregon on Nov. 9.
In addition to Bird (Seattle Storm) and Taurasi (Phoenix Mercury), WNBA stars Elena Delle Donne (Washington Mystics), Skylar Diggins-Smith (Dallas Wings), Sylvia Fowles (Minnesota Lynx), Chelsea Gray (Los Angeles Sparks), Nneka Ogwumike (Los Angeles Sparks) and A'ja Wilson (Las Vegas Aces) have committed to the training sessions.
Also expected to join them in Corvallis are Seimone Augustus (Minnesota Lynx), Layshia Clarendon (Connecticut Sun) and Napheesa Collier (Minnesota Lynx).
You have free articles remaining.
"These are legends of our game, people that I've been watching since I could remember basketball," Slocum said. "It's going to be an awesome opportunity not only to play against them and compete against them but learn from them, too."
Oregon State coach Scott Rueck said that Monday night will be one of those moments, "like where were you or were you there, or I remember when Sue Bird and Diana Taurasi and the whole gang came to Gill Coliseum."
Rueck was approached this past summer about the possibility of hosting Team USA and was on board from the start. 
"My first thought was how cool," he said. "That's a validation of what so many people have built here over the years, the fan base that we have, the reputation that our program has nationwide.
"I'm happy for our players, I'm happy for our fans. They came here to be part of something special, to compete for national championships, to have opportunities to cut nets, to have their dreams come true and may be beyond their dreams."
Presale tickets for season ticket holders run through Friday with the public able to purchase them starting Monday. Tickets will range from $10-$17 and will be available at BeaverTickets.com or by calling 541-737-4455.
"I have to thank all of the parties involved, the NCAA, USA Basketball, all of the people who worked behind the scenes to get a waiver for us to be able to play a college tour once again," said USA and South Carolina coach Dawn Staley. "Historically speaking, it has been great for our program to have a college tour. All our past USA teams that had a college tour went on to win Olympic gold medals. So, if we can pull back into some historical times in which we had the opportunity to showcase our national team in this light, women's college basketball is at an all-time high as far as exposure. This will increase the exposure to women's basketball. And I'm excited. Again, it's prep time. It's more prep time. The more time we have, the better we will perform in Tokyo."
The Beavers also announced two other exhibition games on Wednesday. Oregon State will host Union on Oct. 27 (2 p.m.) and Concordia on Nov. 1 (6 p.m.).
OSU opens the regular season on Nov. 9 at home against UC Irvine in the first round of the preseason WNIT tournament.
Having a chance to play Team USA just before the start of the season will be big, Slocum said.
"There's a lot of stuff we can pick up as a team before the season starts for us and for us to all be on the same page before the season," she said.