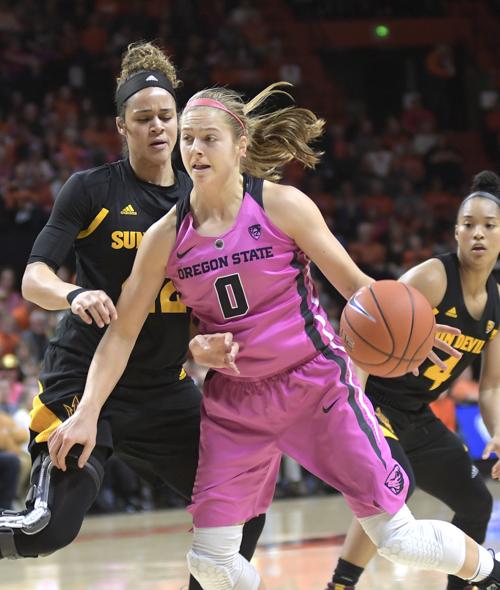 It could turn out to be quite a busy summer of basketball for Oregon State's Mikayla Pivec and Destiny Slocum.
Pivec, who will be a senior, and Slocum, who will be a redshirt junior next season, will head to Colorado Springs, Colorado, this month to compete for a spot on the 2019 U.S. Pan American Games women's team.
Trials to select the 12-member team will take place May 16-20 at the United States Olympic Training Center. Those who make the cut will return to Colorado Springs for training camp July 23-Aug. 5 before competing at the 2019 Pan American Games from Aug. 6-10 in Lima, Peru.
Pivec, an all-Pac-12 selection, averaged 15.2 points and 9.2 rebounds this past season. She shot 52.6 percent from the floor, the second-best percentage in the Pac-12 and the fifth-best percentage by a guard in the nation.
She ranks 14th in program history with 1,167 career points and ninth in career rebounds with 734.
Pivec ended the year with six double-doubles in her final nine games, averaging 19.2 points and 10.4 rebounds over that stretch.
Slocum, who won a gold medal representing the US at the 2015 FIBA U19 World Cup, led the Beavers with an average of 15.4 points per game in her first season at OSU.
She shot 45.6 percent from the field, recorded 153 assists on the campaign and earned all-Pac-12 honors. Slocum was named to the watch lists for the Wooden Award and the Naismith Trophy.
If either makes the team, they won't have much down time as the Beavers will head to Italy at the end of August; they made a similar trip before the 2015-16 season, the year they advanced to the Final Four.
You have free articles remaining.
Schedule update
While the 2019-20 schedule won't be released for some time, the Beavers will take part in the Preseason WNIT for the first time.
Taking place in November, the 16-team event results in a three-game guarantee for all teams. The bracket and first-round matchups will be announced later this spring.
All games are hosted by participating schools, with the championship game televised on CBS Sports Network.
In addition to Oregon State, the field includes Boise State, Davidson, DePaul, Drexel, Miami (Ohio), Missouri State, Oklahoma, University of Pacific, Portland State, Prairie View A&M, South Alabama, Texas A&M-Corpus Christi, University of Alabama at Birmingham, UC Irvine and University of Missouri-Kansas City.
Rissmiller takes new job
Sharon Rissmiller, who served as director of operations for the program since 2015, has been named an assistant coach at the University of Portland. Rissmiller, a UP alum, joins first-year head coach Michael Meek's staff.
"We feel like we have made an incredible hire with Sharon," Meek said in a release from the school. "Not only does she have head coaching experience of her own, but she also directly comes from an elite national level program at Oregon State. She will be instrumental in the development of our culture and growth at the University of Portland."
"I am really excited about this opportunity to work with coach Meek," Rissmiller said in a release. "He is well respected, a wonderful person and a proven winner. As a former player, it is an honor to join in supporting his vision for the future of Pilots women's basketball, and it's also a dream come true to be back on The Bluff."
Rissmiller spent seven seasons as the head coach of Pacific, in Forest Grove, leading the program to back-to-back winning seasons in 2012-13 and 2013-14. She also led the program to one of the best seasons in school history in 2008-09, when Pacific finished third in the Northwest Conference en route to its first appearance in the league's postseason tournament since 1996.