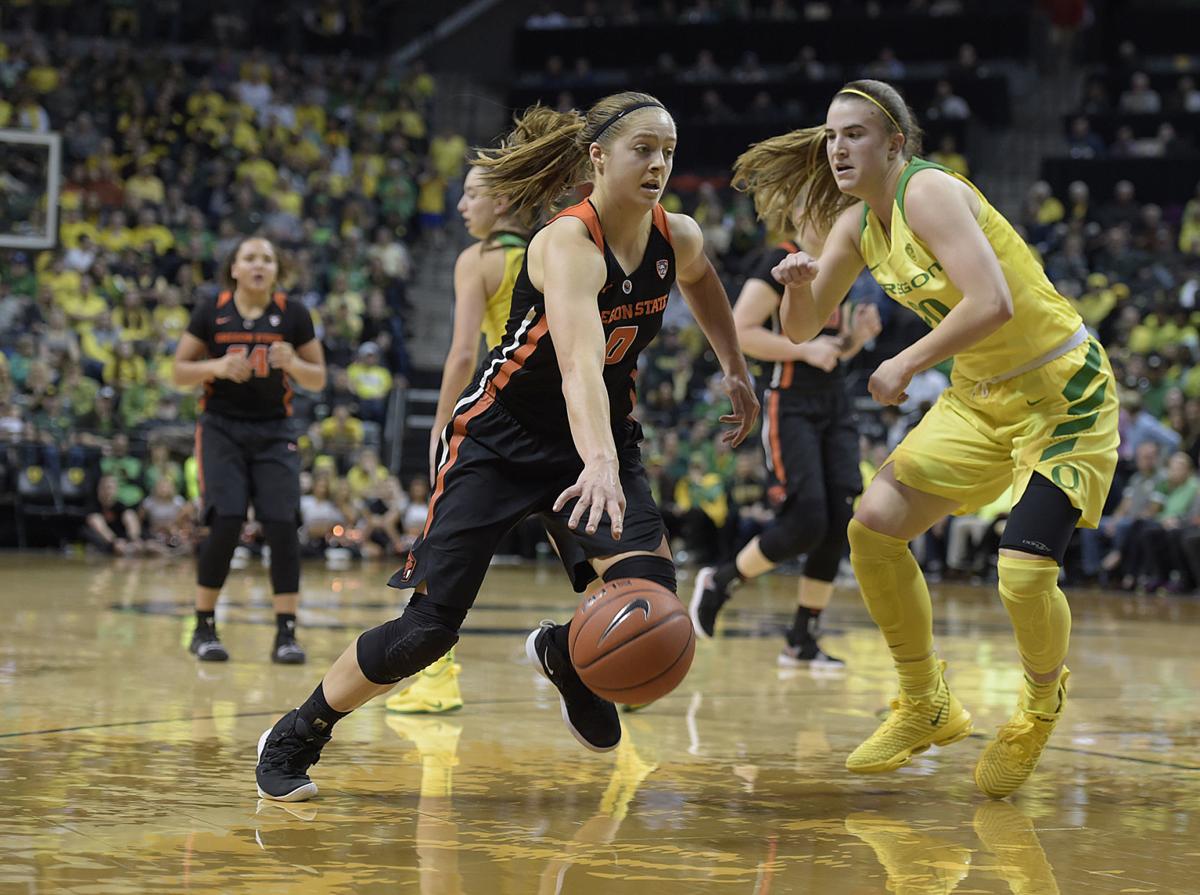 Oregon State will open the Pac-12 women's basketball season by hosting Utah and Colorado Jan. 3 and Jan. 5, the conference announced on Wednesday.
Exact matchups and dates will be released later.
The Beavers then head to the desert to take on Arizona and Arizona State on Jan. 10 and Jan. 12. California and Stanford then come to Corvallis in Week 3 (Jan. 17 and Jan. 19).
Next up is what is sure to be a competitive and thrilling Civil War series with Oregon. The first game is tentatively set for Jan. 24 in Corvallis with a trip to Eugene on Jan. 26.
The Beavers follow that by hitting the road to take on Colorado and Utah on Jan. 30 and Feb. 1 before hosting Arizona and Arizona State from Feb. 7 and Feb. 9.
Oregon State hits the road in back-to-back weekends, traveling to USC and UCLA on Feb. 14 and Feb. 16, and Stanford and Cal on Feb. 21 and Feb. 23.
You have free articles remaining.
The regular season wraps up with Washington and Washington State at home Feb. 28 and March 1.
The Beavers face UCLA, USC, Washington and Washington State just once this season.
The Pac-12 tournament, held for the second straight year in Las Vegas, is slated for March 5-8.
U.S. cruises at Pan-Am Games
LIMA, Peru — Mikayla Pivec had six points and two rebounds in just under 15 minutes as the United States cruised to a 103-55 victory over the Virgin Islands to improve to 2-0 at the Pan American Games on Wednesday.
Pivec played close to 35 minutes in Tuesday's 70-62 win over Argentina. The U.S., which has clinched a spot in the semifinals, will play Columbia at 11:30 a.m. Thursday.
Jamie (Weisner) Scott had 12 points, three rebounds and two assists and Ruth Hamblin added 10 points and three rebounds as Canada defeated Paraguay 90-62. Canada plays Puerto Rico at 7 p.m. Thursday.
Ali Gibson had four points and four rebounds in Puerto Rico's 64-58 loss to Brazil.