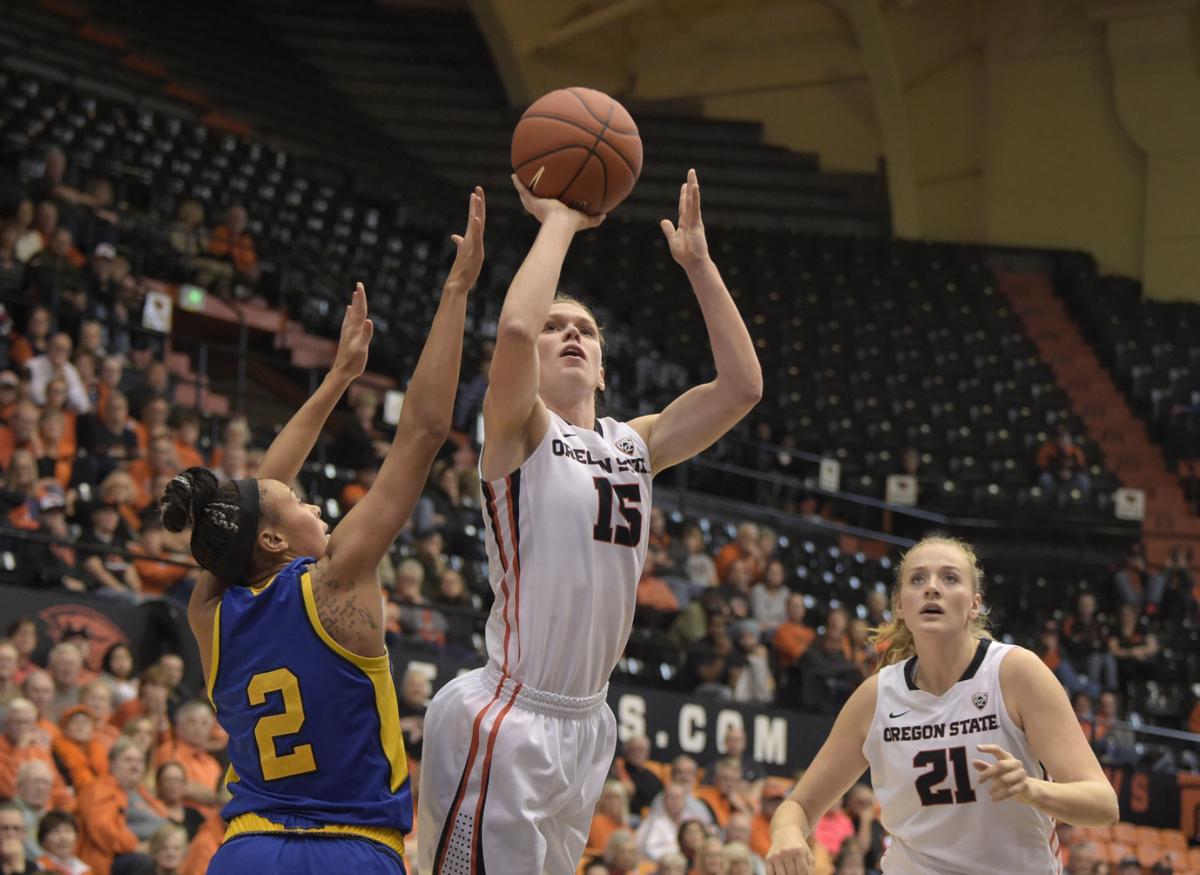 Jamie Weisner entered last Thursday's game at Marquette hitting 60 percent of her 3-point attempts through the season's first five games.
But Weisner, No. 7 Oregon State's senior sharpshooter and leading scorer, for some reason couldn't find the range against the quick and aggressive Golden Eagles.
She missed all seven of her attempts.
Earlier in her career, that may have led to a bit of frustration for Weisner.
But last Thursday, she wasn't fazed.
"Of course I was pretty disappointed I didn't make one, especially since I shot seven," Weisner said on Tuesday. "But in the game, I've just got to keep playing through it and my dad always tells me shooters never think so I just try to put that in the back of my mind and just keep producing."
Weisner found other ways to put up the points the Beavers desperately needed in a game they had to rally from 10 down in the third quarter.
She finished with a season-high tying 26 points — just one off her career high — as she hit 11 of 16 shots inside the arc. And the Beavers moved to 6-0 with a 65-58 win.
Weisner scored 14 of her points in the paint, and had a key rebound and basket off a missed free throw in the third quarter, a play in which she was fouled and made the free throw to get OSU within 42-36.
"I thought they closed pretty hard on her to challenge 3-point shots which turned her into a driver," coach Scott Rueck said. "A couple years ago her head would have gone done, she would have gotten herself in trouble."
Weisner, who entered the season averaging 13 points per game for her career, is up to 21.2 per contest this year. She has scored 26 in each of her last two games and has surpassed 20 points for times.
For the season, Wesiner is shooting 59 percent (46 for 78) from the floor to rank in the top 25 in the country in that category through Tuesday's games. She has hit nearly 47 percent of her 3s (15 for 32) and is 20 for 21 from the foul line (95.2 percent), No. 4 in the country through Tuesday.
Part of the reason for the increase in scoring on a team that has plenty of players capable of contributing offensively is a sense of urgency for Wesiner.
"As a senior, I don't want any games to go to waste so I'm just trying to fulfill every minute I'm on the court and make the most of it," she said.
Another reason is her maturity and growth when it comes to shot selection and a comfort within the offense after three-plus years.
"I definitely think I also have the mentality that if I'm not making 3s then I'm going to have to get my points somehow," she said. "I don't have to but I feel like that's what my team needs and I'm going to go get them at the basket or try to get fouled. I definitely think that comes with experience and that's something I didn't have two years ago."
Rueck said Weisner's decision making has steadily improved.
"She's so comfortable putting the ball on the floor now where it used to be shoot it before you dribble it," Rueck said. "Now it's what the defense is giving me, I'm going to take it."
Her ability to drive and hit the outside or mid-range shots has made her even more difficult to guard.
"It keeps the defense guessing," senior center Ruth Hamblin said. "They can't just close out hard to her because she can go by them and is very dynamic in that so I think that's great."