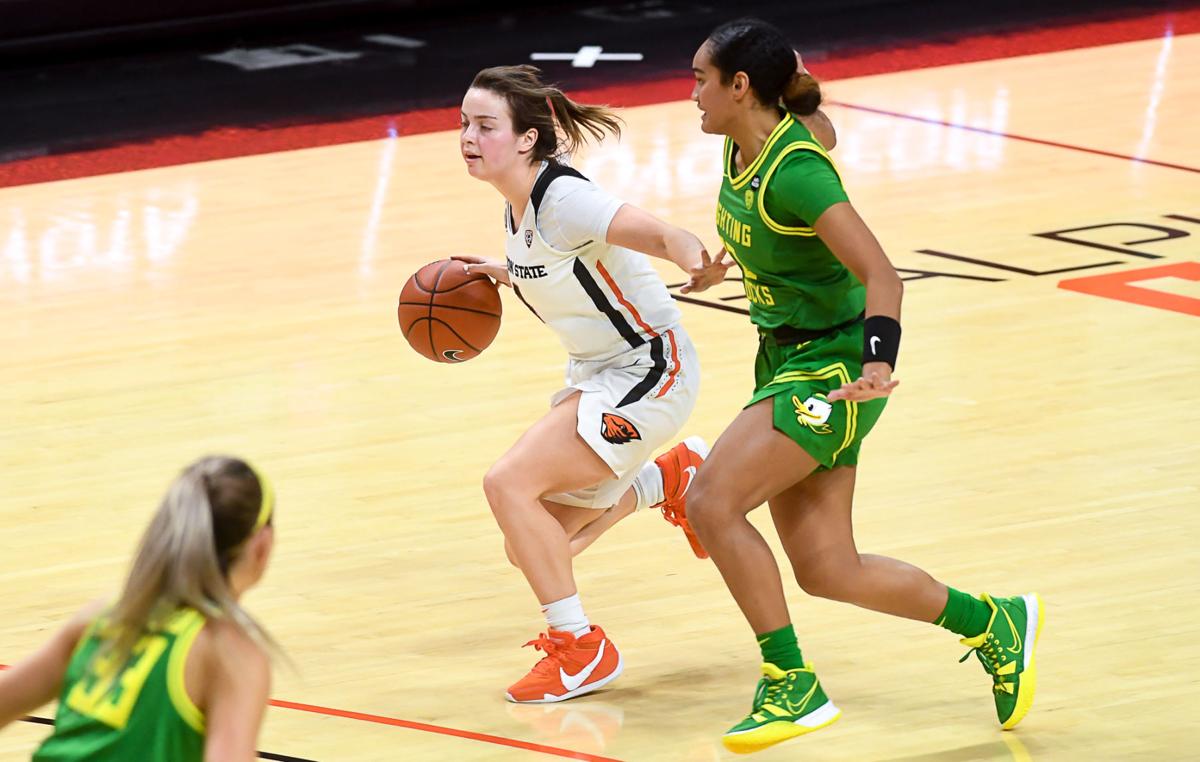 While some members of the Oregon State women's basketball team were able to practice throughout the time the Beavers were on a pause due to COVID-19 protocols, others were not.
That meant that many players who could were thrust into new positions just so the Beavers could work on different sets or defensive schemes.
In order to be successful, every player had to buy into what they were doing.
And they needed to do so with a positive and upbeat attitude.
That was never a problem for Noelle Mannen, the 5-foot-6 walk-on guard who joined the program at the start of last season.
Coach Scott Rueck said Mannen has played on the scout team, worked extensively on offense while the focus was on defense, and just brought the vibe the players and coaches needed every single day.
"Her energy, that's just who she is anyway, she is uplifting," Rueck said last week. "Every day she comes into the gym and she's got that big old smile on her face constantly, always positive, relentlessly positive. But she has had to wear so many different hats that she has elevated us during this time.
"… Noelle has just been a rock star over these three weeks or however long it's been."
Don't let the smile fool you, though, as Mannen isn't just a make-you-feel-good player for the Beavers. She has the ability to shine on the court as well.
"I will never forget like the first day or first week of practice and she came in and she saved a ball and threw behind her back and it went straight to someone," senior Aleah Goodman recalled. "I was like, what the heck, like what is going on? But she's just a stud."
Goodman said the two have waged some epic battles in practice.
"She's just a competitor," Goodman said. "She wants to win so she brings that out of you every day at practice. We go head to head a lot, which is a lot of fun. We joke around with each other. She hits a three on me and then I go and I post her up and I tell her she's too small. So there's a lot of good competitive things between Noelle and I."
While Mannen may be "just a walk-on" she is one of the more experienced players in the program, and that knowledge has helped the Beavers run as smoothly as possible over the last month.
"She has the experience of playing in this program, kind of what it takes and what our coaches ask from us so that's something that's really helpful," Goodman said.
UW game postponed
The Beavers, who returned to game action last Sunday at Arizona after being on pause since Dec. 20, announced Wednesday that Friday's home game against Washington has been postponed due to ongoing COVID-19 issues in the Huskies' program.
Friday's postponement is the fifth straight for the Huskies, who have not played since an 84-63 loss at Utah on Jan. 3. 
This is the second game between Oregon State and Washington to be postponed. The Beavers were forced to postpone the first meeting back on Dec. 21.
No makeup date has been set.
Oregon State, which has played seven games, has now had seven games postponed and is scheduled to play host to Washington State on Sunday. Washington is slated to play at No. 13 Oregon on Sunday.
California has already postponed this weekend's game and Arizona State has postponed its last four games while being on pause.