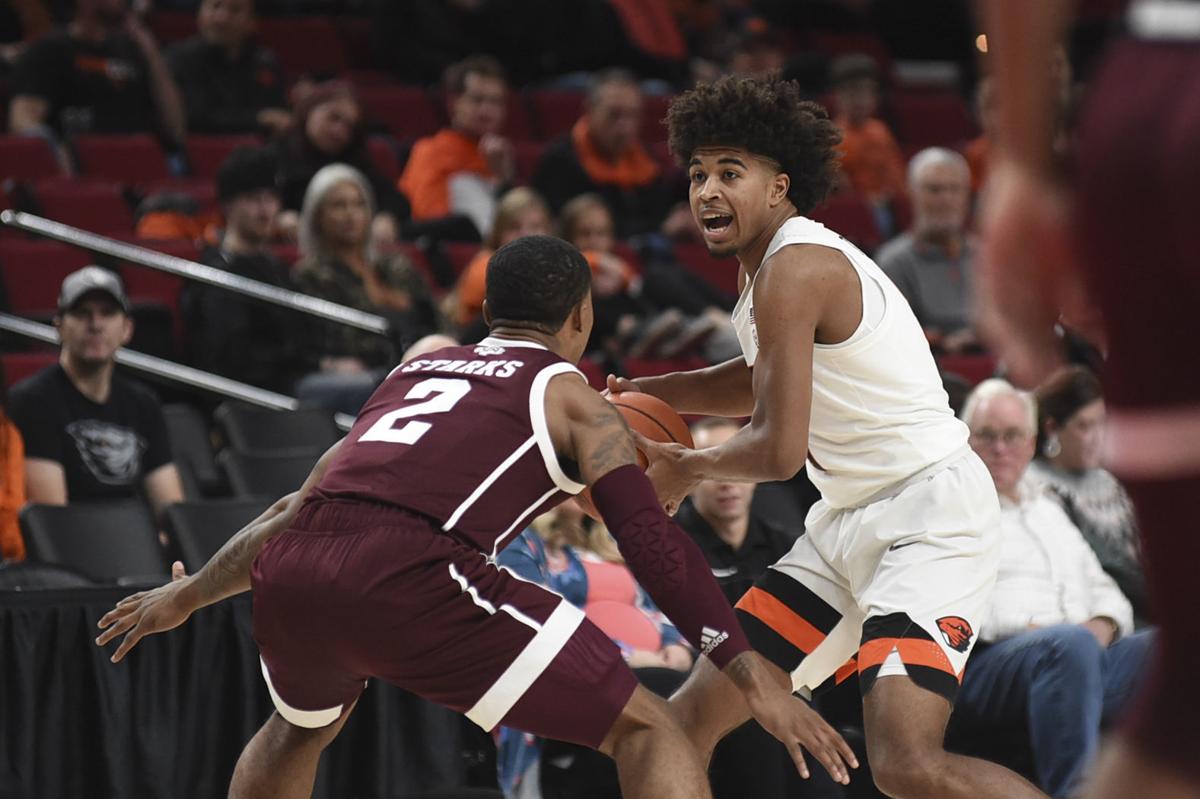 The Pac-12 opens its men's basketball conference schedule this week with the appearance that there is no dominant team with all dozen squads taking turns the past two months losing games they should have won.
Arizona State is the closest thing the conference has to an NCAA tournament-worthy team. The Sun Devils would be a clear Pac-12 favorite had they held onto a 15-point first-half lead against current No. 6 Nevada and avoided an embarrassing home loss to Princeton last week.
But such is life in the Conference of Champions these days.
Here are my Pac-12 power rankings entering conference play.
1. Arizona State (9-3)
Best win: 80-76 vs. Kansas in Tempe
Worst loss: 67-66 to Princeton in Tempe
This week: Home vs. Utah, Thurs.; home vs. Colorado, Sat.
Freshman guard Luguentz Dort (18.1 points, 5.4 rebounds) has been a big-time addition for the Sun Devils. But he's hit a bit of a wall recently, shooting 9 of 45 in the past four games.
2. Arizona (9-4)
Best win: 71-66 vs. Iowa State in Hawaii
Worst loss: 58-49 to Baylor in Tucson
This week: Home vs. Colorado, Thurs.; home vs. Utah, Sat.
The new-look Wildcats lost their top five scorers off an NCAA tournament team.
Sophomore guard Brandon Randolph has seen his playing time more than double (to 29.4 minutes per game) and his scoring more than quadruple to a team-best 16.6 points. Arizona's next four best scorers are all newcomers.
3. Washington (8-4)
Best win: 66-63 vs. San Diego in Seattle
Worst loss: 68-66 to Minnesota in Vancouver, B.C.
This week: Home vs. Washington State, Sat.
The Huskies have their top seven players back off a team that played two games in the NIT, and no first-year player is scoring more than three points a game.
Washington could be one of those teams on the March Madness bubble all season.
4. Colorado (9-3)
Best win: 100-71 vs. Drake in Boulder
Worst loss: 70-62 (OT) at Hawaii
This week: At Arizona, Thurs; at Arizona State, Sat.
Evan Battey, a redshirt freshman forward, has been a pleasant surprise for the Buffaloes, averaging 8.7 points and 4.3 rebounds primarily off the bench.
Colorado has seven rotation players returning, led by sophomore guard McKinley Wright (13.8 points, 5.6 rebounds) off a team that just missed the postseason.
5. Oregon (9-4)
Best win: 80-65 vs. Syracuse in New York
Worst loss: 89-84 to Texas Southern in Eugene
This week: Home vs. Oregon State, Sat.
The Ducks were picked to win the Pac-12 by the media that covers the conference, but certainly not as currently constructed. Oregon will be without super frosh Bol Bol (leg injury) and Kenny Wooten (jaw) for the near future, and it lost sophomore forward Abu Kigab to transfer this week.
6. Oregon State (8-4)
You have free articles remaining.
Best win: 61-56 vs. Old Dominion in Virgin Islands
Worst loss: 67-64 to Texas A&M in Portland
This week: At Oregon, Sat.
It was another nonconference slate where the Beavers could have — and probably should have — won a couple more games. But the Pac-12 is wide open, and OSU will have plenty of opportunities to show it has turned the page and can win close games and on the road.
7. USC (7-6)
Best win: 90-75 vs. Cal State Bakersfield in Los Angeles
Worst loss: 102-92 (2OT) at Santa Clara
This week: Home vs. California, Thurs.; home vs. Stanford, Sun.
The Trojans couldn't take advantage of a veteran-heavy team last season and fell short of a third straight NCAA tournament. USC has eight players averaging 8.6 points per game or more, but one of those is freshman guard Kevin Porter Jr., who has sat out 10 consecutive games with a thigh bruise.
8. Stanford (7-5)
Best win: 96-74 vs. Seattle at Stanford
Worst loss: 74-65 at San Francisco
This week: at UCLA, Thurs.; at USC, Sun.
All five of the Cardinal's losses are to teams inside the top 40 in the NCAA Net rankings, including a six-point overtime defeat at Kansas. With the departure of three of the team's top four scorers, KZ Okpala has increased his production to 16.3 points and 6.1 rebounds.
9. UCLA (7-6)
Best win: 65-62 vs. Notre Dame in Los Angeles
Worst loss: 74-72 to Belmont in Los Angeles
This week: Home vs. Stanford, Thurs.; home vs. California, Sat.
How bad must it be to fire your coach (Steve Alford) after he produced four NCAA tournament berths in the past five years? The Bruins have too much talent to have six losses already.
10. Utah (6-6)
Best win: 69-64 vs. Tulsa in Salt Lake City
Worst loss: 90-79 to Hawaii in Fullerton, California
This week: At Arizona State, Thurs; at Arizona, Saturday
It's hard to rank the Utes this low, especially after four straight top-four conference finishes. But they're leaning heavily on freshmen to replace four of their top six scorers from last season.
11. Washington State (7-6)
Best win: 94-80 vs. Rider in Pullman
Worst loss: 95-90 to Montana State in Kennewick, Washington
This week: At Washington, Sat.
The Cougars are saved from the bottom by a Cal team that appears likely to stay there for a while. Coach Ernie Kent just hasn't been able to acquire the level of talent that's made him successful in other places.
12. California (5-7)
Best win: 89-83 vs. San Diego State in Berkeley
Worst loss: 82-73 to Seattle in Berkeley
This week: At USC, Thurs.; at UCLA, Sat.
The Bears and first-year coach Wyking Jones won eight games and finished dead last in the conference last season. They'll be hard-pressed to find any easy ones left on the schedule.