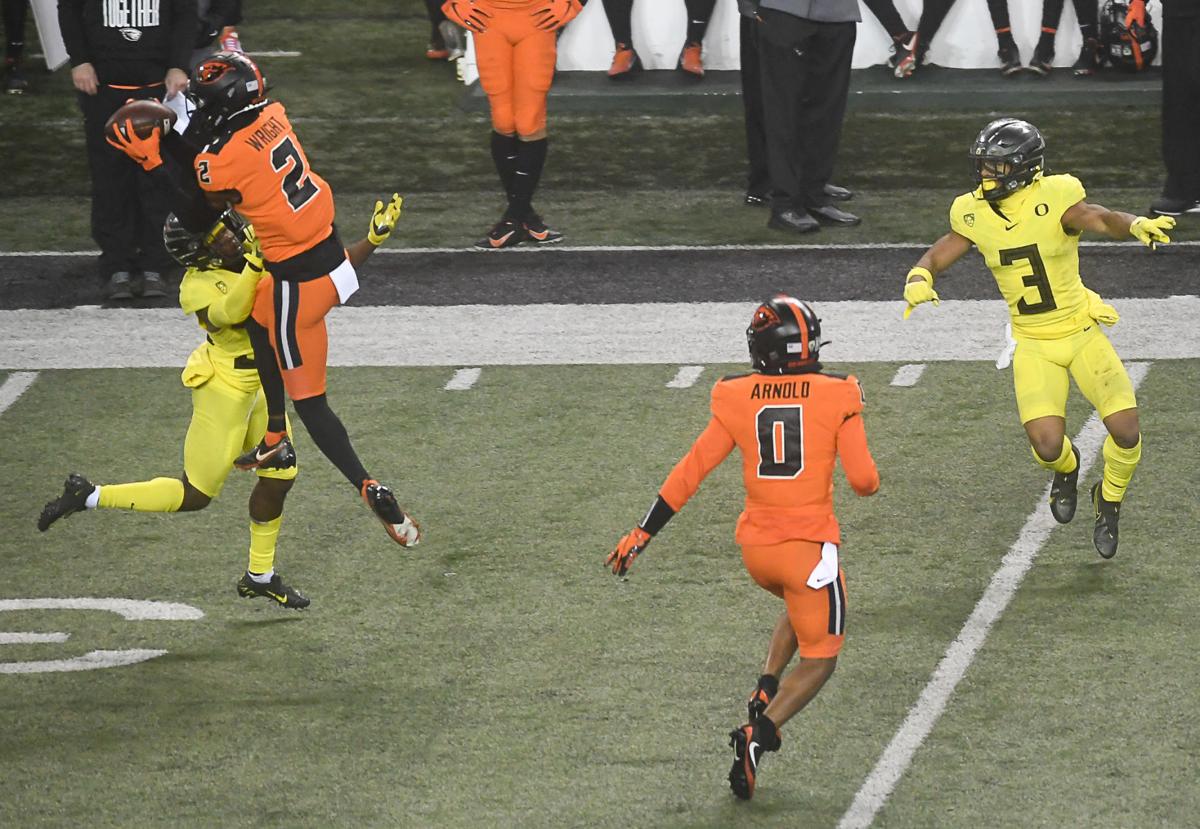 Oregon's offense was producing at a high clip Friday night but couldn't get a single first down that could have gone a long way toward securing a win in the 124th football matchup with Oregon State.
When provided the opportunity to put the game away in the closing minutes, the ninth-ranked Ducks went 3-and-out and could take just 13 seconds off the clock with the Beavers using two timeouts.
Oregon was forced to rely on its defense, which got one stop while backed up deep in its own territory but couldn't come through with a second.
The Ducks could only point at themselves after Oregon State pulled out a 41-38 victory at Reser Stadium.
"Everyone kept wanting to compete and fight, but certainly … a very important fourth-down stop, we go three-and-out and give them the ball in really good field position," Oregon coach Mario Cristobal said afterward. "So certainly we didn't finish off the game. That's the bottom line. You can't sugarcoat that in any way, shape or form."
Ducks quarterback Tyler Shough wants to take some of the blame.
His pass intercepted by Nahshon Wright helped OSU take the lead early in the fourth quarter. It was Shough's second pick of the game. He finished 20-of-31 passing for 285 yards and two touchdowns plus another score rushing.
Besides a touchdown drive that allowed the Ducks to take their final lead, the Beavers found a way to slow down a team that averaged nearly 39 points in its first three games this season.
"I don't think they deviated a lot. I just think we need to be better execution wise," Shough said. "We thought we had a good plan and had a good idea of what they were doing. Just got to be better in some of those throws and reads and capitalize on them more."
It didn't help the Ducks that they played most of the second half without leading rusher CJ Verdell, who was hit hard by OSU defensive back Kitan Oladapo while trying to haul in a Shough pass early in the third quarter.
Verdell was reported to have gone to the locker room soon after.
Not one to comment extensively on injuries, Cristobal said Verdell was simply "unavailable."
After taking a 14-7 first-quarter lead, the Ducks always stayed at least one step ahead of the Beavers with crucial conversions and big-yardage plays until a back-and-forth fourth quarter ensued.
For the third time in four tries in the game, Oregon answered an Oregon State score with one of their own.
The Beavers had climbed to within five in the third quarter before the Ducks went quickly down the field to regain a two-score edge.
Travis Dye ran for 15 yards to get the ball across midfield, and Shough followed by hitting Johnny Johnson III with a pass that went 19 yards to the OSU 30.
Dye then busted a 26-yard run and Shough found Hunter Kampmoyer in the flat for a 4-yard touchdown and a 31-19 lead.
The Beavers closed the gap again, to 31-26, to keep the pressure on with a score early in the fourth quarter.
But instead of a response from the Ducks, it was an interception of Shough by Wright that set up OSU with a short field and helped the Beavers take the lead.
"The guy made a good play. It's a credit to him," Shough said. "I think our guys were resilient through the whole process."
But the visitors regained the advantage as Oregon converted two third downs, including a Shough-to-Kampmoyer toss for 23 yards that led to Cyrus Habibi-Likio's 1-yard touchdown run with 8:27 to go.
The Ducks saw the Beavers get four first downs on their next drive to take the lead, but Oregon was unable to come back with one of its own.
After a 2-yard run by Dye, Shough gained nothing on an option run and saw a pass for Johnson fall incomplete, leading to a punt with 2:05 left.