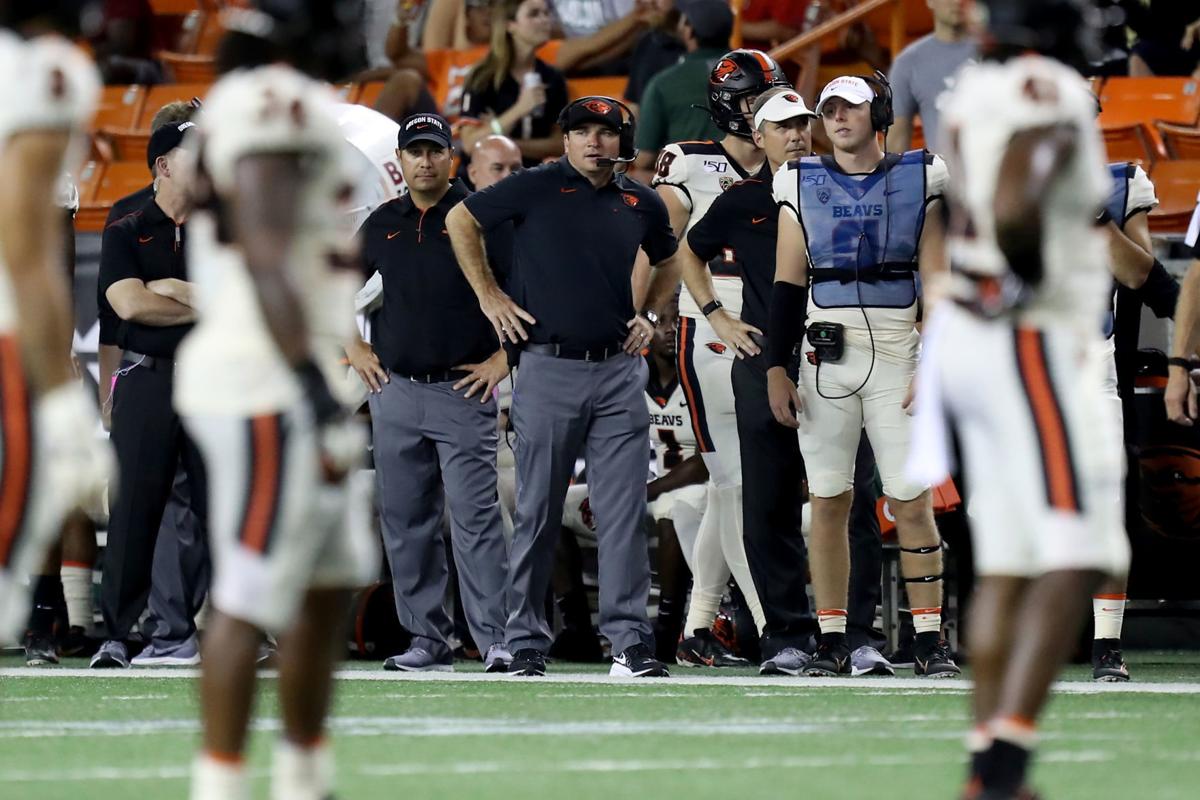 To say the last 26 games have been tough for the players and coaches of the Oregon State football program would be an understatement.
Over that span, the Beavers are just 3-23 with wins over Portland State (35-32 at home), Southern Utah (48-25 at home) and Colorado (41-34 in OT on the road after trailing 31-3).
After each loss last season, then first-year coach Jonathan Smith and the players talked about moving on to the next game, preparing as hard as they could and being ready for the next opponent.
But after last Saturday's 31-28 loss at Hawaii in a game the Beavers led 28-14 late in the first half, there was a different feeling in the locker room.
"There were some guys that were emotionally drained after that game," Smith said Monday. "Because they did, they put a lot into it and then to come out on the wrong end of it, it was tough. And that was a long trip back."
Added quarterback Jake Luton: "It hurt, it did. And it's supposed to hurt. ... We played with a lot of passion and emotion and guys were upset about it. We left it on the field and things didn't go our way and we let it hurt for the trip back."
The game was also marred by two altercations that have resulted in first-half suspensions for senior right guard Gus Lavaka, a team captain, and redshirt sophomore defensive back Kaleb Hayes.
Lavaka was seen taking a swing at a Hawaii player at the conclusion of the hard-fought and emotional game.
Hayes made contact with Avery Roberts, who appeared to be trying to calm his teammate down after an unsportsmanlike conduct penalty.
You have free articles remaining.
While the emotion is something Smith wants to see from his players, it manifested in the wrong way on Saturday night.
"You've always got to learn from mistakes that are made, slash situations that come up," Smith said. "You've got to play this game with emotion but at the same time there's a line and we can't cross that. So we've got to keep coaching it. I'm expecting our whole team to learn from it."
While Saturday's loss may have been one of the toughest to take during this difficult stretch as the Beavers felt like they left plenty of points on the field, there was a lot of progress that was made on the defensive side of the ball.
"You look at it and there's some progress getting made," Smith said. "We're in a tight ball game and now we've got to take that next step to seize that moment and finish on the right side of the scoreboard."
What's that going to take?
"I do think it does come down to trusting your preparation in those moments, your fundamentals you've been working on since camp started," Smith said. "Some of that went away in the fourth quarter. So it comes back to the moment is there, you're getting to where you need to be to get over that hump, (so) you've got to continue to do what you're coached to do, what you're trained to do. We lost a little of our fundamentals in that fourth quarter."
The Beavers had a team meeting Sunday night after arriving back in town in the morning, then hit the practice field on Tuesday in preparation for this Saturday's 1:15p.m. game against Cal Poly (1-1) in Reser Stadium.
If Tuesday's practice is any indication, the Beavers have begun to put that tough loss behind them.
"I think we're in a good spot," senior tight end Noah Togiai said. "Obviously it hurts. Everybody was really disappointed the last few days. But that in itself shows how much this team cares. Based off of (Tuesday's) practice I know that everybody is back to work and everybody is ready to roll again. We're not going to let that one or two games dictate how the rest of the season goes."
Added Luton: "I think (Monday) was one of our best days of practice we've had all year, fall camp, spring camp. We did some really good things today and I think that's a good sign."